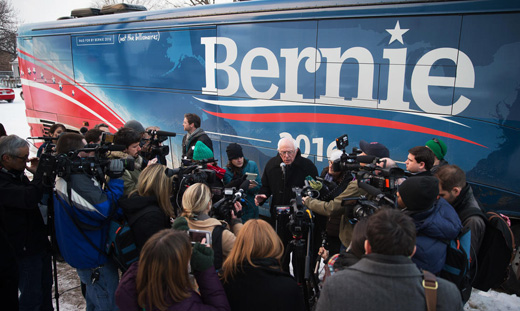 CULVER CITY, Calif. – January 23 was a big day for Bernie Sanders supporters. It was a day of marches in various cities and, according to his campaign, over 2,000 meetings and gatherings where Sanders could thank his supporters and, more importantly, persuade them to participate in phone banks so that potential caucus-goers in Iowa and voters in New Hampshire would get out and do their thing.
I attended one such house party – and it was indeed a party, though with a serious undertone. Held in a neat little house with two dogs running about, the living room was dominated by a huge flat-screen television tuned to the stream that Sanders was going to use. In fact, when I RSVP'd for the event, the host ended our conversation with "Feel the Bern." Obviously, a true believer.
The attendees were indeed a cross-section of the population, ranging from a woman from Manhattan Beach who drove all the way to Culver City because she couldn't find a house party nearer to her home, to a student from the University of California, Merced, who was determined that Bernie's plan to control student debt would make her life more livable. Young men, old men, ex-teachers, women and men of color, bookkeepers – they were all there, ready to hear what Sanders said. (story continues after video)
He didn't disappoint. Putting a remarkably graceful face on his campaign, he noted that it was we (his audience) who had brought him as far as he had come, that he began as an afterthought and now he was, to quote some movie or other, "a contender." And he told us that the fight was nowhere near over, that his call for a "political revolution" was a long-term project.
It was a no-nonsense speech, but one that was oddly moving, because it spoke not of experience or accomplishments, but of work to be done. We were receptive – and energized by the end of the speech.
Our host then told us the nuts and bolts of phone banking – and that it was very necessary to reach out to people to find out if they were voting or caucusing for Sanders, or whether they were familiar with him. These calls would then be collated in Iowa, and other people would use them to knock on doors. This kind of grassroots activity, I must admit, made me feel part of something bigger than myself – a good feeling.
We don't know whether Sanders is going to win Iowa, though New Hampshire looks pretty good for him. I have fears that by calling himself a "democratic socialist" he could scare some people away – I would much prefer that he call himself a "social democrat" – which is much less threatening and, in my opinion, more accurate anyway. But the guy – a hectoring yet endearing old guy – talks a good game. He even has details about how he's going to pay for his ideas – don't believe that he doesn't. He's about the future – yes, a long-term, rather visionary future, but when he shakes his finger at you, you believe.
In one sense, he reminds me of the quote by Pablo Neruda in which he says that slowly, but inexorably, we are approaching "a great and common tenderness." Neruda says he has to believe that.
Let me tell you, the Bernites believe.
Photo: Sanders speaks to members of the media after a campaign stop at U.M.B.A. Hall in Pottawattamie, Iowa on Jan. 19. | Andrew Harnik/AP
Video: Bernie speech and rallies Saturday Jan. 23rd drew watching crowds in Southern California. | Rossana Cambron and Emiliana Sparaco/PW