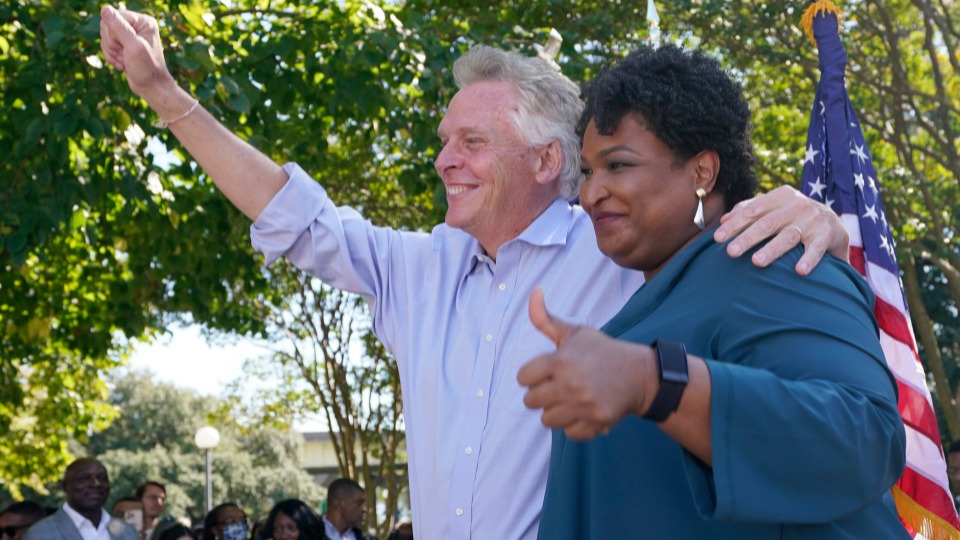 RICHMOND, Va.—When it comes to the Virginia governor's race between Democrat Terry McAuliffe and Republican Glenn Youngkin, the theme for both parties might well be "all hands on deck."
But the question is whether there will be an enthusiasm gap on Election Day between the two sides. McAuliffe's narrowly leading in opinion polls, in a purple state, but Youngkin's supporters are fired up—by Donald Trump. And mail-in and absentee balloting has already begun.
Polling, and election returns over the last decade, make Virginia, once deeply Republican, a "purple" state due to growing shares of people of color in the "blue" D.C. suburbs and in Richmond. But a Democratic victory is not guaranteed, especially with all three statewide officers—Governor, Lieutenant Governor, and Attorney General—on the ballot, along with all 100 House of Delegates seats. Democrats have a 55-45 majority.
In fact, it is possible the Republican nominee for governor, private equity mogul Glenn Youngkin will beat the former Democratic governor, Terry McAuliffe, and that the Democrats could suffer losses in the legislature, too. A number of things factor into that possibility, just one of which is lack of enthusiasm among Democratic voters disappointed by the attacks on the Biden agenda by conservative Democrats like Sens. Joe Manchin and Kyrsten Sinema. Powerfully financed efforts by Republican corporate forces and hate campaigns by Donald Trump are, of course, major factors causing Democrats to worry.
Then too, a third-party candidate, Princess Blanding, is also in the race.  She is a young African American teacher and LGBTQ woman whose brother was brutally killed by police in Richmond in 2018. She has a strong progressive platform. Even though she is polling only in single figures as the election draws near, there is worry that voting for her might throw the election to the Republican Youngkin.
Organized labor is certainly trying to get the McAuliffe people out. Unite Here fielded hundreds of campaigners. The state AFL-CIO also strongly backs McAuliffe, in a lightly unionized state which still sports vestiges, such as a right to work law, of racism-based anti-union attitudes.
"We're knocking doors to keep this Commonwealth BLUE with a future workers and families can count on," the more than 100 Unite Here canvassers, operating out of Electrical Workers Local 26's hall, told Northern Virginia Labor Council President Ginny Diamond, reports Chris Garlock of the Metro DC Central Labor Council.
And both the Teachers (AFT) and the United Association of Plumbers and Pipefitters put up cable TV ads for McAuliffe, says Diamond's predecessor, Dan Duncan, a Seafarer, and Secretary-Treasurer of the AFL-CIO Maritime Trades Department.
"The UA ad is really great," he added. "There's this old guy standing in an empty warehouse and he says, 'This used to have jobs in it—until our jobs were sent overseas by guys like Glenn Youngkin.'" Youngkin is the former CEO of the Carlyle Investment Group.
Viewed as a bellwether
The election is important for several reasons. As one of only two governor's races this year—New Jersey is the other, expected to be a Democratic sweep—it's being viewed as a bellwether for what could happen in next year's nationwide off-year election.
It's also a basic test for democracy. Before swing-area audiences in the suburbs of Washington and Richmond, Youngkin, who has poured almost $16 million into his own campaign, touts lowering taxes and downplays his agreement with Trump about nationwide election fraud in 2020.
His surrogates, led by Trump, are another matter. The former Oval Office occupant campaigned for Youngkin by throwing red meat and more lies to his frenzied legions, especially in rural areas in a typical mass Trump rally on Oct. 15. His backers ate it up—just as they did nationwide in 2020.  Trumpite banners have appeared at Youngkin rallies, too.
Some Youngkin supporters present him as a moderate Republican, not another Trump. On the other hand, he also appeals to Trump's extremist base by aligning himself with the attacks on Critical Race Theory. Right-wing agitators use hatred of the theory, which discusses systemic racism in the U.S., to disrupt school board meetings in some areas of Virginia, including with threats of violence.
And there are strong indications that money from the right-wing anti-worker Koch brothers fortune is being deployed by an astroturf "parents organization" in the school board wars, as part of a coordinated effort to mobilize the white nativist Trumpite base to vote for Youngkin and the other Republican candidates in November.
Meanwhile, McAuliffe himself isn't the perfect candidate, as far as progressives are concerned. A top member of the national Democratic establishment, McAuliffe is a close friend and political intimate of former President Bill Clinton and of Hillary Clinton. Besides being governor from 2014-18, he was DNC chairman in other years.
And, as he was for the Clintons, McAuliffe's a prodigious fundraiser. OpenSecrets.org reported that through Sept. 30 he had raised $31.2 million, $4 million less than Youngkin. But Youngkin's total includes $15.7 million he loaned his own campaign. There are no similar loans from McAuliffe.
McAuliffe does have some progressive credentials, however, notably on racial issues and education. The big one was in restoring the right to vote to ex-prisoners who had served their time. That's a key civil rights issue nationwide, given the high incarceration rates of Black Americans. Bans on ex-felons voting are a relic of Jim Crow laws in Virginia and other Southern states.
McAuliffe first issued an en masse pardon covering between 100,000 and 200,000 ex-prisoners. The GOP, which controlled the General Assembly during his entire gubernatorial term, overrode it by winning a lawsuit declaring wholesale pardons illegal.
So to make sure those people who served their time can now vote, McAuliffe spent his last days in office signing pardons for them, one by one. Almost half of them are Black.
Known as a pro-business governor—like others of both parties for decades in the state capital of Richmond—McAuliffe aggressively courted corporations to come to the Old Dominion, regardless of their worker rights records.
As governor, he opposed efforts to repeal Virginia's right to work law. But then, so did the current Gov. Ralph Northam (D). McAuliffe now says he will sign right to work repeal. That prompted the GOP to put that pro-worker stand at the top of the list of "crimes McAuliffe will commit."
A "good guy"
Nevertheless, "people know Terry's a good guy and they know what" the Democratic-run "State House has done" to advance a progressive agenda in the Old Dominion, Duncan says. "They also know Terry is a businessman, but Youngkin? Nah, nah, nah."
And since the governor's race is viewed as a bellwether for next year's voting, it's no surprise national politics has intruded big-time. When not touting his own record, McAuliffe has been trying to hang Trump around Youngkin's neck.
"Youngkin is nothing more than a Trump loyalist, trying to advance an extremist agenda here in Virginia," he says.
And while Trump has already stumped for Youngkin, former Democratic President Barack Obama will campaign for McAuliffe on Oct. 23.
McAuliffe's also running on his past record. That and name recognition handily won McAuliffe a five-way primary race where the other four hopefuls ran to his left.
The fifth-place finisher, State Sen. Lee Carter, an avowed Democratic Socialist, endorsed the independent staunchly pro-worker third-party candidate, Princess Blanding. The school teacher has established her own political party. Her key issue is criminal justice reform, in the wake of her brother's unjustified and fatal shooting by Richmond police.
Her presence on the ballot may be important. The opinion polls consistently show around 2% of voters picking "other" than McAuliffe or Youngkin. There's also a write-in candidate. There's also one other consistency in the polls, most of which show McAuliffe with a lead of only several percentage points: His edges are all within the margin of error.
Besides the top three statewide offices, progressives are invested in several delegate races. Carter sought state senate re-election at the same time he ran for governor, losing that primary, too. But other rising progressives are generating excitement, and their ballot presence could help turn out low-income voters and voters of color for McAuliffe. They include:
In the 26th House District on the far southeastern part of the state, which includes parts of the cities of Portsmouth, Norfolk, and Chesapeake, incumbent Democratic Delegate Steve Heretick originally won his seat on a progressive platform but has since greatly disappointed many who voted for him, not the least because of his closeness to Virginia's abusive electrical utility, Dominion Power.
Heretick lost his June primary to a 26-year-old African American grassroots activist, Nadarius Clark, who is campaigning on an extremely advanced platform which includes repeal of right to work, an increase in the state minimum wage to $15 per hour, reparations for slavery, and both environmental action and infrastructure investment to deal with the rising sea levels wreaking havoc in Virginia's Tidewater region. His Republican opponent, Lawrence Mason, emphasizes the interests of small businesses.
In the 25th District, which includes the Charlottesville metropolitan area, but is predominantly rural, incumbent, and extremely reactionary Republican Chris Runion caters to private businesses and the Evangelical Christian vote. Democrat Jennifer Kitchen, who is promoting a pro-labor, pro-environmental protection, and pro-small farmer program, is challenging him.
Besides stumping for McAuliffe, organized labor—which Virginia Republicans and which traditional pro-business state Democrats give lip service to—is pushing hard for Clark and Kitchen.