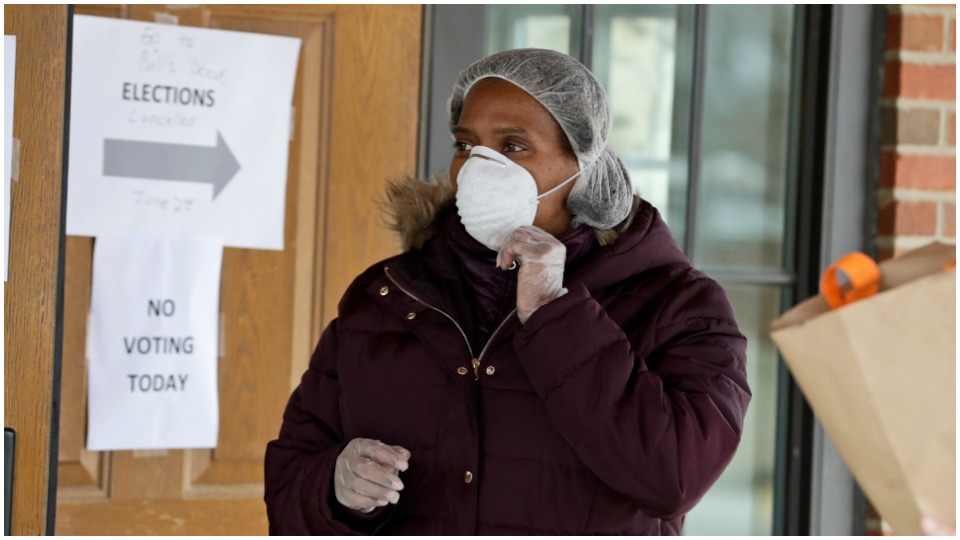 Can democracy be protected during a pandemic? Even under the best-case scenario now being presented by officials, the United States may lose up to 100,000 people to the deadly COVID-19 virus. In the midst of this outbreak, it has become painfully clear that President Donald Trump has no intention of mounting a truly national response to the coronavirus, leaving the task of saving lives up to local officials. As uncertainty and fear take hold, it's easy to forget that a national election—a true life-or-death vote—is fast approaching in November.
Make no mistake, though, Donald Trump and the Republicans certainly remember it is coming. Although they've come up with many excuses for their lack of preparation for what has morphed into a modern-day plague, they still understand how paramount it is to suppress the vote of those that would surely cast Trump out come Election Day. Trump even admitted as much in a recent interview on Fox and Friends.
When discussing the now-passed stimulus package, Trump boldly asserted how he and the GOP made sure to gut any measures proposed by the Democrats to help voters exercise their rights. This included a severe decrease in the amount of money Democrats requested, out of the $2.2 trillion package, for states to help them run elections.
Trump's reasoning? Republicans wouldn't win if voting was made easier and readily available.
"They had things, levels of voting that if you'd ever agreed to it, you'd never have a Republican elected in this country again," Trump said during his appearance. "They had things in there about election days and what you do and all sorts of clawbacks. They had things that were just totally crazy and had nothing to do with workers that lost their jobs and companies that we have to save."
Trump tried to proclaim that measures to secure people's right to vote have nothing to do with workers and their current hardships. Yet voting has everything to do with the hardships that working people face. Voting is one of the most direct ways working people can hold elected officials accountable for their actions. Voters are crucial in determining the leadership that will make decisions about their livelihoods and, as we are seeing during this pandemic, their very existence.
An old playbook
Despite the recent upheaval, Trump and the GOP continue to take notes from a playbook centering voter suppression in order to maintain power. These are tactics that have been around for decades—from the Black Codes used to keep newly-freed Black people from voting and kill off Radical Reconstruction following the Civil War to the Republican backlash after the 2008 elections, when the GOP, backed by the wealthy Koch brothers, took elaborate steps to squash the newly energized demographics of the population that showed up in record numbers to put Barack Obama into office.
Suppression of the vote has been ramped up since the removal of a major provision in the Voting Rights Act (VRA) by the Supreme Court in 2013. The part of the law that was cut required lawmakers in states with a history of discriminating against minority voters to get federal permission before changing voting rules. Since it was rescinded, vulnerable communities have become exposed to new suppression efforts. Following this change to the VRA, many states have implemented stricter voter registration rules, often targeting voters of color.
Voter suppression can take on a variety of forms:
Voter caging and purging – When a political party sends registered mail to addresses of registered voters that they know are most likely unfriendly to their candidate. All mail that is returned as undeliverable is placed on a "caging list." This list is then used later on to prevent those on it from voting by alleging that the address listed on their voter registration is invalid. The party can then push to have those voters purged from the voting rolls, which prevents them from being able to vote on Election Day.

Insufficient resources devoted to election administration – This can result in long lines at the polling place on Election Day that stretch for hours and discourage people from casting their ballots.

Legislation that makes it more difficult for people to vote – This can include voter ID laws, "use it or lose it" laws, and the "exact match" process.

Voter intimidation – Any effort or practice by an individual or group on behalf of a party or candidate to coerce the voting behavior of a particular class or demographic of voters.
There have been many examples of these tactics being implemented in recent years. In the 2018 Georgia gubernatorial race, for example, over 53,000 voter registration applications, a majority of them submitted by African Americans, were held at the Secretary of State's office due to the "exact match" policy. Under this rule, the information on a voter registration application has to match exactly with the data on file at the Social Security Administration and the state's Department of Driver Services. If the information does not match, and this can happen often due to issues such as a person's middle name not being fully written out, misspellings, and the like, an application is held for further screening.
The Democratic Party nominee in Georgia was progressive legislator Stacey Abrams. She was up against Republican Brian Kemp—who also happened to be the Secretary of State at the time, meaning his office was in charge of the voting rolls in Georgia, an obvious conflict of interest but somehow deemed legal. In the two years leading up to the election, Kemp's office purged nearly 700,000 voters from the state's rolls. One could make a convincing case that this voter suppression helped Kemp secure his victory, as he and Abrams were in a tight race.
Kemp ultimately defeated Abrams by a mere 55,000 votes. That election stands as an example of what can be lost when voter suppression is allowed to run rampant.
Protecting the vote in the midst of crisis
What's happening now, during the chaos of a health pandemic? Many working people are frightened and unsure of what the future holds, wondering whether they'll be able to make rent, pay their bills, or keep food on the table. With unemployment climbing and health systems crumbling due to lack of preparation, ensuring voters are able to exert their right to vote and hold political officials accountable for their handling of the crisis is vital.
Blocking funds so that states can't have sufficient means to conduct elections is voter suppression. Standing in the way of making online registration and mail-in ballots fully accessible for those concerned with social distancing and infection is voter suppression. Discouraging voters from exercising their constitutional right due to fear of endangering their lives because of their government's failure to keep them safe and informed is voter suppression.
Donald Trump and his administration have already demonstrated all three of these moves publicly, setting the tone of what is sure to be a fight to ensure we can have an election in which all voices can be heard.
Those who are part of the resistance to voter suppression say the stakes are high when it comes to guaranteeing fair elections in the midst of the COVID-19 pandemic. Rashad Robinson, president of the progressive non-profit civil rights advocacy organization Color of Change, spoke to the importance of voting and strategy at the organization's recent virtual town hall meeting.
"Voting for us isn't about getting politicians jobs. This isn't about electing a messiah. This is about making strategic choices for a better tomorrow. Showing up [to vote] is important," Robinson explained. "[We already have] political leadership that makes life harder for Black people. They haven't forgotten about us, they have thought about us and put a set of rules in place to put us in harm's way. We need to translate this moment into something more."
Brandi Collins-Dexter, campaign director for the organization, told meeting attendees, "We don't have to accept crumbs in a time of crisis."
Despite voter suppression, voter turnout in the 2018 midterm elections was the highest it has been in 40 years. Black voters, women, youth, LGBTQ, and other marginalized groups showed up and showed out, successfully utilizing the electoral process to make themselves heard. Trump wasn't in the race as an individual in 2018, but it was clear that the elections were a resounding rebuke to many of the ideas and policies he pushes.
The lack of urgency on the part of the administration currently occupying the White House in preparing for the potential new voting terrain facing our pandemic-stricken country is squarely aimed at guaranteeing a denting of the surge of energy seen in the 2018 midterms.
We have seen moves to grab sweeping emergency powers by this administration, along with quiet rollbacks to the protection of the environment and further restrictions on our already weak health care system. It is for these reasons and more that working people have to continue the fight against voter suppression, in all its forms. The situation we're in now shows just how dangerous—and deadly— the wrong election outcome can be.