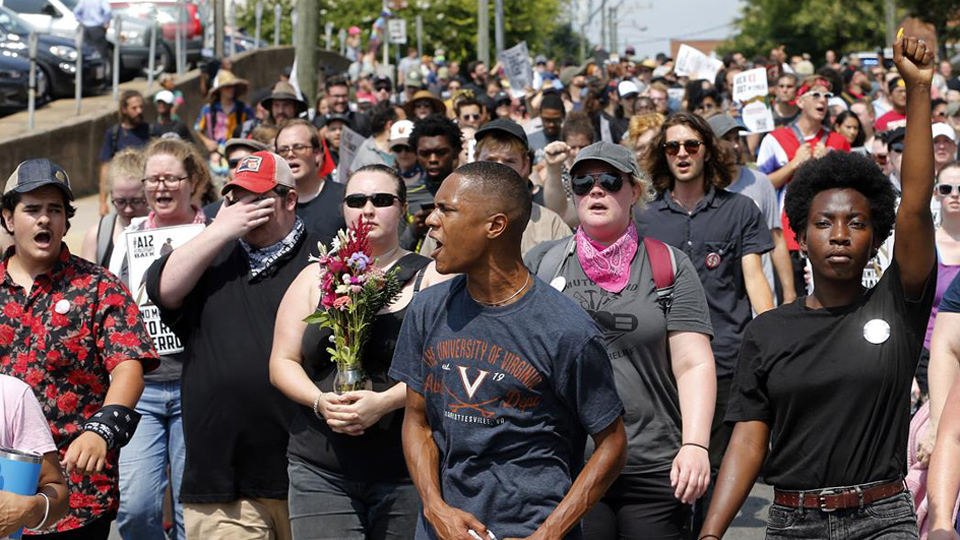 WASHINGTON—The common characterization of "voter suppression," the movement, undertaken by right-wing Republicans and underwritten by their corporate puppeteers, to prevent workers, women, minorities, the old and the young from voting, is that it exists in the South and it's just so-called "voter ID" laws.
Voter suppression is as old as Jim Crow and exists everywhere from Washington to New York to Florida to Kentucky. And while African-Americans are a prime target, they're not the only one. Arizona's legislature, fearing voting by "ignorant Mexicans," imposed an English literacy test — in 1909, three years before Arizona became a state. Things haven't changed much since: The American Civil Liberties Union sued Arizona last month to prevent potential disenfranchisement of 500,000 voters.
But there are some common threads that run through all the methods used to prevent millions of people from voting around the country.
The targets are the same and those pushing voter suppression are the same. Besides minorities, especially African-Americans, voter repressors want to toss women, workers, Native Americans, Hispanic-Americans, Asian-Americans, the old and the young off the rolls.
Their objective: To remove enemies of their corporate, right-wing and in many cases racist agenda. The key drafter of voter suppression laws, which is just one component of their repressive program, is the American Legislative Exchange Council (ALEC), the notoriously secretive corporate-political cabal.
Those voter ID and voter suppression laws curb early voting, eliminate Sunday voting, make it tough to register and stay registered and often impose onerous fees – such as getting birth certificates – on low-income voters, almost all minorities, who can't afford them.
The political handmaidens who enact such measures and impose other restrictions are almost entirely Republican. There are enough GOPers' fingerprints on voter repression efforts nationwide that you can arguably say the Republicans, not the Russians, stole the 2016 presidential election, and probably Congress, too.
"ALEC, funded by the Koch network and other billionaires and big corporations, has been at the forefront of these efforts, with the majority of voter suppressive state laws passed having been introduced by pro-ALEC Republican legislators," Common Dreams reported. ALEC wrote the "model" voter repression bills.
They're doing it again, and GOP President Donald Trump is getting in on the act again. He threatened – in tweets, where else? – early voters and those he claims, in a lie, commit fraud. It's a rerun of his 2016 campaign claims and 2016 GOP intimidation.
"All levels of government and Law Enforcement are watching carefully for VOTER FRAUD, including during EARLY VOTING. Cheat at your own peril. Violators will be subject to maximum penalties, both civil and criminal!" Trump tweeted on Oct. 21.
Kristen Clarke, executive director of the Lawyers Committee for Civil Rights Under Law, called that tweet "one of the most naked attempts to promote voter suppression we have seen in modern times."
Trump's tweet "is clearly part of an ongoing right-wing effort to promote fear and incite law enforcement to act in ways that could chill voter participation in this midterm election cycle," she added.
On occasion, it's not the GOP. The New York Secretary of State's office tossed 200,000 people – 60 percent of them Spanish-speaking and many of them in Brooklyn – off the rolls before the 2016 primaries. They were still off when the September 2018 primary rolled around.
"Once again, voters across New York arrived at the polls to find that their names did not appear on the registration rolls," Clarke said then. "Voters who believe they are eligible should not allow poll workers to turn them away and should insist, at minimum, on an affidavit ballot."
In Florida, Iowa, Kentucky and Virginia, felons – past and present – can't ever vote again. Virginia makes an exception for those the governor pardons. When-then Gov. Terry McAuliffe (D), pardoned 206,000 who had already finished their terms, the GOP legislative majority screamed, sued, and won. Undaunted, McAuliffe then started pardoning them one by one, adhering to the letter of pardon law. And 172,000 got their voting rights back before his term ended.
Florida's felony ban covers 1.6 million people or one of every 10 adults. Further, Florida tosses felons off for "crimes" for which they never served a day in jail, but instead paid fines or were put on probation. If their "crimes" were not serious enough to warrant even a day in jail how could they be serious enough to warrant a sentence of life without the right to vote? Floridians will vote Nov. 6 on a ballot initiative to let them back on the rolls, repealing the ban.
A University of Georgia study found 15 percent of all past and present U.S. felons, including those Floridians imprisoned for ticky-tack "crimes," are African-American. That includes one-third of all African-American men.
Some states are moving in the other direction. California, home to one of every eight people in the U.S., instituted same-day registration in 2016. Illinois is doing so this year and officials estimate it could add up to one million voters to the rolls. Maryland's heavily Democratic legislature passed same-day registration, too. GOP Gov. Larry Hogan, who has a "moderate" image, is running for re-election and leading progressive African-American Ben Jealous in the polls, vetoed it. Lawmakers overrode Hogan.
Voter repression aims are the same but have become more sophisticated. It's not just a matter of intimidation, poll challenges or burning crosses on lawns anymore.
Just as Ohio right-wing GOP Secretary of State Ken Blackwell short-changed African-American neighborhoods of voting sites and voting machines in Cleveland and student precincts in Columbus in 2004, officials in Georgia closed seven of nine polling places in majority-black sections of one rural county this fall. It took lawsuits and a national uproar to reverse that. Virginia has a similar problem.
In a throwback to Jim Crow, radical right Georgia GOP Secretary of State Brian Kemp, his party's gubernatorial nominee, instituted an "exact match" program to toss voters off the rolls. He claimed just to be implementing a law approved by the GOP-dominated state legislature. His latest move: Letting registrars toss out 600 absentee ballots whose handwriting doesn't exactly match that on applications.
"We believe the law is an obvious voter suppression tactic aimed at voters of color," said Richard Cohen of the Southern Poverty Law Center.
Kemp said the law mandated a voter's registration must exactly match his or her driver's license or Social Security records. Even something as minuscule as a missing period after a middle initial disqualifies the voter. Just weeks before the Nov. 6 balloting, Kemp tossed 53,000 voters off the rolls, 70 percent of them African-American. Is it a coincidence that if his foe in the tied race, state legislator Stacey Abrams (D), wins, would be the first female African-American state governor in U.S. history?
It looks like it, even after Kemp's office tossed 1.5 million Georgians off the voting rolls between 2012 and 2016, according to the Brennan Center for Law and Justice.
That's on top of a "use it or lose it" rule Kemp's office instituted, starting last year. National Public Radio reports that rule accounts for 500,000 of those 1.6 million people removed from the rolls. That includes 107,000 since early last year. The rule is that you had to have voted at least once since 2008, and if you didn't and you didn't reply to a warning postcard, you get tossed.
GOP-run Ohio has an even tougher use-it-or-lose-it law. The A. Philip Randolph Institute, one of two AFL-CIO constituency groups for African-Americans, a Cleveland African-American Iraq War veteran denied the right to vote and a Cleveland community group took that law all the way up to the U.S. Supreme Court. They lost, earlier this year, by the usual party-line 5-4 vote.
North Dakota just instituted a new requirement: You need a street address. That hits the state's Native Americans hard, and they're five percent of North Dakota voters. Most reservations don't have many named streets. The Native Americans vote almost 80 percent Democratic, and their votes helped elect Heidi Heitkamp (D) by only 2,936 votes in 2012. She needs them again, after defying the right wing in the state by voting against Trump's Supreme Court pick, federal appellate judge Brett Kavanaugh.
Private interests, virtually all funded by right-wing millionaires, are actively working in voter suppression. The Brennan Center for Law and Justice reported four right-wing outfits with supposedly "neutral" names — Judicial Watch, the American Civil Rights Union (whose name tries to confuse people), True the Vote and the Public Interest Legal Foundation (PILF) – collectively demanded more than 450 jurisdictions, from the entire state of California on down, more actively "purge" their rolls of "ineligible" voters who supposedly died or moved.
The four rely on data that later prove false, and they target minority jurisdictions. And the Brennan Center, working with the Lawyers Committee, reported in July that "all 12 Alabama counties that received purge demand letters were majority-black, along with 17 of 19 counties in Mississippi."
The right-wing groups also sued to demand voter roll purges in California, Indiana, Kentucky, North Carolina, Philadelphia, Los Angeles, Broward County, Fla. (Fort Lauderdale), two Colorado counties, four Mississippi counties, three Texas counties and Alexandria, Va. Philly is 64.7 percent non-white, Broward is 63.8 percent non-white, L.A. is three-fourths non-white and one Texas County, Starr, which settled with the groups, is 97 percent non-white.
In a current case in Washington state, right-wing business-backed groups are trying another form of voter suppression: Disinformation. Again, that's not new.
In the last cycle, the right-wingers distributed materials telling minorities they would be penalized for voting, or giving them the wrong election day, or telling them they could submit requests for absentee ballots after the deadline passed and so on.
This time, in Washington, they're impersonating unions and urging members to write in names on ballot lines in state legislative races, thus depriving pro-worker lawmakers of needed votes in close contests.
Dozens of the more than 3,000 state and local governments responsible for running elections under the U.S. system responded to such purge demands and other right-wing pressure by caving in, the Brennan Center said.
'We found that between 2014 and 2016, states removed almost 16 million voters from the rolls, and every state can and should do more to protect voters from improper purges. Almost 4 million more names were purged from the rolls between 2014 and 2016 than between 2006 and 2008. This growth in the number of removed voters represented an increase of 33 percent," it added.
It called purges in Florida, Virginia, North Carolina and New York illegal under both the Voting Rights Act and the federal Motor Voter law. Alabama, Indiana and Maine have written policies that would allow such illegal purges, but didn't implement them, the Brennan Center said.
Other states, notably Arizona, use a nationwide voter name matching database riddled with errors and misidentifications — especially of minority voters with common names such as Washington (African-American), Gonzalez (Hispanic-American) or Lee (Asian-American) – for their purges.
And a few weeks ago in Louisville, Ga., the Jefferson County election commission barred a busload of African-American senior citizen voters from casting early ballots by claiming that because they were brought there by Black Voters Matter, the busload to the polls was "illegal political activity." BVM co-founder Latosha Brown called the commission's action "'voter intimidation. This is voter suppression, Southern style.'"
States also made it harder for groups – including one Abrams formerly headed in Georgia and the non-partisan League of Women Voters in Florida – to register new voters. Florida's rules for groups signing up new voters are so onerous the league pulled out several years ago, and told everybody why. The Sunshine State's legislature, with a veto-proof GOP majority and right-wing GOP Gov. Rick Scott, who now is running for U.S. senator, didn't bat an eyelash or change the rules.
The federal government is looking the other way, and the GOP-named majority on the U.S. Supreme Court tied its hands, too. The court's 5-man GOP majority OKd the first voter ID law, from GOP-run Indiana, a decade ago. And its Shelby County vs Holder 5-majority ruling several years ago emasculated key federal Voting Rights Act controls over states and localities that repressed and excluded voters.
"The Republicans are resorting to the ugliest trick in the book: Voter suppression, especially targeting communities of color," concludes former Clinton Administration Labor Secretary Robert Reich.