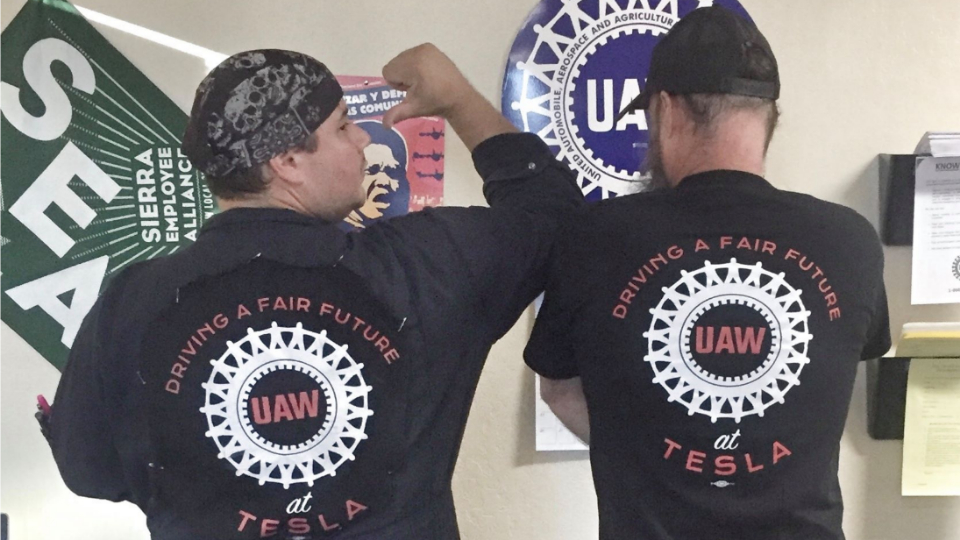 WASHINGTON (PAI)—Workers can wear union insignia, such as buttons and patches, on the job in most cases, the National Labor Relations Board has ruled. Firms can legally ban it only when they prove "special circumstances" justify their action, case by case.
In the 3-2 decision along party lines, the full board ruled for the United Auto Workers, which wanted workers to be able to wear its insignia at Elon Musk's Tesla auto plant in Fremont, Calif. The workers there make electric vehicles. But the board majority said their ruling applies retroactively and in almost all cases. It didn't define "special circumstances."
In an ironic note to the decision, the board overruled two clans of the rich. One is Musk. He's one of the nation's richest people and notoriously anti-union. The other is the Walton family, owners of Walmart.
They and it are also nastily anti-union. A prior majority-Republican Donald Trump-named board sided against union insignia and for that notorious behemoth.
"When an employer interferes in any way with its employees' right to display union insignia, the employer must prove special circumstances justify its interference," current Board Chair Lauren McFerran wrote for the NLRB's three Democratic members. They also made the ruling retroactive.
"The right to display union insignia is predicated on employees' right to communicate with each other regarding self-organization at the workplace," she added.
"Any attempt to restrict the wearing of union clothing or insignia is presumptively unlawful and–consistent with Supreme Court precedent—an employer has a heightened burden to justify attempts to limit this important right," her end-of-August ruling explained.
The case grew out of UAW's 2017 organizing drive at Fremont. In August 2017, pro-union workers "began wearing black cotton shirts that had a small logo with the union's campaign slogan—'Driving a Fair Future at Tesla'—on the front and a larger logo with that slogan and 'UAW' on the back." Before that, workers could wear whatever shirt colors they liked, with logos and emblems "unrelated to" Tesla.
But when the organizing drive began, Tesla started enforcing its "team-wear" policy of black shirts with the Tesla logo—and only that. Supervisors walked the line checking workers' clothes. Sometimes they'd let workers wear plain cotton black T-shirts instead of team shirts. Pro-union workers were told to go home and change or to cover UAW logos with black tape.
Tesla's reasoning was that a button or an emblem "could damage the fender" of Tesla cars as workers were painting and detailing them. UAW and three of the workers said that's ridiculous and challenged Tesla's policy. Testimony before the NLRB backed them up.
"Associate Manager Ogunniyi testified that, to her knowledge, a cotton shirt had never damaged a vehicle and that, although the black union shirt previously worn by production associates does not comply with the teamwear policy, it is not a mutilation risk. Production Supervisor Fenelon also testified he did not know of any cotton shirt causing a mutilation to a vehicle," the board majority reported.
UAW President Ray Curry called the ruling "recognition that the right to organize is meaningless if workers cannot exercise the right without fear of reprisal." Union Vice President Cindy Estrada added it revealed yet another flaw in weak U.S. labor law. "Here is a company that clearly took numerous aggressive and unlawful steps to block workers' rights, and yet it is more than four years down the road before workers see a modicum of justice," she said.