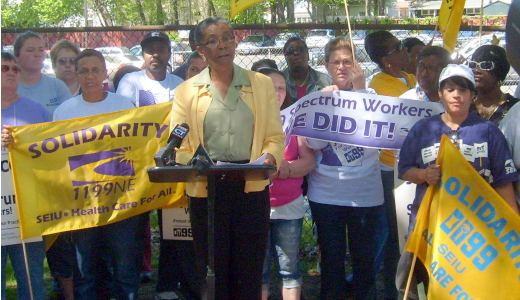 HARTFORD, Conn. – Ending a 13-month strike, 400 courageous workers at four Spectrum nursing homes bucked the national union-busting tide this week with a big contract victory. Their fortitude, together with the support of the patients' families and broad community and labor solidarity, produced a big win.
Holding a banner emblazoned with the words "We Did It!" a joyous group of union nurses, nursing assistants and support staff gathered on their former picket line in front of Park Place Health Center yesterday to announce they will all be going back to work on May 16.
The new three-year contracts, including raises and benefit improvements and a return to work with former positions and hours, were approved by an overwhelming vote of 189 to 6. The workers, members of the SEIU 1199 union, will receive $545,000 from the company, as ordered by the National Labor Relations Board at the conclusion of an unfair labor practice trial.
"They told us we were all permanently replaced and we'd never be back," said Valrey Johnson, a cook who had worked at the Park Place Health Center in Hartford for 19 years before the strike began on April 15, 2010. "Yet next Monday we'll return to our positions, caring for the residents we've missed so much, with strength and unity in our hearts."
"That alone is a victory," said LPN Patty Pickus, who has been caring for the center's residents since 1989. "But we're also returning with new contracts and with justice for our co-workers who were named in the labor board's complaint because Spectrum fired them."
District 1199 President Carmen Boudier congratulated the workers and supporters for their persistence and solidarity. "In the midst of a terrible economy and in the face of persistent threats from your employer that you would lose your jobs permanently, you had the courage to stand up for yourselves and by so doing, for higher standards for all nursing home workers and residents," she said.
Certified Nursing Assistant April Grey, who is going back to her job caring for residents at Laurel Hill, said, "This was the most difficult thing I've ever had to do – and the most worthwhile. We fought for ourselves and our families, but we fought just as hard for our residents and our communities, and for justice. We persisted against all odds – and we won."
The unfair labor practice trial began on February 3 before an Administrative Law Judge of the NLRB. The settlement was linked to a tentative deal for new contracts covering the union's members at the four Spectrum facilities – Park Place in Hartford, Birmingham Health Center in Derby, Hilltop Health Center in Ansonia and Laurel Hill Healthcare in Winsted – as well as a fifth facility operated by Spectrum, Torrington Health Center, where the union contract just recently expired.
The terms of the settlement includes the return of all workers to pre-strike positions, shifts and hours; payment of $395,000 to cover losses by workers in the strike; removal from personnel records of any reference to the termination or suspension of workers named in the complaint and a separate monetary settlement of $150,000 to illegally fired workers.
The union contract includes wage increases and bonuses of 6 percent over three years and a 5 percent increase in the company's contribution to the workers' pension fund, beginning on March 15, 2014. Vacation time, sick time, holidays, personal time, uniform allowances and the rate of pay for injured workers assigned to light duty remain unchanged. Spectrum had proposed significant cuts in all of those areas.
The workers began the unfair labor practice strike after more than a year of unproductive negotiations for a new contract. The NLRB issued several federal complaints against the company during the strike, for illegal discipline and discharge of union members at the facilities, the company's decision to permanently replace all workers who participated in the strike and Spectrum's refusal to reinstate all workers immediately after the union offered to end the strike, return to work and continue negotiations.
Throughout the strike, rallies and events were held showing support from the families of nursing home patients, other unions, and community organizations.
A week before the settlement, the strikers were awarded a Peoples World Solidarity Recognition at the annual May Day celebration.
Photo: 1199 President Carmen Boudier announces victory in the 13-month Spectrum nursing home strike. PW Photo