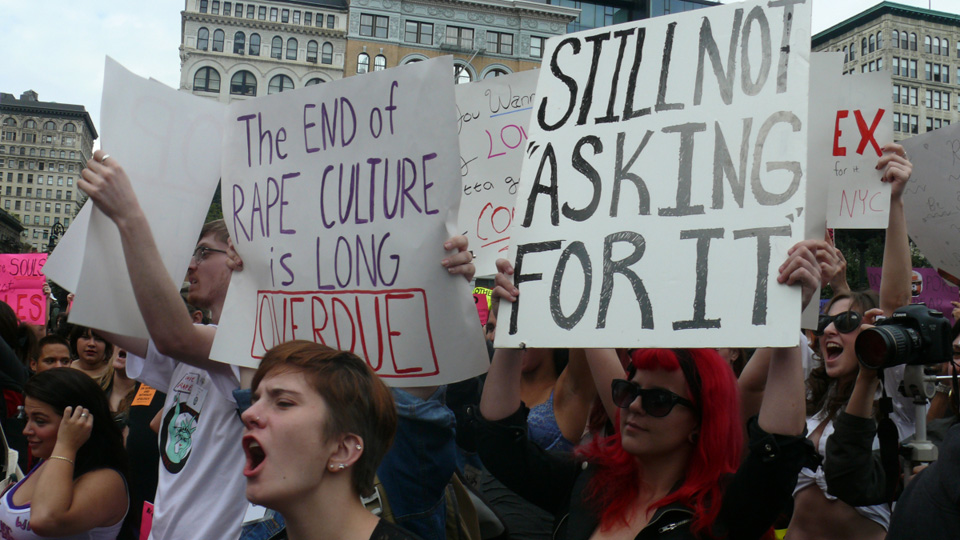 Almost a month after Harvey Weinstein was outed as a sexual predator, the NYPD is officially looking to obtain an arrest warrant against the Hollywood mogul. The Weinstein Co.'s decision to fire Weinstein on Oct. 8, set off a series of events that have provided a supportive opening for various women to come forward with allegations against the executive producer. Since the accusations have come to light, it has been discovered that Weinstein allegedly spent years silencing his accusers and suppressing journalists' efforts to cover his serial instances of abuse. In what is being exposed as an intricate coverup, The New Yorker reports that Weinstein regularly sought to not only track down his accusers, but to seek personal information from them.
Among the women Weinstein targeted with his army of private spies is actress Rose McGowan, who accused Weinstein of rape in 1997. McGowan has been claiming for years that her previous accusations against Weinstein negatively impacted her career. This is an assertion that was confirmed by director Robert Rodriguez, who came out in support of McGowan, stating that his Planet Terror film was buried after he intentionally cast McGowan in the lead role as a middle finger to Weinstein. He also noted that he has sat on this knowledge for years so as not to violate any undisclosed legal settlement McGowan had with the production company after her assault.
According to The New Yorker's report, Weinstein is said to have stalked journalists in order to find out which women were talking to the press. In other cases, "journalists directed by Weinstein or the private investigators interviewed women and reported back the details." As a result of his media suppression efforts, Weinstein was apparently able to continuously assault numerous women over a period of more than two decades. It wasn't until Paz de la Huerta's Vanity Fair interview that journalists were able to blow the cover on years of unaccounted abuse.
Paz de la Huerta is a relatively unknown household name in the industry, but she has starred in shows such as Boardwalk Empire and is known for her roles in films including A Walk to Remember. De La Huerta first met Weinstein when she was 14-years-old, while working on the set of The Cider House Rules. De La Huerta claims that it wasn't until 2010 that she was accosted by Weinstein in her apartment. According to her allegations, Weinstein offered to give her a ride home. After arriving at her apartment, he invited himself in, and proceeded to make aggressive advances inside. When she tried to brush him away, she says he pushed her down on the bed and raped her. This allegedly happened twice in the span of a year.
The 33-year-old actress recently reached out to the police about the matter, who have come out in support of De La Huerta, characterizing her as a "credible" source. Chief of Detectives Robert Boyce told reporters, "We then sought to garner corroboration—this happened seven years ago—and we found corroboration."
Since her interview was published, an influx of women, including Gwyneth Paltrow and Ashley Judd, have all come forward with similar stories detailing uncomfortable experiences with Weinstein. Paltrow recounted having been invited to Weinstein's suite at the Peninsula Beverly Hills hotel for a work meeting that resulted in non-consensual touching and invites for massages. At the time, Paltrow was 22, a young, up-and-coming actress who had just landed an important role and was terrified to come out about the incident. She did, however, tell her boyfriend at the time, Brad Pitt, who reportedly confronted Weinstein at a film festival.
Since these allegations have come to light, victims of sexual abuse from across the the entertainment industry have gathered the courage to call out their abusers. Kevin Spacey recently came under fire after actor Anthony Rapp claimed that Spacey made inappropriate sexual advances towards him in 1986 when he was only 14-years-old. Spacey at the time was 26. Four women have accused That 70s Show actor, Danny Masterson, of rape. Some of these victims have claimed that the Church of Scientology—which Masterson is a part of—played a role in covering up the abuse.
It is not just actors and actresses being impacted by these patterns of misconduct, though. In the field of journalism, NPR's chief editor was placed on leave after accusations of sexual harassment by women on his staff. The organized labor movement, too, has been plagued by allegations of sexual misconduct. These are just a handful of accounts that have sparked a wider society-wide conversation around sexual harassment and abuse. With trending viral campaigns such as #MeToo—which bring awareness to the copious amount of individuals who have experienced sexual harassment or abuse in their lifetime—it seems that survivors are finally finding some broad-based support.
As more people continue to come forward with their stories of sexual harassment and assault, the entertainment industry, for one, seems to be undergoing a shift. For decades, the fear of being ostracized in Hollywood has allowed powerful men to exploit their privileges over those seeking opportunity. It is only now, when the public is calling for action, that the industry is taking progressive steps to hold these predators accountable and create safer work environments for employees.