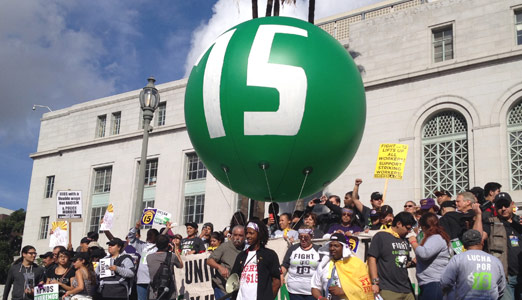 LOS ANGELES – Fast food strikers and supporters danced in front of a Downtown Los Angeles McDonald's on December 2, chanting, "If we don't get it, shut it down!" and "What's outrageous? Poverty wages!"
Martha Arevalo, executive director of Carecen, a community-based organization that provides direct human services to low and moderate income Latinos, has been involved in the fight for $15 an hour since the beginning. "We fight for social justice," she said, "because it is not right that people have to work three jobs to provide basic needs for their families." Edgar Gonzales works at McDonald's and shared a rap song that he wrote about the fight for 15.
Teresa King, long-term care worker and member of SEIU-ULTCW (United Long Term Care Workers), stated that the average worker is 27 years old and is supporting a family. She asks, is it fair that the family members who own Walmart have more money than they can spend? In 2013, the Walton family's net worth was $144.7 billion.
Roger Hernandez, chair of the California Assembly Labor and Employment Committee, told the crowd of about 1000 people, "We won't stop and we can't stop, because too many of us go home to families that depend on us. We need you to mobilize to show that the average worker is supporting a family so that those in Sacramento can clearly see that it's not kids that work at these business but that 75 percent of workers are supporting a family."
The strikers and supporters began to march to City Hall, where they asked for a moment of silence for Michael Brown and Eric Garner and all those lives that have been unjustly lost at the hands of the police. Ms. Arevalo stated that today we are also uniting to call out and say that "Black lives matter, that immigrant lives matter, brown lives matter and that all lives matter. We call for an end to inequality, and for all people to be treated with respect and dignity from Ferguson to New York and Mexico."
Los Angeles Councilmember Paul Koretz, who was born and raised in L.A., stated, "We are on the cusp of being able to end poverty in Los Angeles. $9 an hour is not going to cut it. With the mayor's proposal we are going to get there. We are also going to put a stop to other low wage workers such as janitors who don't even make the minimum wage and whose employers steal their wages with threats."
Jose Huizar, another councilmember, started by saying, "The time is now!… I voted to raise the hotel workers to $15, we did it for them, we can do it for fast food workers. When we raise the salary for some workers we raise it for all workers," he continued.
Carwash worker Fausto Hernandez said he worked for seven years in the car wash industry. "I worked 10 hours and I would get paid for 3, so what we want is $15 an hour and stop the wage theft."
LAX worker Tim Maddox, a member of SEIU, said, "We join with this struggle and we are proud to be here." He went on to inform the crowd of the crisis at the airport: "Airlines are making huge profits but they have begun outsourcing our work." Wage theft also is very apparent to nonunion workers at the airport. Maddox pointed out that "We have a similar reality: We work for companies that make super profits, but we have to keep up the fight because when we fight we win."
Video and photo by Rossana Cambron