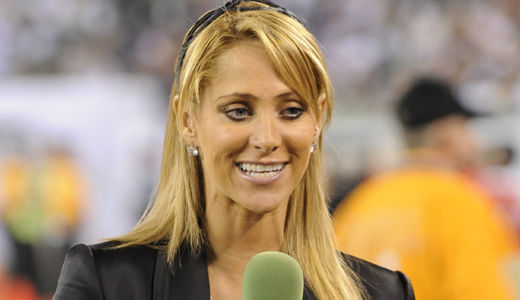 Ines Sainz, a Mexican reporter with TV Azteca caught national headlines last month when she said she felt uncomfortable reporting from the New York Jets locker room after an incident when she was disrespected.
In an Oct. 14 press conference Sainz said she told the National Football League that from then on she would conduct interviews with players on the field or on the sideline.
"I'm not going into the locker rooms anymore," she said. "It's not a good place right now for me. I don't want to be in there."
Last month Sainz was interviewing Jets quarterback Mark Sanchez, who is Mexican American. Jets secondary coach Dennis Thurman launched footballs near them so he and the players could get a closer look at the 26-year-old Sainz, a married mother of three. In the locker room Sainz said players ogled her, made catcalls and used inappropriate language regarding her appearance.
"I needed to wait one month to work again because I don't want to be the focus," she said. "I'm not looking for that kind of publicity. It affects my career and development in the States."
The NFL launched an investigation into the situation and Jets owner Woody Johnson personally called Sainz to apologize. The NFL also developed a workplace conduct program drafted by Johnson to educate players and staff of all 32 teams.
In a letter to NFL Commissioner Roger Goodell, Sainz thanked him for his prompt response.
"I like to look good, but that in no way makes me any less dedicated to the sports journalism world," she wrote. "I'm proud of being a woman and I'm not shy about hiding it. However, this in no way makes me any less of a professional."
There are more than 1,000 female sports journalists in the U.S. and female reporters have been allowed in the locker rooms of male professional sports for over two decades.
The issue came to the forefront in 1977 when Melissa Ludtke of Sports Illustrated was barred by baseball commissioner Bowie Kuhn from interviewing players in the clubhouse during the World Series. A lawsuit was filed, and in 1978, a U.S. federal judge ruled that male and female reporters should have equal access to the locker rooms. It wasn't until the mid-1980s that the country's major professional sports leagues finally put official policies in place granting female reporters equal access.
However harassment from players toward women reporters continued.
In 1987 reporter Paola Bovin entered the St. Louis Cardinals' clubhouse and was taunted by one player who asked, "Are you here to interview somebody or look at a bunch of guys?" Moments later, another player threw a jockstrap at her, landing on her head.
In 1990 former Boston Herald reporter Lisa Olsen, covering football's New England Patriots, was in the locker room when a group of players surrounded her, made vulgar, threatening comments and openly paraded around naked. Olsen described the experience as "mind rape" and an NFL investigation determined she had been "degraded and humiliated" and fines were levied on several players. However, some people reacted negatively to Olsen. She received death threats, hate mail and had her tires slashed and her apartment burglarized.
Some have argued that not much progress has been made since then, as media attention around Sainz resembles the past with what is seen as a sexist, bigoted tone.
Bob Frantz recently wrote in the San Francisco Examiner that Sainz should get an Academy Award if she continues to sell herself as the "victim." He writes Sainz is: "A bikini model carrying a microphone. Her job is to sell sex – or at least sexuality. And it's about time someone says so. Truth is, someone who dresses like a stripper and acts like a stripper has no right to complain when someone treats them like a stripper."
Frantz' comments have been condemned as completely backward. Professional sports players, revered as national role models, shouldn't behave like that, the say. Also most women continue to face all types of inequalities and discrimination at the workplace and female sports journalists are no exception when it comes to standing up for their rights.
As for Sainz, she says it's not right how Frantz and others describe her.
"I have nine years of my career making interviews with top players all around the world and I can't believe that someone says my outfit is not proper," she said. "It's unfair treatment. I believe the media thought they were going to find a victim but clearly I don't feel like a victim."
Photo: Sports journalist Ines Sainz reporting from the sideline during an NFL football game between the New York Jets and the Baltimore Ravens