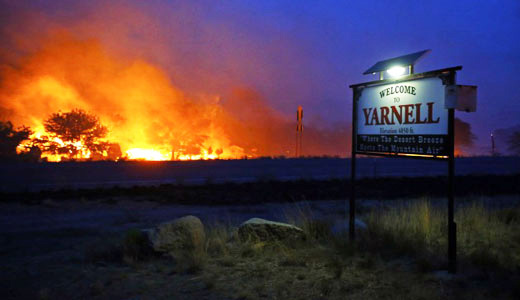 There have been at least a handful of lightning-ignited wildfires in the U.S. this year, but the worst of them by far is the Yarnell Hill Fire in Yarnell, Arizona, which has claimed the lives of 19 firefighters, burned 8,374 acres, and laid waste to hundreds of homes. And more firefighters are currently risking their lives to tame this blaze that simply continues to ravage land and prompt evacuations.
The workers that died were part of an elite firefighting team charged with setting up barriers to try and cordon off parts of the blaze, which began on June 28. But the inferno became so uncontrollable and unpredictable that they became trapped, and were forced to use last resorts – aluminum blankets called fire shelters that protect the body against flames and heat.
That ultimately failed, and on June 30, the fire department of nearby town Prescott lost 19 men: Eric Marsh, 43; Andrew Ashcraft, 29; Robert Caldwell, 23; Travis Carter, 31; Dustin Deford, 24; Christopher MacKenzie, 30; Grant McKee, 21; Sean Misner, 26; Scott Norris, 28; Wade Parker, 22; John Percin, 24; Anthony Rose, 23; Jesse Steed, 36; Joe Thurston, 32; Travis Turbyfill, 27; William Warneke, 25; Clayton Whitted, 28; Kevin Woyjeck, 21; and Garret Zuppiger, 27.
"We just lost 19 of the finest people you'll ever meet," said Prescott Fire Department chief Dan Fraijo. "Right now, we're in a crisis." 'Crisis,' indeed, would sum up the situation: Roy Hall, an incident commander with the Arizona State Forestry Division, said, "This fire is a long ways from being over." As CNN put it, June 30 "was the deadliest day for firefighters since the September 11th attacks."
Canada's United Fire Fighters of Winnipeg, a union representing 1,500 workers in Winnipeg, Manitoba, lamented the firefighters' deaths, and many members of the union plan to travel to Arizona to attend a memorial service.
"It's just horrible; very sad," said union president Alex Forrest. "This is probably the second-worst tragedy in the National Association of Firefighters' history other than 9/11." He added that in February 2007, the union lost two of its own – captains Harold Lessard and Thomas Nichols, who died fighting a house fire. "We lost two fire captains, and having to talk to families and organize the media, it was unbelievable. I can't even imagine it on a scale of 19 firefighters in a small town."
The Yarnell Hill Fire is the worst in the history of its state; the Black Forest Fire in Colorado set a similar record earlier in June. Yarnell is a community of about 600 people, and at least 200 homes there have already been destroyed. As of yesterday, about 500 responders were still fighting the fire. High temperatures (it hit 98 degrees there on July 1) aren't helping the situation. And if storm predictions are accurate, additional lightning could start more fires, or exacerbate this one, which is nowhere near under control. And as of this morning, the wind picked up in the area. None of this is good news.
On the other hand, help has come from the National Guard and U.S. Air Force, both of which have deployed C-130 firefighting aircraft that will unleash water and fire retardant. And more planes are being supplied by the U.S. Forest Service.
The fire has been called "erratic" and "unpredictable," and experts say that's due to the topography of the region, which "creates a funneling effect for the wind over the passes and through the valleys," according to the Huffington Post, creating hard-to-predict "speeds and directions."
Ken Waters, a warning coordination meteorologist with the Phoenix National Weather Service, remarked, "There are so many variables here with the terrain, which tends to modify the winds so that you get this channeling effect where the winds can change direction and intensify as they get compressed."
The difficulty in containing this fire, and the tragedy that resulted from it, might have been alleviated if firefighters had more equipment, and if the U.S. Forest Service had more money. As previously noted, the Forest Service has already had to borrow money from other forest management services after coming up short. And that lack of funding resulted in a shortage of firefighting equipment in certain cases.
Forest Service deputy chief of state and private forestry Jim Hubbard said, "With all that's facing us, how do we accommodate record fires with strained budgets? We're expecting above-normal fire potential to result in excessive suppression costs."
But right now, said Roy Hall, "The highest priority is for the fallen comrades. They were highly trained and highly specialized. They were part of a younger generation. That's the tragedy of it, that lives would be lost of such a young group."
Photo: David Kadlubowski/AP & The Arizona Republic