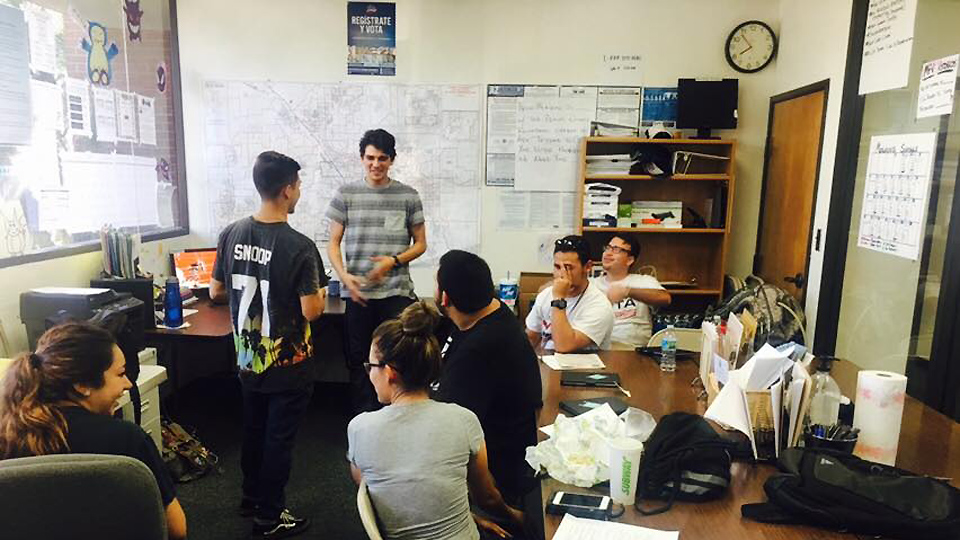 My wife and I moved to Arizona in 1980. We were looking for a warmer place than our native Minnesota, and we liked the beautiful mountains, the proximity to Mexico, and the border culture in Tucson, but we were a bit apprehensive about moving to the land of Barry Goldwater.
Then I read in the Peoples' Daily World, a predecessor to Peoplesworld.org, about a man named Lorenzo Torrez, a Communist Party leader who was running for the U.S. Senate against Goldwater himself. When I got to Tucson I looked him up and worked with and learned from him for many years. Torrez always felt that Arizona was not as conservative as people thought. He said that we need to keep making demands and building broad coalitions, and to always challenge the ruling class by participating in elections, supporting progressive, pro-labor candidates with issue-based campaigns.
So will the 2016 election in Arizona show that Torrez had it right? It looks like Hillary Clinton will defeat Donald Trump here, only the second time since 1948 that a Democrat carries the state. And it looks like Sheriff Joe Arpaio will finally be defeated.
The notorious, racist Sheriff Arpaio has been behind in the poll since July. He presides over the Sheriff's Department in Maricopa County, Arizona's largest with a population larger than half the state's. Arpaio has raised over 12 million dollars to spend on the campaign, but has been further damaged by an impending criminal indictment and by allying himself too closely with Trump.
Sheriff Paul Babeu of Pinal County, another notorious anti-immigrant racist and far right favorite won the Republican nomination for Congress in Arizona's first District. Babeu seems headed to a landslide defeat. The first district seat is being vacated by Ann Kirkpatrick who is running against U.S. Senator John McCain. But it looks like McCain will retain his seat.
The Bernie Sanders campaign excited and energized many Arizonans and brought many new younger people into the peoples movements. Continuing hard work in the Latino community by many organizations like Mi Familia Vota has helped register thousands of new voters. Polls show that Proposition 206 which will raise the state minimum wage to $12 per hour by 1220, and to $10 this January, is proving to be very popular and will help bring out the vote. Proposition 205 that will legalize pot is also expected to draw voters to the polls. These are the type of developments that can change voting patterns and lead to real changes in the state.
All 90 members of the Arizona State Legislature are also up for reelection. A decade ago half of the seats were uncontested. This year the Democrats have candidates running for 24 of the 30 Senate seats and in all but one of the House districts. Each House district elects two Representatives for a total of 60. The Arizona Legislature is particularly far right and the Democrats think they have a shot at the Senate. A 15 to 15 tie in the Senate would bring an end to the barrage of assaults on working Arizonans and immigrant families. By running in every district, even where they don't expect to win, Democrats can hope to increase voter turnout for Hillary Clinton and their Congressional candidates.
Most Arizonans vote by mail. The ballots arrived just as the latest Trump scandal hit the news. Arizonans remembered Trump calling our Mexican neighbors rapists, and now he is heard bragging about his ability to sexually assault women. About 25 percent of Arizonans voters have sent in their ballots in the last ten days, more than usual. I suspect most of these votes were not for Trump or his buddy, Arpaio.