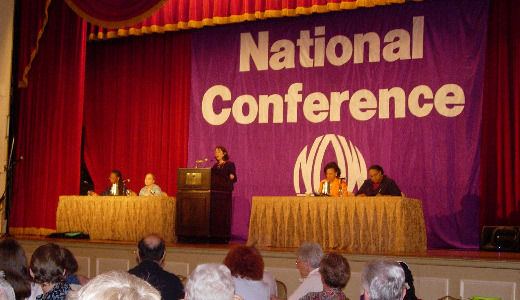 BOSTON – Terry O'Neill, president of the National Organization for Women, issued a three-point "charge" to more than 300 activists gathered here for the group's national conference over the July 4 weekend: Beat back the new attacks on Social Security – it's a women's issue. Repeal the anti-abortion Hyde amendment. Elect women to public office.
"We're facing enormous challenges," O'Neill told the participants.
She summed up the anger widely expressed here over new abortion restrictions included in the health reform law enacted earlier this year. They expand on the 1976 Hyde amendment prohibiting federal funding for abortions.
Although speakers welcomed the health reform law as a step in the right direction, the new restrictions make it so cumbersome for insurance companies to provide coverage for abortion that, O'Neill predicted, within five to 10 years they won't bother. She warned that this is not the end of the religious right-wing agenda – we can expect next an attack on birth control, and on maternity care. To let lawmakers know "it's not ok to attack women's access to health care," she said, it's necessary to fight to repeal the Hyde amendment.
In a particularly compelling address, Nebraska doctor Leroy Carhart related harrowing stories of women who have come to him in desperation for a late-term abortion because the growing thicket of restrictions blocked early termination of very problematic pregnancies. In several cases the fetuses had profound abnormalities. Some of the women were teenagers contemplating suicide. Carhart was a colleague of Dr. George Tiller, who was killed by an anti-abortion fanatic because Tiller provided late-term abortions. Carhart's farm was burned a few years ago, killing 17 horses and other animals. "Abortion is a matter of the heart," Carhart said. "I trust women to know when is the right time to bring a child into this world."
O'Neill emphasized that the "fiscal responsibility and reform" commission created by President Obama poses a "serious economic threat" to women, with its Democratic and Republican co-chairs targeting Social Security for cuts. NOW's Jan Erickson told a packed workshop on the issue that Social Security is "absolutely critical for women," providing the sole income for millions of older women. The cause of the federal deficit, speakers charged, is not Social Security but unfunded "wars of choice" in Iraq and Afghanistan, tax cuts for the super-rich, and financial deregulation.
Lois Herr, running to unseat Republican Joe Pitts in Pennsylvania's 16th Congressional District, made a fiery speech in a plenary session on electing women. Pitts was the co-author with Michigan Democrat Bart Stupak of the abortion restrictions added to the health reform bill. Herr called Pitts a "poster child for what the far right is trying to do to us. … They want to control almost everything we do with our bodies, but they don't want to control the rich," she said. It's not just abortion, she warned. "They're going to be after affirmative action too."
"This election we have to be really mad," Herr said. "We have to send a message to the right wing." She asked the audience, "Will you go home and work to make that happen?"
Speakers stressed the need for more women to run for office. But they emphatically rejected Republican efforts to "co-opt" feminism for a right-wing agenda with the likes of Sarah Palin and Carly Fiorina, the California Senate candidate.
Speaking at a floor microphone, Trudy Mason, a New York Democratic state committeewoman, said the women's movement should work to get feminists to run for office, in contrast to candidates who are "just physiologically women" but do not represent women's interests.
Addressing a plenary session titled "Lifting Every Voice: Women of Color and Empowerment," Irasema Garza, who heads Legal Momentum, a women's legal defense fund, issued a passionate appeal for the women's movement to "advocate on behalf of poor women, working women, marginalized women." Garza, a former Labor Department and AFSCME official, said 70 percent of low-wage workers are women, and immigrant women are "at the bottom." Among the millions of undocumented immigrants in the U.S., approximately 4.1 million are women, "suffering in silence," she said. "If we're not the voice of these women, who else will be?"
The 342 participants ranged from gray-haired to 20-somethings, and spanned a wide range of interests, as shown in workshop topics covering the beauty industry, alternative bodies and identities, midwives and birth, culture and race. The organization now has two Spanish-speaking chapters and says it looks forward to more.
Three young women from the Boston chapter illustrated the breadth of interests here. Panayiota Bertzikis, 28, runs the Military Rape Crisis Center in Cambridge, Mass. She became involved after being a victim of sexual trauma in the Coast Guard, where she served for two years. In May, Bertizikis received an Unsung Heroines of Massachusetts 2010 award from the Massachusetts Commission on the Status of Women. Amanda Regan, 24, is interested in pay equity. She is between jobs after working for several years in the railroad industry, first as a cleaner and then as a railroad engineer. Althea Sellars, 20, is a student at UMass Lowell interested in environmental health and comprehensive sex education in high schools.
Their quiet confidence and enthusiasm indicated a bright future for the women's movement.
Photo: NOW President Terry O'Neill addresses the conference, July 3. (PW/Susan Webb)