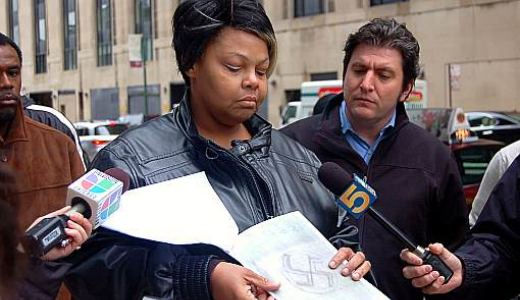 CHICAGO – Nine workers filed charges here with the U.S. Equal Employment Opportunity Commission April 28, alleging the company they work for, and it's management, has repeatedly refused to address several counts of discrimination including the use of hate symbols.
The mostly African American workers say the Kraft/Cadbury warehouse in Joliet, a suburb just west of here, and DB Schenker, the company running the warehouse, along with its supervisors and their lack of action to correct the problem has created a hostile work environment.
"There are Nazi signs on the walls," said Angela McDonald, 44, who has worked at the warehouse for the last three years. She and her co-workers have repeatedly complained about the swastika graffiti and other charges to their managers and supervisors. "But they don't want to talk to us," she said.
The workers say that when management was approached about the problem they claimed that the black and Latino workers painted the swastikas in order "to get attention." On top of the Nazi symbols the workers also say a vehicle displaying confederate flags has consistently been seen parked on the property near the warehouse entrance.
"They're discriminating against my race and it's hateful," said McDonald, adding how the swastikas have not been removed from public areas at the warehouse, including the break room and the men's rest room. "They have been up for over eight months now. Those symbols represent hate and slavery and are not just offensive to blacks but everyone. We shouldn't have to put up with that," she said.
"When I'm leaving at one in the morning, there is no security and I know there are people who are hateful and prejudiced in the building," said McDonald. "I'm afraid of someone hurting me."
McDonald and a group of her co-workers and labor activists recently met with civil rights leaders and local clergy to mobilize support against the company's failure to address the issue.
Mark Meinster with Warehouse Workers for Justice said his group has been fighting for the rights of warehouse workers in the area for years. He points to a study released by the group last year, which found nearly 40 percent of Will County warehouse workers, where the warehouse in question is located, reported being discriminated against. The report, Bad Jobs in Goods Movement, found that 63 percent of workers in Will County warehouses are employed by temp agencies, earn poverty wages and have few benefits.
"We still don't have a society where workers are free from these types of discrimination charges," said Meinster. "And we're not just seeing discrimination at one place but it's happening throughout the warehouse industry in the area." Worker injustice is being allowed all over and target Latino and immigrant workers too, he said. Too many are being denied promotions based on their race, age and immigration status. And most of them are temp workers, he said.
"That's why workers need to come together and get organized and fight back. This recent battle is just the tip of the iceberg," said Meinster. "We're calling on the company, DB Schenker, to remove the hate symbols immediately and we want the local management to be completely replaced, because they clearly don't have the capacity to respect workers' basic human rights."
After the charges are filed and if the company fails to move, Meinster said the workers and supporters will step up their campaign, which will include pressure from the community, clergy and elected officials.
"We have to speak out and let them know we don't tolerate discrimination in our community and at our workplaces," he said.
McDonald said she was born and raised in Joliet. She is the mother of three and has several grandchildren.
"A lot of people still use the N-word, but I hate that word and I never allow my children to use it," she said. "I want my grandkids to know their history and I don't ever want them to have to experience what we are going through today at the warehouse. I just want the company to treat us fairly, to stop treating us like less human because we all deserve equal rights, black, brown and white. And we're not going to stand for it. By … saying nothing, they're really saying something. But we want some changes."
Chris Williams, an attorney with the Workers' Law Office said mostly African American workers, both male and female, and one Latino worker filed the charges. Although the majority of the workers claim racial discrimination, others include being denied promotions for complaining about it, age discrimination and sexual harassment.
The warehouse loads and distributes various candies, cough drops, gum, chocolate bars and ingredients to make such items.
Photo: During an April 28 press conference in Chicago, Angela McDonald shows a picture of swastika graffiti at the Joliet, Ill. warehouse where she works. Pepe Lozano/PW.