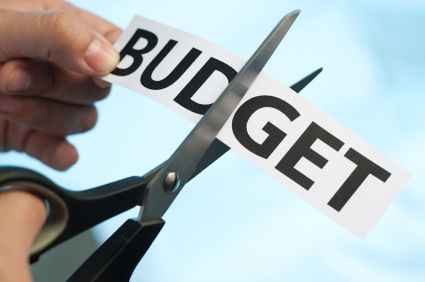 WASHINGTON (PAI) – Members of federal workers and postal employee unions mobilized in late March against Republican budget schemes that would – again – cut their pay.
But whether the solons, and especially the GOP majorities on Capitol Hill, will listen to the workers is unlikely, as lawmakers rushed to complete work on their budget blueprints before skedaddling out of town for a two-week Passover-Easter recess.
Whether the lawmakers will meet that deadline is uncertain: The ruling House GOP is divided between so-called "deficit hawks" who want to slash federal spending and the workforce, too, and "defense hawks" who want to increase defense spending – above Democratic President Barack Obama's request – by taking money from domestic programs.
Letter Carriers President Fredric Rolando and Government Employees (AFGE) President J. David Cox led the charge against any version of the GOP budget blueprints, urging their members to lobby lawmakers via telephone, email, and telegram. Both unions concentrated on the ruling Republicans' demand that all federal workers increase their yearly pension contributions eight-fold, to 6.35 percent of weekly pay.
"House budget 'plan'? Cut letter carrier pay (again)," Rolando summarized.
"While the House bill doesn't say exactly how much of a pay cut its authors are looking for, it does refer to the recommendations of President Barack Obama's 2010 National Commission on Fiscal Responsibility and Reform, which concluded the government and its employees should share equally in paying for pension benefits," he explained.
That Simpson-Bowles Commission plan called for all federal workers to contribute 6 percent of their paychecks to future pension payments, but without any increase in payouts. "In other words, they want 6 percent of your pay to go toward your pensions, with no accompanying increase in your pension benefits," he added.
That hike would cost a letter carrier at the top of scale a $3,500 yearly pay cut, Rolando said. "The Postal Service doesn't take a dime of taxpayer money, so including letter carriers and all postal workers in this wholly unfair plan, especially under the guise of 'deficit reduction,' makes no sense at all." He also noted postal pensions are virtually fully funded.
Both Cox and Rolando pointed out that federal workers, thanks to the GOP-inspired government shutdown, sequestration and prior pay freezes and cuts, contributed $159 billion to federal deficit reduction over the last several years, more than anyone else.
The Senate hike in pension payments would produce a slightly smaller pay cut for federal workers, of 5.5 percent, Cox said. But a cut is a cut. "Federal employees are in the crosshairs once again," he said.
"Slashing the wages and benefits of government employees who devoted their lives to serving the public isn't a plan for growing the economy. On the contrary, it's a sure-fire way to lower the living standards for working-class people who have already paid a steep price during the economic recession," Cox said. His union, like NALC, has many minority-group members, veterans and women.
"Federal employees aren't some faceless bureaucrats to be cut at a whim. They are real people with real jobs who make a real difference in the lives of millions every day, whether it's ensuring senior citizens get the Social Security benefits they're owed, caring for veterans who return from war with physical or psychological scars, or keeping knives and other weapons off airplanes," Cox, a retired VA nurse, said. "They deserve our respect and admiration, not the contempt and derision being presented in this budget."
Added a third union president, Colleen Kelley of the Treasury Employees, an independent union, "Our nation depends on highly skilled federal workers to protect us in so many ways and on so many fronts. This regressive proposal would harm middle-class federal workers and their ability to do their jobs."
In urging unionists and their allies to flood Capitol Hill with calls, wires and emails, both leaders concluded that "it's time for all of us to tell Congress that enough is enough."
Photo: stock photo