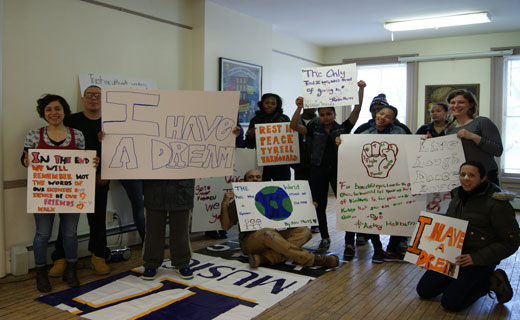 NEW HAVEN, Conn. – Giving new meaning to the significance of African American History Month, the New Elm City Dream and YCL are organizing a youth march to end violence and for jobs this Sunday, Feb. 23, with the support of labor and political leaders and Mayor Toni Harp.
The march starts at Elm and Kensington streets at 3:00 pm, at the spot where 20-year old Tyrell Trimble was shot to death a year and a half ago, and will end up at the Peoples Center, 37 Howe Street, in time for the 40th annual African American History Month celebration hosted by the People's World at 4:00 pm.
Labor and community leader Craig Gauthier, who will help lead the march with the youth, will be recognized for his courage and commitment at the celebration, "In Solidarity to End Racism – Craig Gauthier Tells His Story: Fighting to End Racism and Discrimination from Louisiana to New Haven."
The event will also be held in Hartford on Saturday, February 22 at 6:30 pm at the King-Davis Labor Center, 77 Huyshope Avenue, where spoken word will be performed by Shaquana Cannon and Quadell Williams.
In New Haven the program will open with drumming by Brian Jarawa Gray and the presentation of prizes for the high school arts and writing competition expressing the needs and vision of youth for New Haven.
At both celebrations an excerpt of the film Free Angela and All Political Prisoners will be shown. Gauthier traveled with Angela Davis to speaking engagements in New England after her release in the 1970s.
Gauthier will trace his journey from Louisiana where he grew up during Jim Wrow segregation to the military and then to New Haven where he worked at Pratt & Whitney and Yale New Haven Hospital and for many years at the Winchester factory in Newhallville.
Gauthier became president of IAM Victory Lodge 609, and IAM District 170. He served on the executive board of the New Haven Labor Council and many community organizations. As a member first of the Black Panther Party and then of the Communist Party USA, he has campaigned for peace, to end police brutality, meet the needs of youth, to create living wage jobs in the community, and for union rights. He will address today's needs to step up the fight against racism and build unity around a program of economic, social and racial equality.
Growing up in Donaldsonville, Louisiana Gauthier was taught by his mother how to survive the brutality of institutionalized racism. After high school, he served in the army for four and a half years and then moved to New Haven in search of a job at Pratt & Whitney aircraft. While working a second job at Yale-New Haven Hospital, he helped organize the dietary workers into Local 1199.
After an incident with police brutality Gauthier joined the Black Panther Party. Soon after, he met the Communist Party, liked its long view and broad coalition tactics, and found his political home.
Gauthier worked at the Winchester Repeating Arms factory for 22 years from the time it was the city's largest employer before it moved abroad. He made an indelible mark in 1979 as a union leader in the landmark 1-month strike and later became union president.
Today, Craig is active at the Peoples Center and in the Newhallville community. The youth in the New Elm City Dream and the YCL greatly appreciate his encouragement and support.
The young people came up with the idea of marching for African American History month to honor well-known African American leaders, and also the young people who are dying as a result of violence, many of whom are African American. Sunday's march will pay tribute to the lives of their lost friends, and recognize their contributions to their neighborhoods and families.
The youth understand that if society were free from racism and division, the society Gauthier has fought for his entire life, all youth in Connecticut and elsewhere could become strong leaders today.
The Hartford and New Haven celebrations will include a home made buffet. Requested donation is $5 or what you can afford. For information call 203-624-8664.
Photo: New Elm City Dream youth prepare posters for their African American History Month march against violence and racism and for jobs. Photo credit: Eamon Linehan