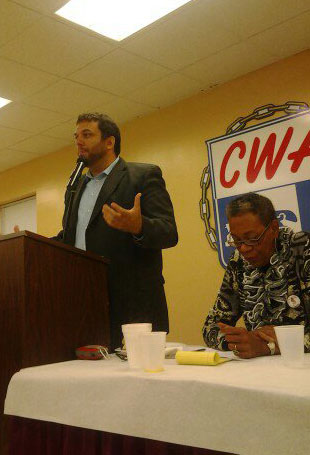 ST. LOUIS – Over 120 union leaders, community, student, faith, and LGBT activists, attended the 21st Annual Hershel Walker 'Peace & Justice' Awards Breakfast here on May 4 at the Communications Workers' Union of America (CWA) Local 6300 union hall.
They came to celebrate the work of St. Louis area activists who have gone above and beyond the call of duty in the struggle for social and economic justice, and to hear metro-Detroit AFL-CIO central labor council president, Chris Michalakis, talk about the impact of so-called 'Right-to-Work' legislation in Michigan and what we can expect if RTW passes the republican controlled legislature here.
Michalakis attacked the influence of money in politics, especially in the Republican Party, and highlighted the role of its far-right corporate funders in forcing 'Right-to-Work' onto Michigan workers.
He said, "Corporate types and CEOs don't make contributions. They make investments."
"For years, the DeVos family, the Koch brothers, the Waltons – here in Missouri you have a guy by the name of Rex Sinquefield – have been putting in obscene amounts of money to create organizations like the Tea Party, Americans For Prosperity, the Republican Governors Association, etc."
"And they have been funding all of these organizations not out of the kindness of their hearts," Michalakis said, "but because they expect a return on their investment."
"This is what scares me about the GOP," he continued, "their funders have so much control over their investments, i.e. politicians, that even in a union state like Michigan, where we have a history of moderate republican governors, where two of the three heads of the legislative process publically say that they do not want to touch 'Right-to-Work,' where in-spite of all of this, the funders, the corporate investors, get what they want – 'Right-to-Work.'"
The Missouri legislature is currently debating so-called 'Right-to-Work' legislation, paycheck deception and attacks on prevailing wage laws. Fortunately, Missouri Governor, Jay Nixon, has vowed to veto these and other anti-worker bills if they make it to his desk.
Missouri union leaders are optimistic that they can convince enough Republican legislatures, with enough phone calls, emails, and face-to-face in district meetings, to distance themselves from RTW, thereby keeping the far-right of the Republican Party from getting a veto proof majority capable of overriding the Governor's veto.
Michigan Governor, Rick Snyder, signed RTW legislation into law last fall.
"Where do we go from here," Michalakis asked the assembled union leaders and community activists?
He said, "I think the next couple of election cycles are very important, but what if we spent all of that time and energy organizing our own shop floors?"
"What if we, our stewards, our staff and our activist members were so well trained and our membership so much more engaged, and so many more people were involved in their union, that it didn't matter whether or not we are a RTW state?"
"What if we build community alliances so strong that the public would back us in our struggles during every single fight and we grew our leverage to get better contracts than before – even under RTW conditions?"
Michalakis said, "We can be successful even in an era of RTW."
"And when we accomplish this – when we have built broad-based community alliances, when we have organized all of our shop floors, mobilized all of our stewards, staff, activists and members – think about the consequences. We will have taken away a powerful weapon in the republican arsenal. We will have taken away RTW as a weapon to be used against us."
Michalakis summed-up his remarks, "The Right Wing celebrated when Michigan fell and became a 'Right-to-Work' state. I want to make them regret that that happened."
While no-one wants so-called 'Right-to-Work' to pass here in the Show-me-State, a number of unions here – primarily public sector unions – already work under RTW-like conditions and in some shops have 80 percent union recognition.
Michalakis also talked about the struggles for LGBT and immigrant rights. He emphasized the role of the labor movement in championing movements that expand democracy and protect hard-won rights in the workplace, like domestic partner benefits.
This year's 'Peace & Justice' Awardees were:
– Holly Roe, a leader in the Missouri State Workers' Union, CWA 6355
– Andrew Shaughnessy, the St. Louis area PROMO organizer; PROMO is a statewide lesbian, gay, bisexual, and transgender rights organization
– Tishaura Jones, St. Louis City Treasurer and former State Representative
– Garry Elliot, business manager for the 8,000 member-strong Eastern Missouri Laborers' District Council
Members of CWA, the Service Employees International Union (SEIU), the Coalition of Black Trade Unionists (CBTU), the Operating Engineers' International Union (IUOE), the United Auto-Workers' Union (UAW), Jobs with Justice (JWJ), the Missouri Immigrant and Refugee Advocates (MIRA) Coalition, Young Activists United-St. Louis (YSTL), the Missouri Progressive Vote Coalition, and the Laborers' International Union, among many, many other organizations attended the Breakfast, which is held the Saturday closest to May Day, the International Workers' Holiday.
Photo: Charlie Edelen, JWJ