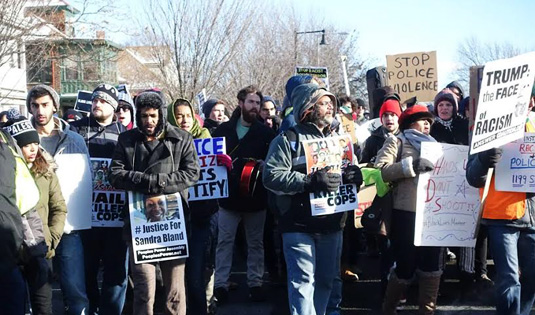 BOSTON – Civil rights leader Martin Luther King, Jr. stood with Memphis sanitation workers shortly before his assassination–now, advocates in Boston are invoking his legacy to continue the fight for economic and racial justice. Hundreds attended a Jan. 18 march organized by Mass Action Against Police Brutality (MAAPB) and the Fight for $15 Massachusetts campaign demanding: the jailing of police officers who commit violence; a $15/hour wage and union representation for workers; a rejection of Islamophobia; and an end to institutional racism.The march started in Boston's Dorchester neighborhood and proceeded from there to Grove Hall with several stops along the way.
The months following the 2014 civil uprisings in Ferguson, MO have brought to light numerous cases of police violence, such as the high-profile cases of victims Sandra Bland, Tamir Rice and Laquan McDonald. In Boston, former MBTA officer Jennifer Amyot Garvey was recently indicted for assaulting Roxbury resident Mary Holmes, who intervened publicly in another case of police abuse. Other cases of police violence, such as those of Burrell Ramsey­ White, Denis Reynoso andUsaama Rahim, have never seen indictment or sentencing. MAAPB is calling for the state to prosecute police officers complicit in these acts of violence.
The march also highlighted active labor struggles in Boston involving fast food workers, adjunct professors and airport baggage handlers fighting for fair wages and union representation. Marchers stopped at fast food restaurants along the route and were joined by a contingent of airport workers. The airport workers had staged a separate action earlier in the day where six people were arrested.
"The fight against police brutality is central to the fight against racial and economic injustice," said Brock Satter of Mass Action Against Police Brutality. "More often than not, the population most targeted by police are also on the lowest rungs of the economic ladder–black, brown, and poor. The labor movement is the natural ally of this fight: police always take the side of the company during labor disputes. Raising workers' wages will lift up low­income communities."
"As we commemorate the life and legacy of Dr. Martin Luther King, Jr., the fight for economic and racial justice continues," said Darius Cephas, Boston McDonald's worker and National Organizing Committee member with the Fight for $15. "The intersection of racial and economic justice is evident in the fast food industry, where people of color make up more than 43 percent of employees. The Fight for $15 is fighting to restore dignity in the workplace and create a community where we can all walk safely without fear of losing our life to the fate of police brutality."
Photo: Howard Rotman