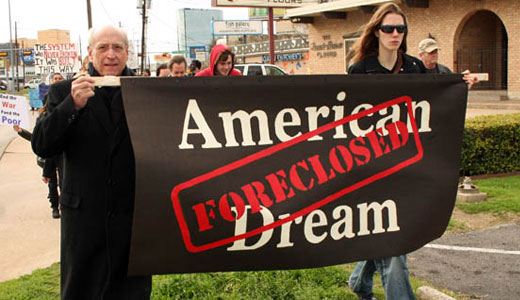 DALLAS – Progressive organizations came together to protest home foreclosures with a long march and vigil in North Dallas on Feb. 4. A coffin labeled "RIP American Dream" led a long march up Greenville Street. It was followed by mock mourners, a mock preacher reading from the "Book of Evictions," funeral singers, and several women (and men) dressed in black veils and widow's weeds. At least 90 people were in the march and more awaited them at the rally at Bank of America on Walnut Hill Road.
Longtime peace activists joined the forces of MoveOn.com, Jobs with Justice, and Occupy Dallas in the funeral march. After the funeral ceremony, activists kept their signs up on the sidewalks along both busy streets for a long vigil. Four hours after the beginning of the march, another rally began against proposals for invading Iran.
Media coverage was extensive. The Dallas Sunday newspaper carried a photo of the march.
Photo: Jim Lane/PW