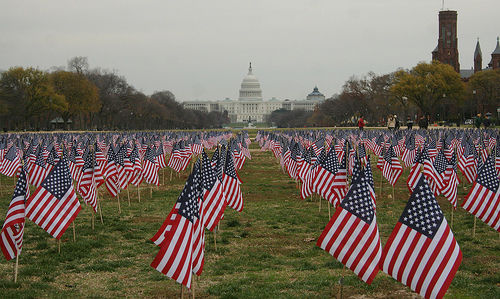 More and more Americans have come to believe that gay, lesbian and bisexual people should be able to serve openly in the military without punishment, a new poll released by the Center for American Progress revealed this week.
The poll showed that 54 percent of Americans favor repealing the "don't ask, don't tell" law passed by Congress in 1993. A mere 35 percent oppose a repeal.
More than two-thirds of self-identified Democrats, 55 percent of independents, and more than four in ten Republicans support allowing gays, lesbians and bisexuals to openly serve.
Strong majorities both in House districts believed to be in serious contention for the 2010 elections and in states with competitive Senate races support repealing the 17-year old law.
A diversity of demographic groups support the repeal, the survey also showed. Some 64 percent of Catholics, 61 percent of white married women, and 59 percent of whites aged 50-64 support overturning the law.
The survey suggested that improved attitudes towards gay, lesbian and bisexual people over the past few years have contributed mainly to the changes in public opinion about open military service.
Similar polls conducted for CBS/New York Times and Fox News showed similar majority support for repealing the law.
Polls of military service members show that large majorities are comfortable with open service by gays, lesbians and bisexuals.
According to the Servicemembers Legal Defense Network, as many as 65,000 gay, lesbian and bisexual men and women serve in the military. More than 12,000 have been expelled from service as a result of the "don't ask, don't tell" policy.
Pollsters connected with the White House in 1994 believed that President Clinton's support for what was at the time considered a liberalization of military policy on this issue contributed to the 1994 Republican takeover of Congress.
Ruy Texiera of the Center for American Progress told reporters that he believes people's feelings about the issue have shifted dramatically since the 1990s. "I think it's kind of an open and shut case in the court of public opinion based on our and other data," he said.
Stanley Greenberg, of Greenberg, Quinlan, Rosner Research, the polling firm that gathered the data, agreed. "I think people have moved to a different place on tolerance, they've moved to a different place on the role of the military…and want to see this policy reversed."
Leading voices in the military community have urged repeal of the law, further suggesting how far even the military has come on the issue. Earlier this month former Chair of the Joint Chiefs Gen. Colin Powell expressed his support for changing the law, as did current Chair Adm. Mike Mullen. National Security Advisor James Jones, a former Marine General, also urged repeal of the law.
Human Rights Campaign President Joe Solmonese said, "The truth is that there are no more excuses, the death knell for Don't Ask, Don't Tell has been rung and now is the moment to send this law into the history books where it belongs."
Congress could pass the repeal as part of its Department of Defense authorization bill later in the year.
Photo: http://www.flickr.com/photos/bootbearwdc/ / CC BY 2.0
A coalition of civil rights for LGBT people organizations planted 12,000 flags to commemorate the 12,000 veterans expelled from military service under "don't ask, don't tell" provisions.