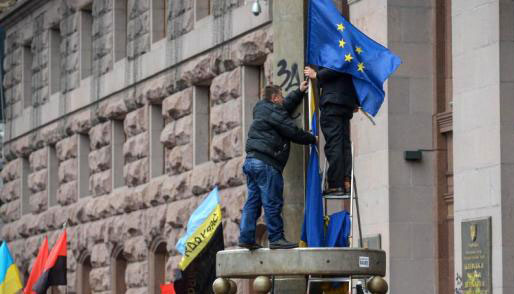 Faced with the country's enormous economic problems, several European foreign affairs ministers are promising to help Ukraine obtain a loan from the International Monetary Fund.
The European Union has tried to support the demonstrators demanding change in Ukraine. But will it keep its promises in the months to come? The question is urgent.
On Nov. 21, when President Viktor Yanukovich turned his back on the European Union in order to join the Russian customs union, it was no great secret that his choice was driven by the catastrophic condition of his country's finances. On Dec. 17, Russia offered a lifeline: a loan of $15 billion and a reduction in gas prices. Three billion dollars were disbursed at the end of December. A further $2 billion should have been given out in January, but Moscow preferred to await a return to calm.
In this area, what does Brussels propose? Nothing, unless you count 610 million euros planned since at least 2012, conditional on Kiev's signing an association agreement with the EU. For the emergency, Europeans seem to have in store the same fate as Greece for the Ukrainians, summoning the IMF.
On Saturday, British Foreign Secretary William Hague revealed an agreement with his German counterpart Frank-Walter Steinmeister to "press for vital financial assistance from the IMF."
On Feb. 21, Standard & Poor's downgraded Ukraine's credit rating to triple C, a score close to default. Kiev must repay $13 billion in 2014. Without Russian help, this is an impossible task. Short-term bonds are being traded at a prohibitive rate of 34.5 percent, compared with 5 percent five months ago. And that is without taking into account the currency, the hryvnia, which has lost 10 per cent of its value. Ukraine's currency reserves will last only two months, according to Thomas Baumann of the German Association of Chambers of Commerce. If the IMF offers Ukraine a loan, it will be at the price of neoliberal structural reforms (austerity).
In the long term, EU countries hope to take advantage of Ukraine's current weak situation in order to impose the EU association agreement that Yanukovich refused to sign in November.
"I believe that, yes, they're going to sign this agreement," the EU's Trade Commissioner, Karel De Gucht, said happily yesterday – while Lithuania sought "a signature without delay."
However, this agreement could well accelerate Ukraine's disintegration. It is essentially a free-trade treaty, which pushes Kiev to take on large amounts of EU law. Once Ukraine has adopted European directives, 99 percent of customs tariffs will fall away. This model had a catastrophic effect for countries such as Tunisia before the Arab Spring.
In order to survive, Ukrainian industry would have to become just as competitive as that of the EU. This is far from being the case. The country's industry is situated for the most part in the Russian-speaking east of the country and is oriented towards Moscow. Since 2004, exports to Russia have leapt by 58 percent, notes the economist Jacques Sapri on his blog. Ukraine needs to orient itself equally westwards and eastwards in order to develop its economy – a fact that European leaders should not forget, or else they risk playing with fire.
This article was reposted from L'Humanité and translated by Richard Pond.
Photo: L'Humanité