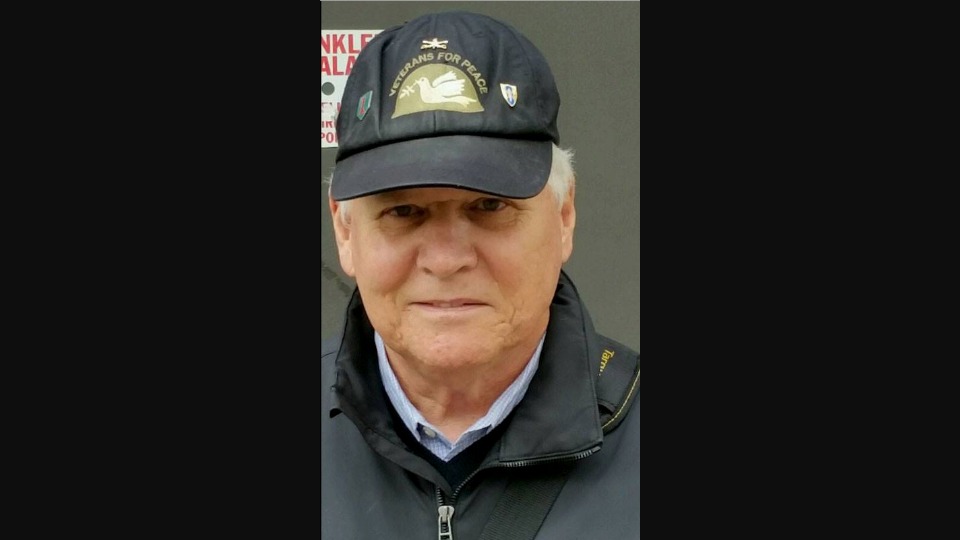 NEW YORK—Frank L. Stearns, a long-time activist, and leader in Veterans for Peace who worked in the national office of the Communist Party USA, died of COVID-19 at Cornell Medical Center in New York City on April 3, 2020.
Frank joined Veterans for Peace shortly after it was founded in 1985 and became especially active during the protests against the war in Iraq and remained committed until the end. He proudly wore his Veterans for Peace hat at rallies, demonstrations, marches, and in his everyday life. The name "Veterans for Peace" defined perfectly the personal, political, and ethical creed that Frank developed first as a tank commander in Vietnam and then when he returned.
Frank joined Veterans for Peace – NYC Chapter 034 in April 2004. He was an active member, serving as vice president of the chapter, and later president from mid-2008 to February 2013.
During Frank's tenure as NYC Chapter 034 president, he initiated a number of important community educational events on war and peace at Judson Memorial Church, the Brecht Forum, and Long Island Alliance for Peace and Justice. Included were screenings of the Emmy Award-winning documentary The Good Soldier and other films, such as Will War Ever End and The Things We Leave Behind, regarding the use of chemical weapons like depleted uranium (DU) and Agent Orange/dioxin. He spoke to high school students on the consequences of war and the impact on communities at home.
Frank was also an active participant in the weekly Veterans Peace Vigil in Forest Hills, Queens, which ran from 2005 thru late 2019, often arriving late, but just in time for lunch with his comrades.
Frank was born in Los Angeles on June 22, 1946, and grew up in Azusa, a small mostly working-class city east of Los Angeles. He came from an unhappy and unloving home where he and his sister Judy were mostly left to their own devices. For Frank, that meant a world of white and Mexican-American boys and teenagers playing sports, tinkering with cars, going fishing, listening to 1950s rock and roll, working odd jobs to make some money, thinking about girls, and just hanging out. His sister Judy says that Frank was always warm, friendly, outgoing, and delighted to meet people and talk. He generally had good grades but almost nothing that happened in school interested him very much.
He attended Azusa High School and, for a while, a local community college. He worked with friends to build a drag racing car that competed in local races on the flatlands of Central Valley, something he liked to talk about for the rest of his life.
He was drafted at the age of 20 and had almost no knowledge of politics or the war in Vietnam. Selected and trained to be a tank commander, Frank arrived in Vietnam in January 1968 at the beginning of the Tet Offensive, one of the largest and most bloody military encounters of the entire war. The Tet Offensive was North Vietnam's well-coordinated, countrywide campaign of surprise attacks against military and civilian command centers throughout South Vietnam.
More than 80,000 North Vietnamese and Viet Cong troops struck over 100 towns and cities in what was, up to that point, the largest military operation of the war. Frank was in the middle of it. Eventually, news coverage of the massive Tet Offensive shocked the American public and, along with growing public protests and demonstrations, eroded political support for the war. Seeing the brutality of the fighting and the response of the South Vietnamese and U.S. commanders certainly ended any confidence that Frank had in the justness of the war he had been thrust into.
For Frank, Vietnam was immersion into what felt like a 24-hours-a-day nightmare of danger, death, and destruction—combined with individual and organizational madness. He concluded almost immediately that the U.S. had no business being in Vietnam and that all he could do was try to protect himself and the other men in his tank. He sought to conduct himself with as much honor, bravery, and decency as he possibly could to everyone he encountered—Vietnamese and American—and to try to return home in one piece.
Trapped in a small metal can rolling into and through the jungle, he had to deal with his equally young and ignorant crew, including sometimes Southern whites who, on their brief breaks, at first refused to sit outside on the same side of the tank as the young Black soldiers that they sweated, bled, and sometimes died with. Frank, astonished by such attitudes and behavior, simply and forcefully told them they couldn't do that, and it stopped.
Many years later, he vividly remembered and would talk about the time when his tank was moving slowly through a jungle. He smelled something strong and realized that a few yards from him, in some bushes, was a Viet Cong soldier, crouched, with his pants down, taking a shit, his rifle peeking out from the bushes pointing directly at Frank. Partly protected by the tank, Frank had a much larger gun and could have killed the man, who likewise might have been able to kill Frank. But Frank reasoned, instantly and on the spot, that neither of them wanted to die that day, and he just held his breath and moved on. It seemed like that moment captured much of Frank's mindset in the war: avoid killing if at all possible, and of course avoid being killed.
He returned from Vietnam to Azusa with what is now termed post-traumatic stress, but for which there was no name at the time. He'd been exposed to major doses of Agent Orange, the poison chemical used by the U.S. military to "defoliate" the jungles of Southeast Asia. Like the coronavirus that ultimately killed Frank, Agent Orange had no mind or will and attacked equally the crops, animals, and human beings it reached. Frank's sister says he was noticeably different when he returned: unhappy, disoriented, and aimless.
He eventually got an apartment with some friends, became interested in photography, something he kept at for the rest of his life, and had a series of working-class jobs including as a railroad switchman. By the mid-1970s, he was involved in a psychological and therapeutic community in Los Angeles, ultimately a kind of soft cult, where he lived in houses with others and was able to use his considerable talents as a gearhead: carpenter, electrician, audio-visual tech man, a jack-of-all-trades. There, he met the love of his life, Karen Phillips, from Long Island, N.Y.
When the community dissolved in early 1981, Karen and Frank moved to Jamaica, N.Y., and smack into the arms of Karen's loving, intense family of politically progressive and leftist secular Jews. Frank discovered he liked these people and this world very much. Unlike his own family, these New York Jews loved to talk, laugh, make and tell jokes, go to movies, concerts, and theatres, and play tennis, a sport he came to love. And, boy, could these Jews eat.
When Frank came to New York, he was six feet tall and skinny; in fact, he instantly became the tallest and by far the skinniest person in the whole family. It took his mother-in-law and countless family events nearly 30 years to fatten Frank up enough so that not only was he no longer skinny, but now he needed to go to Weight Watchers (which, coincidentally, had been founded by Jewish women on Long Island a lot like his new relatives).
All of this gradually made Frank a happier man. He worked as a photographer's assistant for a number of years. In 1988, Karen gave birth to twin daughters, Jenny and Ali, whom he adored from the moment of their birth, and whom he parented with all of the love, kindness, and warmth that his own parents had been incapable of. He also came to understand and respect the political commitment of his in-laws, especially Karen's parents who were very active in anti-war and pro-peace organizations on Long Island.
Frank also became a volunteer working at the national office of the Communist Party in Manhattan. Gabe Falsetta remembers their conversation one day after the Saturday vigil: "I was talking about the CPUSA—of which I'm a member—and considering Frank's transformation, one would not be surprised that Frank liked very much what he heard. This was the start of a beautiful friendship, one I will forever cherish."
Falsetta says that "Frank started working for the CP in the finance department part-time in September 2011, arranging his days to coincide with mine so we could spend our lunchtimes catching up on politics, family, and friends."
Frank was a very resourceful and talented human being. He helped organize a forum against Stop and Frisk and marijuana busts in New York City. He invited his brother-in-law, who happened to be among the most knowledgeable people on the subject, Professor Harry Levine of Queens College.
It was one of the New York Communist Party District's most successful forums. Frank was also the resident photographer, setting up stage lighting when needed. All this was in addition to working with the finance department.
Jarvis Tyner, chair of the New York CP District said of Frank:
"We were all saddened when we heard that Frank had succumbed to the coronavirus. Our office will not be the same without Frank. He was a ray of sunshine every day he was there. He was a Vietnam Vet who had been poisoned by Agent Orange. After the war, he grew to understand that the real purpose of the war was imperialist domination, not freedom. 
"He joined our Party and immediately rose to leading positions as he became a committed and dedicated member. He was very likable and he was really loved by all the comrades who knew him. He loved his family above all and talked about them constantly.
"He valued personal friendships and had a warm relationship with everyone he met. When he got his first checks from the government, for being poisoned with Agent Orange, every morning he brought me a fresh cup of the best coffee in Chelsea until I retired from full-time work. Thanks, Frank, you are a true friend.
"You had to love Frank; he was the salt of the earth.  He will not be forgotten."
Bob Keilbach and Gabe Falsetta contributed to this article.