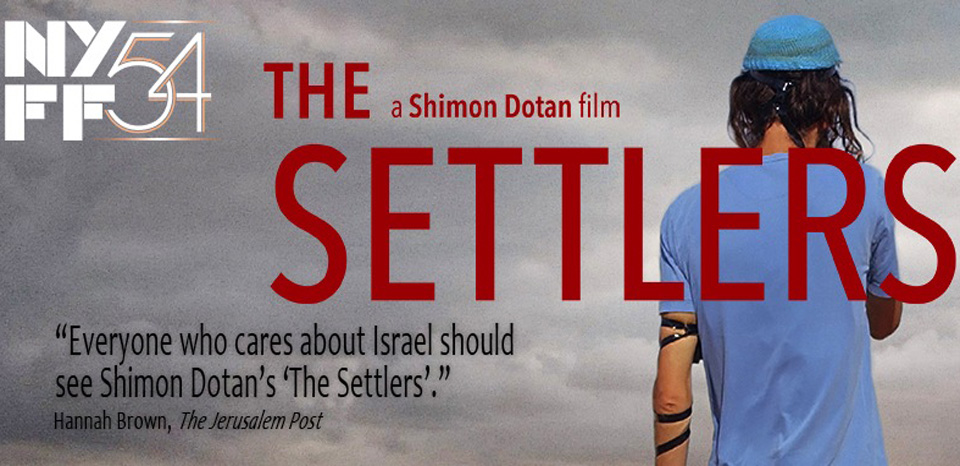 From his journey as Navy Seal commando to popular film director, Shimon Dotan knows a bit about settlers and conflicts.
Dotan spent the first ten years of his life growing up in the ruins that were Post World War II Romania.  He jokes that the bread and onion sandwiches on which his family subsisted were almost as bad as the anti-Semitism.
During World War II, Romania's fascist government killed between 280, 000 and 380,000 Jews and had supplied more troops to Hitler than all of his other allies combined. Stymied by anti-Semitism at his work, Dotan's father finally was able to get the family to Israel.  Shimon was overjoyed.  "We really didn't mind all the onions," maintained the younger Dotan, "but we had heard that every child there had his own orange tree."
The new social democracy of Israel was a dream to the Dotan family.  A place of hope and idealism.  They would no longer be the outsiders.  They would be co-owners of the dream.
Dotan's film "The Settlers" chronicles how this dream changed into one of the world's most contentious problems: Israelis moving into Palestinian lands.
Shimon didn't mind the hard work that the dream required.  He grew up in the agricultural co-op of Moshav Arugot, working in the fields, collecting dried hay after the combines, often milking and tending livestock.
After high school, he spent over five years in military service as a Navy Seal officer.  "As an immigrant, I felt I needed to do more to prove myself and be accepted."  His service included everything from jumping out of planes to combat.  He was one of the combatants in the famous Green Island Raid at the mouth of the Suez Canal.  He patrolled Gaza City at night, searching homes and trying to resolve conflicts.  "It was in Gaza," Dotan reflected, "that I had a growing feeling that what we were doing was wrong.  I realized that I was not going to make this a career."
Dotan registered at Hebrew University Medical School.  But he found his true calling in Tel Aviv University's new film school.  His student films, which drew on his experiences, "Repeat Dive" and "Smile of the Lamb" won Israel's Best Short Film and Best Director Awards twice and a total of six Israeli Academy Awards.
In the following years, he directed, wrote and produced a number of award winning and commercial successes including "You Can Thank Me Later" (Ellen Burstyn, Genevieve Boujold, Mary McDonnell and Amanda Plummer), "The Finest Hour" (Rob Lowe), "The List" (Ryan O'Neal, Ben Gazara), "Wilder" (Pam Grier, Rutger Hauer), "Cause of Death" (Patrick Bergin) and "Hidden Agenda" (Dolph Lundgren).
But Dotan's most memorable films are his documentaries: "Hot House" (2006) and "The Settlers" (2016).  The "Hot House" disturbing portrayal of Palestinian prisoners won Sundance's Special Jury Award for Best World Documentary.  At its showing at the Human Rights Watch International Film Festival, the audience sat in stunned silence.
"The Settlers" was an even more disturbing story that Dotan knew needed telling.  Illegal Israeli settlements on Palestinian lands had been fueling the Middle East crisis for the last fifty years.  The government had repeatedly declared these settlements illegal, but had repeatedly failed to stop them.  Rabbi Hanan Porat spoke for the Settlers movement when he proclaimed: the government can't tell us what to do!  As the settlers forced Palestinians off their land, they declared that the dispossessed had little or no political rights.
At first, Dotan did not know what to do with the subject.  As he slowly started to deal with it, the film maker realized that much of it needed telling through the words of the settlers themselves.  "My interest is always with the side that initiates," confessed Shimon Dotan, "The story lies with those who do, more than with the victims."
He knew that he must talk to the settlers to see how they viewed the world.  It was not always pleasant. Dotan made his point of view clear: He opposed the settlements.  The conversations ranged from thoughtful to angry.  The film crew was attacked.  Its equipment was stolen.  His cinematographer was beaten with an iron rod.  The police did nothing.  They closed the case citing lack of evidence though perpetrators clearly took refuge in the settlements.
Although he encountered opposition and problems every step of the way, Dotan remains optimistic and committed.  "We make films to educate, as well as to entertain," reminds the film maker, "and there are so many young people unfamiliar with the issues the film focuses on."
In the end, the film leaves us with two major questions:
If a nation upholds laws based on people's ethnic origins and maintains an income disparity of 1:20 between Palestinians and Israelis, is it not, as university researcher Dror Etkes maintains in the film, an apartheid system?
And if a government allows a religious group to contravene it's national laws thus threatening the peace, prosperity and equal rights of a large population, is it still a democracy?