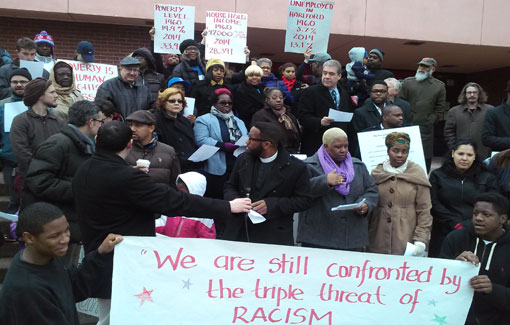 HARTFORD, Conn. — Holding hands and singing, "we shall overcome," community leaders, activists, and parents of public school students gathered here at J.C. Clark Elementary and Middle School on Martin Luther King Day to call for a "Community Bill of Rights" that would address the triple evils of "racism, militarism, and consumerism" King warned of.
The multi-racial rally, called in the spirit of Dr. King's 1964 poor people's campaign, was held in Hartford's North End, one of the most impoverished neighborhoods in the nation. The 2011 Census reports that 36 percent of the largely African American and Latino population live below the official poverty level, blocks away from the headquarters of the world's wealthiest insurance companies.
"Today we honor Dr. King, and the inspiring work that he did, by making a commitment to righting societal wrongs," declared Rev. A.J. Johnson of Urban Hope Refuge Church. He called for ordinances and legislation to address the needs of single parents and people returning from prison in the community.
Hartford Rising, the coalition that organized the rally, is hosting a meeting at Rev. Johnson's church on Thursday, Jan. 30 at 6 p.m. to begin drafting a Community Bill of Rights to be delivered to the Hartford City Council and all elected officials.
The social contract will seek to address the city's high employment, disparities in civil rights, income inequality, and lack of a quality public education for all its students.
Hartford's official 13.1 percent unemployment rate is twice the city's unemployment rate in 1964. Real unemployment in the North End is estimated at more than 50 percent, including discouraged workers who have stopped looking and part time workers who need full time jobs. For youth, it is much higher.
Rob Harrison, an alumni of Clark School, was at the rally because he wants to see jobs with livable wages and decent benefits that can make a strong, thriving community. "We are coming together because we want change," he said calling for "systems that work."
Parents, teachers and paraprofessionals all spoke on behalf of the need for improved public schools. State Rep. Edwin Vargas, a past president of the Hartford Federation of Teachers, said he is excited about Hartford Rising because "our communities have been pitted against each other for profiteering." He said "neighborhood schools should get the same attention and services that the so-called model schools are getting."
Joshua Hall, vice president of the Hartford Federation of Teachers, holding his small son, said people are coming together so that little ones like his son "can grow up in a world and community that is safe and nurtured with the best education possible."
"We believe that mass incarceration is shattering our communities," said Kennard Ray, political and legislative director of Working Families Party. "That is why we are committed to insuring that Hartford's ban-the-box law actually protects ex-offenders from discrimination in hiring."
City Council Minority Leader Larry Deutsch, Working Families Party, welcomed the Bill of Rights initiative and urged that demands, not just requests, be brought to elected bodies.
A video with highlights of the rally is posted at Hartford Rising.
Photo: Joelle Fishman/PW