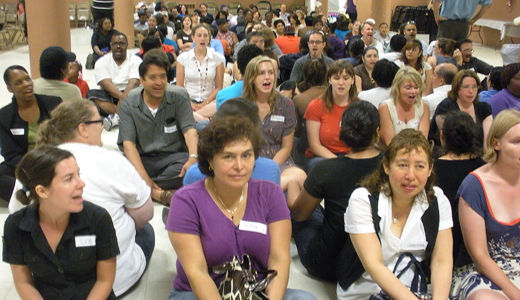 CHICAGO – More than 1,000 cooks, dishwashers and housekeepers are taking an unusual detour on their way home from work this week. They are stopping off at two-hour training sessions where their union is preparing them to carry out nonviolent civil disobedience on July 22 at Hyatt hotels in 15 cities across the nation.
The workers, many of whom have never engaged in anything like this before, say they have endured staff cuts, reduced hours, and injuries. Now they say they will sit down in the streets because they are fed up and they're not going to take it anymore.
Two hundred were at one of the training sessions here on Tuesday. Their union, Unite Here, conducted the training in a large auditorium at the West Loop headquarters of the International Brotherhood of Electrical Workers. Projected onto a large screen in the hall were the words of the 2nd century Roman poet Juvenal: "Dare to do things worthy of imprisonment if you mean to be of consequence."
Among the workers attending was Renee Walker, laid off a year ago at Chicago's Blackstone Hotel. Walker, who is celebrating a favorable ruling this week that restores her job with back pay, was asked why she is joining a civil disobedience action at another hotel.
"I didn't know what I was going to do when they fired us," she said, apologizing for tears that streamed down her cheeks as she spoke. "The union said, 'We know what we're going to do Renee, we're going to fight.' And we fought and we won. I'm going to sit down in the street with my brothers and sisters at the Hyatt because I don't want anyone else to ever have to go through what I went through at the Blackstone."
Earlier this week the National Labor Relations Board found that Walker's employer, the Blackstone, had violated federal law by illegally firing workers, cutting staff benefits and circulating a petition to decertify the union. The hotel was ordered to reinstate the 14 workers it fired, compensate them for lost wages with interest, reinstate the health insurance plan it had cancelled, compensate employees for illegal increases in their health plan co-pays and end its refusal to bargain with the union.
Some of the people at the civil disobedience training session were not hotel workers at all. They said they were there to give support to the effort by also getting arrested.
"The bible demands justice for workers," said Rabbi Brant Rosen of Chicago. "I am here because Jews have a long history of standing up for worker justice. I am here in a different way today because I believe that today we have to take a new path, a path of solidarity."
The rabbi noted that he was a "white, middle class liberal in a crowd of lower paid workers," many of whom were Black, Latino or immigrants. He said, "It was a while ago since many Jews experienced the direct oppression and poverty experienced by these workers. My role as a religious leader in those days might have been to help lead the fight for justice. Now, I think, it has to be a role of solidarity. I am saying to these workers, 'I will follow your lead, and I am here to back you up and give you witness and support."
Unite Here is asking that thousands turn out at support demonstrations for those being arrested on July 22.
Anne Marie Strassel, a spokesperson for the union, said that will send a powerful message.
Here in Chicago, the Pritzker family, which runs the Hyatt, is one of the wealthiest and most politically influential families in America, according to Strassel.
"People like the Pritzkers are taking unfair advantage," she said. "While many hotel workers live in poverty, the Pritzker family cashed out over $900 million in their sale of Hyatt shares in November 2009, and Hyatt shares climbed 65 percent within the first six months of the sale."
The Hyatt, earlier that year, fired its entire housekeeping staff from its three Boston-area hotels and replaced them with workers from a subcontracting agency earning minimum wage.
The union says the civil disobedience and support demonstrations are important because of timing. In 2010 contracts covering 45,000 unionized hotel workers in 10 cities expire and become subject to bargaining.
In addition to Chicago, the July 22 actions will take place in Honolulu, San Francisco, Long Beach, Los Angeles, Monterey, Boston, Vancouver, Toronto, Miami, Pittsburgh, Indianapolis, San Antonio, Santa Clara and San Diego.
At the training session here, participants lined up to practice their civil disobedience techinique. In groups of 10, the Black, white, Latino, young and old workers filed out onto the auditorium floor, linked arms and sat down.
When union staffers posing as police came to "arrest" them, the workers followed their instructions to the "T." They were composed, serious and alert. They looked to their marshals for guidance. They maintained steady eye contact with the "police." No one joked. No one laughed. Breaking the law, their instructors had told them, is serious business.
"The statement we're making here and the statement that we will make on the 22nd is that we are human beings," said Renee Walker.
Photo: Workers practice at the union hall for a sit-in they plan at a Chicago Hyatt hotel on July 22. (Photo courtesy Local 1, Unite Here)