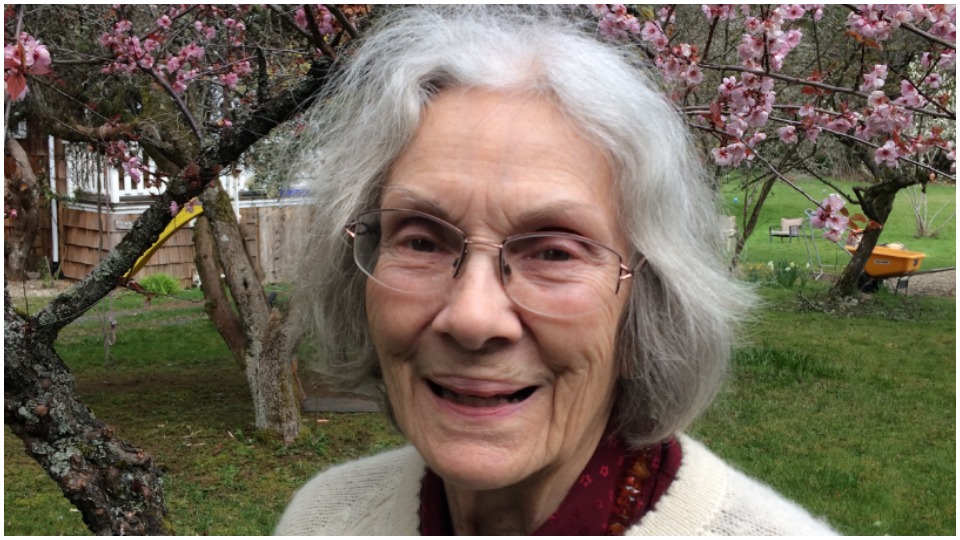 SEQUIM, Wash.—Joyce Provost Wheeler, a gifted school teacher who served as Treasurer of the Baltimore Teachers Union (AFT Local 340) and BTU "Building Rep" at the elementary school where she taught for thirty years, died peacefully at her home here March 21.
She was 78. The cause of death was Alzheimer's disease, which she fought for five years. She and her husband, Tim Wheeler, former editor of People's World, had retired to the Wheeler family farm here in 2006. They plunged into political activity, joining street corner vigils in Sequim and Port Angeles, driving into Seattle to march in the Martin Luther King Jr. parades or at demonstrations on the Capitol steps in Olympia.
In 2008 and again in 2012, she doorbelled throughout Clallam County to help elect Barack Obama as President. Obama carried the district by a razor-thin margin of fewer than 100 votes in both elections. The Clallam County Democratic Party named Joyce and the "Wheeler Clan" as "Democrats of the Year" in 2015 in recognition of their prowess as doorbell ringers.
Joyce Maiele Provost was born at Tripler General Hospital in Honolulu, Hawaii on Jan. 26, 1941, the daughter of Leatha Smith Provost, a teacher, and Sgt. Roland Francis Provost, a navigator in the U.S. Army Air Corps. He was awarded the Distinguished Flying Cross for a historic flight of nine B-17 bombers from Hickham Field in Hawaii to Clark Field in the Philippines Sept. 5-12, 1941. A few weeks later, Dec. 7, 1941, came the Japanese attack on Pearl Harbor. The base housing where Joyce, her mother, and brother, Larry, lived was heavily strafed. The next day, Clark Field was attacked. Joyce Wheeler's father narrowly escaped, flying to Darwin, Australia. He was later awarded the Purple Heart and Silver Star with Oak Leaf Cluster for "combat valor."
Joyce, a babe in arms, her mother and brother, were evacuated back to the U.S., moving in with Sgt. Provost's mother in Orlando, Florida. They moved to Caldwell, Idaho, where Leatha Provost found a teaching job and later to Bickleton, Washington. Joyce Provost graduated from St. Paul's Girls boarding school in Walla Walla in 1959.
An anthropology major at the University of Washington, she joined the Student Peace Union where she met Tim Wheeler. She also joined the Communist Party USA and remained a member until she died. They married in 1963. Their first child was born in Seattle that same year.
Her husband became correspondent for The Worker newspaper in New York in 1966. Here, Joyce gave birth to their second son. Joyce Wheeler, in 1967, joined 13 other women in a sit-down protest in the street in front of the Whitehall Induction Center protesting the military draft and the war in Vietnam. The women were arrested.
It was another in a lifetime of anti-war actions by Joyce Wheeler that also included joining dozens of anti-war marches and rallies in Washington, D.C. and Baltimore. Their daughter was born in Washington, D.C.
Joyce Wheeler traveled to the Soviet Union and several times to the German Democratic Republic (GDR). She was a delegate to the United Nations "World Conference of Women" in East Berlin in 1975. Her love of East Germany was so deep that she returned again a year or so later and became an activist in the U.S.-GDR Friendship Association, organizing its Baltimore chapter.
She played a leading role in putting together a delegation of American actors and artists to the GDR to visit theaters and acting schools and meet with their counterparts there. The U.S. ambassador to the GDR tried to intimidate the group by asking them to meet with him at the U.S. embassy in East Berlin where he spoke to them about the alleged lack of democracy in that country. "At least American youth can do the hashish trail in the Hindu Kush which East German youth would never be allowed to do," he told the American performers.
At first, the Americans were nervous about going to meet with the ambassador, but Joyce Wheeler assured them it would be fine and she accompanied them to the embassy. After the ambassador made his remarks about the alleged freedoms enjoyed by American youth, Joyce got up and politely explained her role as a teacher working with young people back home.
"So many of my students can only hope someday to have available to them the free education, the cultural opportunities, and the careers open to young people here," she said, immediately winning over the American actors who, one after the other, got up to support Wheeler and condemn the Cold War tactics of the ambassador. Without fanfare, in her own reasoned and quiet manner, Joyce Wheeler made another step forward in the struggle for peace and international friendship.
In late autumn, 1986. Joyce Wheeler and daughter, Susan, joined the "Great March For Global Nuclear Disarmament" when it reached Chester, PA. Several hundred anti-war protesters had marched across the nation from Los Angeles bound for Washington D.C. to demand the abolition of nuclear weapons. They crossed the Mason-Dixon Line into Maryland, camping one bone-chilling night at a State Park in in Harford County. Joyce invited several senior marchers to sleep at night in warm beds in their home in Baltimore. Her husband, Tim, drove up and rescued them from the rain and cold. Two days later, they arrived in Baltimore, camping on the parking lot of Memorial Stadium. Susan got a leave from her high school and marched with the anti-war protesters from Baltimore on into Washington, carrying the Maryland flag.
Wheeler obtained her teaching credential in Baltimore in 1969 teaching as a kindergarten, first grade, and second grade teacher. As a first-year teacher in 1970, she introduced a resolution in her union condemning President Richard Nixon's "incursion" into Cambodia. It was approved without opposition.
Soon, Wheeler was elected BTU "Building Rep" at her school. When Baltimore teachers went on strike in 1975, she was chosen as picket captain in the month-long walkout.
She gained a reputation as a superlative reading teacher. Her secret was "structured phonics," teaching children to sound out words. Forbidden by the powers-that-be, Wheeler taught phonics anyway.
She decided to turn her classroom into a miniature zoo with rabbits, an affectionate red-tailed boa named Naga-Ina, gerbils, and other animals. The children were assigned to feed and weigh the animals and clean out their cages. They were also expected to do research on the animals and write reports based on their observations. The children were captivated, and the animals were like pets.
A visitor from the main office observed Wheeler teaching and offered her the post of Elementary Science Curriculum Specialist, a post she held until she retired in 2006. She crisscrossed Baltimore, visiting schools to show other teachers how to teach science. She was the only elementary science curriculum specialist in Baltimore.
Meanwhile, the Wheeler home in Baltimore, a large six-bedroom frame house, became a way-station for a stream of visitors on their way to demonstrations in Washington. The Wheelers provided sleeping space and meals, mostly cooked by Joyce, for many hundreds over the 37 years they lived there.
Joyce Wheeler was the main breadwinner for her family, bringing home the paychecks, caring for their three children, and earning the defined pension that gave she and her husband a secure, adequate income.
She is survived by her husband Tim, her sons, Morgan and Donald, and daughter, Susan. They have seven grandchildren and three great-grandchildren.
In lieu of flowers, please contribute to the Bright Focus Foundation's Alzheimer's Disease Research program or to her favorite news media, People's World.