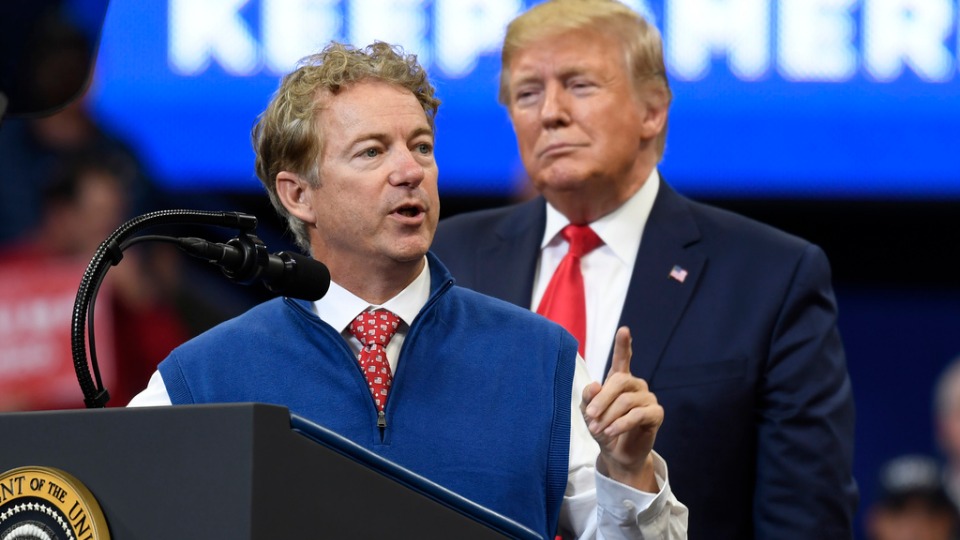 The midterm elections are more than 17 months away, but the Kentucky People's Campaign is already targeting the Bluegrass State's junior senator, Republican Rand Paul.
Paul "is a deeply entrenched member, and sometimes ringleader, of the Republican Radical Right," says a recent People's Campaign fundraising email.
Hence, the progressive group has started a "Stand Against Rand because Rand Stands Against Us!" campaign. Adds the email: "With your partnership, we will connect with key Kentucky voters and take a stand for progress in America." As is typical, the email includes links for donating and volunteering.
The email doesn't specifically endorse any potential Paul opponent. Still, the message points out that "Charles Booker, who is on a mission to serve Kentuckians from the 'hood to the holler,' has launched his exploratory committee—a first step in his quest to unseat one of the worst U.S. Senators in U.S. History-Rand Paul."
A former state representative from Louisville, Booker lost to ex-Marine fighter pilot Amy McGrath of Georgetown in last year's Democratic primary.
So far, no other Democrats have formed exploratory committees or tossed their hats in the ring. But there's been some speculation about a Paul challenge from Rocky Adkins, a veteran House lawmaker and senior advisor to Gov. Andy Beshear.
"During his 2010 campaign, [Paul]…said that businesses should be allowed to discriminate based upon race," says The People's Campaign. "History will show that Rand Paul was on the wrong side of virtually every COVID-19 issue in 2020 and 2021. And he consistently rejects legislation that will help poor and working people and their families."
Paul, from Bowling Green, rates an "F" on the latest NAACP Civil Rights Legislative Report Card.
Paul favors school vouchers and is a frequent critic of teachers' unions, scoring him an "F" on the National Education Association Legislative Report Card.
Unions across the board say Paul is one of the most anti-labor lawmakers in Congress. He supports a national "right to work" law and has voted the union-endorsed position on bills just 12% of the time since he came to the Senate in 2011, according to the AFL-CIO's Legislative Scorecard.
The People's Campaign website says the organization "is a grassroots political action committee" whose "purpose is to change politics and policy in ways that positively impact people" by organizing the working class and economically struggling people to participate and vote in their own best interests, reinforcing social justice work, and fostering what it refers to as "moral progressivism."
More information about Kentucky's People's Campaign is available via email at info@campaignforpeople.com and by phone at 502-641-3676.