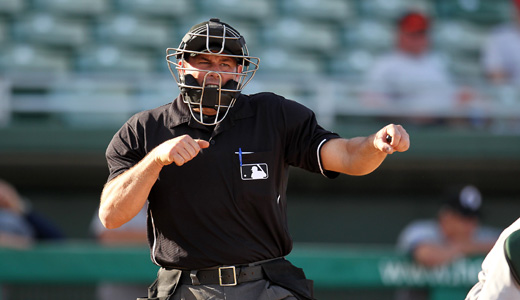 The Association of Minor League Umpires (AMLU)/Office and Professional Employees International Union (OPEIU) Guild 322, is ready to play ball after its more than 200 members voted to approve a new labor agreement with Minor League Baseball.
The minor league umpires announced the new deal earlier this week, two days before their current contract was set to expire.
The new contract is the first since the AMLU went on a prolonged strike to start the 2006 baseball season. That year, Minor League Baseball used replacement, amateur umpires while 100 percent of the professional umpires remained on strike. The umpires returned to work after agreeing to a six-year contract in June of that year.
"It is exciting to have such a good contract and get it done before the December holidays," said Shaun Francis, AMLU president in a statement. "In this deal we have more money and a better overall contract than what we were able to get the last time after a strike. It's clear to me that this union's solidarity and determination in 2006 was one of the driving forces behind getting a deal done this time around. And our affiliation with OPEIU gave us the strength and resources we needed to get a deal done."
Francis continued, "It isn't necessarily the deal that you get when you're on strike that makes a work-stoppage worthwhile; often it is the deal you get the next time around when both sides don't want to have to go through that again."
Francis says he is thankful for the new contract and to those that helped settle it.
"Now it is time to take a breath and then get ready for negotiating the next deal in 2016," he said.
The new agreement calls for salaries to remain the same until 2016 when Triple-A and Double-A umpires will receive a minimum $100 per month raise, depending on service time. Per diem will go up immediately.
Tim Purpura, executive vice president of the National Association of Professional Baseball Leagues told the Associated Press, "It will allow us to manage the costs associated with our umpire program in an effective manner and will help maintain our industry as an attractive form of affordable family entertainment."
Purpura notes the deal will increase umpire costs by 2.5 percent annually.
Umpires earn a minimum $2,600 per month at Triple-A, $2,300 at Double-A, $2,000 at Class A and $1,900 at rookie leagues.
Per diem, which ranged from $30-$40 this year, will rise to $32.50-$43.57 next season and increase to $42.50-$56 by the final year.
AMLU became an affiliated guild of OPEIU in 2010. OPEIU Director of Organization and Field Services Kevin Kistler served as the lead negotiator for the union.
"We're very pleased that we were able to secure a contract that provides for the improved working conditions and benefits for these hardworking umpires," Kistler said in a statement.
The Association of Minor League Umpires/OPEIU Guild 322 was founded in 1999 and is headquartered in New York City. It's a national labor union that represents professional baseball umpires working in the U.S. and Canada.
The union's mission is to promote the integrity of the hardest working employees of the national pastime; to create a work environment for the professional umpires where they can display their strengths and abilities; to uphold the integrity of the game of baseball; to improve wages, benefits and working conditions for those who devote their lives to the game of baseball.
AMLU is an affiliated Guild of Office and Professional Employees International Union with the AFL-CIO. OPEIU represents more than 125,000 employees and independent contractors in the U.S., Puerto Rico and Canada in banking and credit unions, insurance, shipping, hospitals, medical clinics, utilities, transportations, hotels, administrative offices and more.
Photo: Home plate umpire Mark Lollo during an Arizona Fall League game between the Mesa Solar Sox and Phoenix Desert Dogs at HoHoKam Park November 3, in Mesa, Ariz. (Mike Janes/Four Seam Images via AP Images)