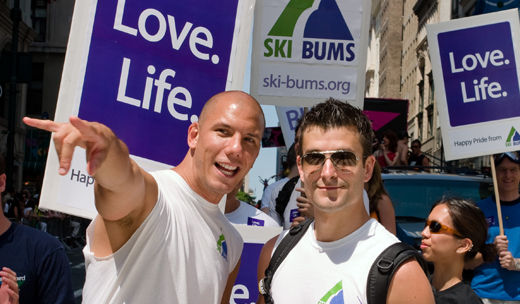 NEW YORK- Manhattan's LGBT pride march, the largest and oldest in the nation, and one of the largest in the world, capped off a the June 19-27th Pride Week, which acted both as a celebration of the LGBT community and the fight for LGBT equality. In many ways, from signs on display to the grand marshals, to the week's theme-"Liberty and Justice for All"-Pride 2010 took on a more militant stance than in recent years.
A wide cross section of the city's LGBT community and its friends were out, from those dressed in business suits to the scantily-clad and flashy. A wide array of political leaders, Sens. Charles Schumer and Kirsten Gillibrand, and celebrities were on hand.
The march's grand marshals highlighted some of the most prominent issues facing the community. Constance McMillen, the Mississippi high school honors student who came to prominence when her school refused to allow her to take her girlfriend to the prom, acted as one of the march's grand marshals.
"I never dreamed so many people would support my fight to take my girlfriend to the prom," McMillen said before the march, "much less that I'd end up being asked to be grand marshal."
Lieutenant Dan Choi, the decorated army veteran who has defied the military's notorious anti-gay Don't Ask, Don't Tell rule by coming out upon his return home from Iraq served as the was the first-ever openly gay member of the U.S. armed services to lead a pride march.
Choi carried a sign reading, "Gay by birth, soldier by choice."
The final grand marshal was Judy Shepard, founder and president of the Matthew Shepard foundation. Shepard founded the organization after her son, Matthew, was murdered in the notorious 1998 hate crime at the age of 21.
This is the first pride march held since the Matthew Shepard and James Byrd, Jr. Hate Crimes Prevention Act was signed into law by President Barack Obama on October 28, 2009. The bill, a significant victory, finally expanded protection under current hate crime laws to gay, lesbian, bisexual and transgendered people.
Governor David Paterson, who has fought to legalize gay marriage in New York was also prominent at the front of the march.
Heritage of Pride, which organized the week of activities as well as the march, estimated that more than 350 groups, and half a million people, attended the march.
The first pride march in the city was in 1970, exactly a year after the Stonewall Riots. The riots were sparked when police attacked the Stonewall Inn, in Greenwich Village, without provocation, as was common at the time. However, this time the gay community fought back for the first time in U.S. history, marking the birth of the modern American LGBT rights movement.
Other events included a kickoff rally on June 20th, the annual LGBT street fair PrideFest, and a dance on Pier 24.
Photo: S See-ming Lee http://www.flickr.com/photos/seeminglee/694119740/