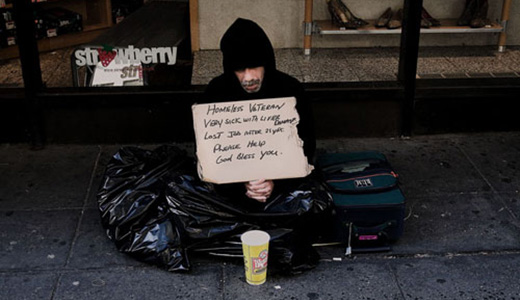 More than 75,000 veterans were homeless around the country on a single night in January 2009, and more than 130,000 veterans spent at least one night in a homeless shelter during that year, a new government report says.
The first-time report on homelessness among veterans was released Feb. 10 by the Department of Veterans Affairs (VA) and Department of Housing and Urban Development (HUD).
Among the report's findings:
* More than 3,000 cities and counties reported 75,609 homeless veterans on a single night in January 2009. Fifty-seven percent were in an emergency shelter or transitional housing program while the remaining 43 percent were "unsheltered" – out on the streets.
Veterans represent approximately 12 percent of the homeless counted during that time period, the report says, although veterans are only 10 percent of the adult population.
According to HUD, over 1.6 million people were homeless in 2009.
* During the 12 months of 2009, an estimated 136,000 veterans – about 1 in every 168 veterans – spent at least one night in an emergency shelter or transitional housing program.
The numbers in this report are different from an earlier VA report, which estimated 107,000 veterans were homeless on a given night in 2009. The new estimate was based on information from community Homeless Management Information Systems, which prior to 2011 were not required to report veteran data. Beginning this year, all VA-funded homeless programs are required to report veteran data to their regional HMIS. Thus future VA-HUD reports are likely to show higher numbers of homeless vets.
* The vast majority of sheltered homeless veterans (96 percent) experienced homelessness alone while 4 percent were part of a family. Sheltered homeless veterans are most often individual white men between the ages of 31 and 50 and living with a disability.
* Low-income veterans are twice as likely to become homeless compared to all low-income adults. In 2009, twice as many poor Hispanic veterans used a shelter at some point during the year compared with poor non-Hispanic veterans. African American veterans in poverty had similar rates of homelessness.
* Veterans remained in shelters longer than did non-veterans.
* Nearly half of homeless veterans were located in California, Texas, New York and Florida. Only 28 percent of all veterans were located in those states.
The report was issued as part of an initiative, announced by the Obama administration last June, to end homelessness within a decade. The initiative calls for ending homelessness among veterans in five years and eliminating it among children and families within 10 years. The plan, "Opening Doors: Federal Strategic Plan to Prevent and End Homelessness," marks the first time the federal government has undertaken such a comprehensive effort.
Sen. Patty Murray, D-Wash., who chairs the Senate Veterans' Affairs Committee, said the report "shows that the disabilities and mental health challenges facing many of our nation's veterans put veterans, particularly those living in poverty, at greater risk of homelessness." In addition, she said in a statement, "It also shows that current economic conditions and the influx of young veterans are putting many more of our veterans at risk of homelessness as well."
VA Assistant Secretary Tammy Duckworth, herself a veteran, said in a recent teleconference, as quoted by afro.com, "Anytime a veteran sleeps on the same streets he or she defended, we are all dishonored."
The issue strikes a chord across America.
In Anderson County, S.C., American Legion Unit 121 reported a successful winter blanket/coat drive for homeless veterans, the Anderson Independent Mail reported. The coat/blanket drive also contributed to the National Service Day during Martin Luther King week.
"The community really stepped forward and contributed. We had people from our local pharmacy to churches donate," said Anne Earnest, the unit's chaplain.
WJBK in Detroit reports that the remains of four homeless veterans were being kept at the Wayne County Medical Examiner's Office because no relatives had claimed the bodies.
Through the Dignity Memorial Homeless Veterans Program, an effort began to have them buried at the Great Lakes National Cemetery in Holly, Mich. There has been an outpouring of public offers to help in the effort, the station reports. WJBK, a Fox outlet, says, "Getting the vets on the road to proper burials showed people power."
Photo: shrued CC 2.0