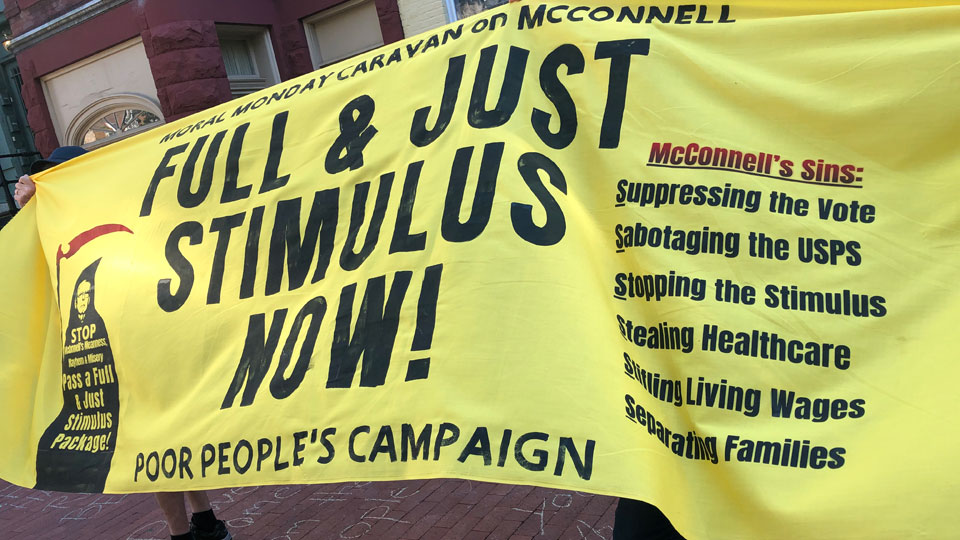 WASHINGTON—On Monday, Sept. 21, just days after Supreme Court Justice Ruth Bader Ginsberg's death, organizers from the D.C. Poor People's Campaign and other major local organizations demonstrated by foot and car caravan outside of Republican Senate Majority Leader Mitch McConnell's house to demand that he not appoint yet another extreme right Supreme Court justice, that he immediately pass COVID-19 relief for workers and the unemployed, and further demands.
The demonstration was coordinated with Poor People's Campaign organizers in McConnell's home state of Kentucky, who marched and drove in car caravans simultaneously around McConnell's offices throughout the state as well as "flooding his phone lines." Outside his Louisville home, the call from the crowd was "Ditch Mitch!"
The two events were billed as a "Moral Monday Caravan on McConnell," in reference to the Moral Monday protest events that Rev. William Barber and the Poor People's Campaign have been conducting for years.
Highlighting the immorality of the GOP leader, the Poor People's Campaign says McConnell has engaged in the sins of suppressing the vote, sabotaging the U.S. Postal Service, blocking economic stimulus relief for the unemployed, stealing health care, stifling living wages, and separating families.
Signs encouraged passing motorists to "Honk for Hypocrisy," in reference to McConnell's quick action to hold hearings on and approve a Trump Supreme Court nominee, even though he refused to do the same for Barack Obama when the latter had 293 days remaining of his presidency.
Also coming in for harsh condemnation was McConnell's refusal to act on the coronavirus and economic relief package already passed by the House. With the $600 unemployment assistance and Paycheck Protection Program both expired, millions are barely scraping by as the jobless crisis continues.
At the rally on McConnell's Washington doorstep, local organizers from around the District spoke on issues affecting everyday workers and citizens of the country, including anti-Black racism, student debt, militarism, poverty, the Supreme Court, and more.
Participating organizations included D.C. Poor People's Campaign, CODEPINK, the Debt Collective, and the Claudia Jones School for Political Education. Music from Luci Murphy of the Black Workers Center Chorus kept the crowd's spirit elevated as the case against McConnell was made.
Medea Benjamin of CODEPINK drew attention to McConnell's continued championing of war budgets and funneling more military weaponry to local police departments. "Do you think the police need all of this militarized equipment and vehicles?" she asked. "They say it's for free but it's from taxpayer money. And Mitch McConnell… he hasn't met a war he doesn't like. And he's giving away more and more of our tax dollars."
Demonstrators also chalked different slogans and signs in front of McConnell's home for him to see when he got home, including "History will judge."
Check out the full list of demands made by the Poor People's Campaign: A Call for Moral Revival demands.