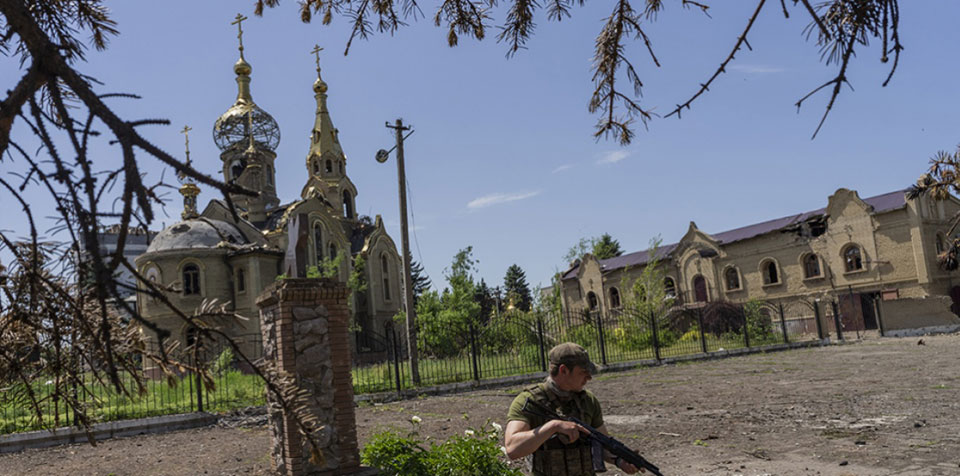 Russian troops have occupied 20 percent of Ukraine, Ukrainian President Volodymyr Zelensky announced today ahead of the invasion's 100th day tomorrow.
Addressing the Luxembourg parliament by video link, he said Russia holds around 50,000 square miles of territory, an area roughly the size of England.
The figure includes Crimea, which voted to unite with Russia after being annexed in 2014, and the Donetsk and Lugansk "people's republics" that have been outside Kiev's control since that year as well as areas attacked since.
Mr. Zelensky added that the war had so far killed 243 Ukrainian children, with a further 139 missing, and said he believed that 200,000 children had been among Ukrainians from conquered areas forcibly relocated to Russia — a war crime.
Fierce fighting continued in Severodonetsk, where Ukrainians held onto less than a fifth of the city, and Russian soldiers were advancing on Berestove, a village on the road to the last Ukrainian-held city in Lugansk, Lysychansk. Russian shelling was reported to have killed two monks and a nun in the Sviatohirsk monastery on the Seversky Donetsk river.
Britain echoed the United States in saying it would supply High Mobility Artillery Rocket Systems to Ukraine, specifying U.S.-built M270 launchers which can fire precision-guided rockets up to 50 miles. The British weaponry is similar to that promised by the U.S. a day earlier but runs on tracks instead of wheels. Sweden also pledged missiles, semi-automatic rifles, and anti-tank weapons.
Russian Foreign Minister Sergey Lavrov said the flood of arms was a "direct provocation intended to draw the West into the fighting" while a Kremlin spokesman said if such weapons were fired into Russia the supplying countries would face "absolutely undesirable and rather unpleasant scenarios."
U.S. President Joe Biden reportedly sought assurances from President Zelensky that the weapons would not be fired at targets inside Russia before agreeing to send them.
Russia bombed railway lines near Lviv in western Ukraine in an apparent bid to disrupt the flow of Western material, wounding five railway workers.