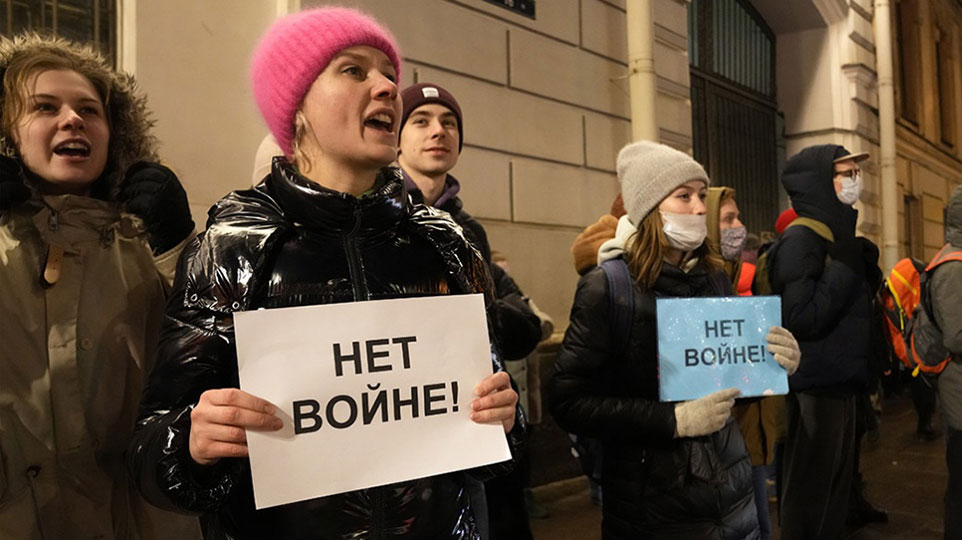 Russian anti-war activists called for a radical change in their country's government and "whole political system" today as well as an end to the war on "the fraternal Ukrainian people."
Activists have urged an increase in anti-war agitation among Russian citizens as police crack down brutally on dissent.
More than 1,700 people were arrested in 53 cities on Thursday evening as mass protests took place across the vast country, according to monitoring groups.
Russian authorities have warned that anti-war activities and "negative comments" will be treated as treason.
However, further demonstrations were expected last night after the Morning Star went to press, with thousands of people taking to the streets of Moscow, St Petersburg, and other cities.
More than 250 journalists have signed an open letter condemning the war and similar letters have been signed by scientists and municipal councilors.
Today's Novaya Gazeta newspaper was printed in both Russian and Ukrainian, explaining that its journalists "do not consider Ukrainian the language of the enemy."
Editor-in-chief Dmitry Muratov wrote in a leading article that "only the anti-war movement of Russian citizens can save life on this planet."
Evgeniy Stupin, a Communist Party of the Russian Federation deputy in the Moscow State Duma, was one of a group of members of left-wing organizations and trade union activists who demanded an end to "the aggressive war unleashed by the leadership of Russia." His stance is opposed to his party's official position.
An anti-war statement issued by the group condemned President Vladimir Putin's decision to invade Ukraine, warning that it would lead to the death of thousands of people on both sides.
"The economic position of working people in both countries will worsen. This invasion serves merely to satisfy the unhealthy foreign policy ambitions of a narrow circle in the country's leadership and to distract attention from the Russian government's failures in domestic policy," the statement said.
It called for an immediate end of the war against "the fraternal Ukrainian people" and for Russians to engage in anti-war agitation among friends, relatives, workers, and other citizens.
"If the present government is not capable of securing peace for the peoples, the path to achieving it lies through a radical change of the government and the whole social and political system," the statement concluded.