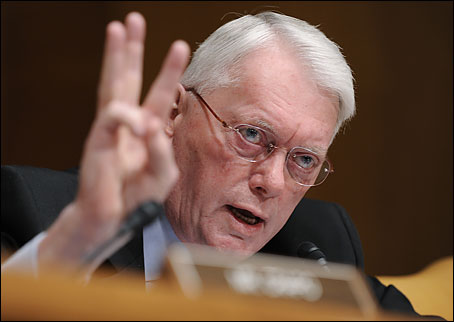 The Republican senator from Kentucky, Jim Bunning, known for two things – his baseball record and his bizarre behavior – is now known for two more: "Tough s_ _ _ ."
That's what the senator reportedly said about the 1.2 million jobless workers who will lose their unemployment insurance and COBRA health coverage come Monday, March 1, when the current benefit extensions expire.
It only takes one senator to block a vote on a unanimous consent motion, and Bunning is that senator. The motion would have extended unemployment insurance for 30 more days for those whose insurance is expiring at the beginning of March.
During the hours of debate Thursday night, Feb. 25, in the Senate, Bunning refused to budge. Politico reports that when Oregon's Democratic Sen. Jeff Merkley urged Bunning to relent, his response was, "Tough shit."
Apparently Bunning was upset that he missed a Kentucky-South Carolina basketball game. So he dug in his heels.
Or as Politico describes the scene: Bunning leaned back in his chair, legs crossed and listened to the debate. Until around midnight, when he took the microphone again and said, "I have missed the Kentucky-South Carolina game that started at 9 o'clock, and it's the only redeeming chance we had to beat South Carolina, since they're the only team that has beat Kentucky this year."
After watching lone senators single-handedly hold up health care reform, and now this outrageous behavior by a senator not seeking reelection this year, millions are getting a political education on the arcane and undemocratic rules and procedures of the Congress' "upper house."
In Bunning's Kentucky, the unemployment rate ranges from 10.7 to as high as 21.7 percent. Nationwide, long-term unemployment continues to rise – it is currently at an all-time high of 40 percent of all unemployed, reports Mike Hall at the AFL-CIO Now blog.
Sen. Dick Durbin of Illinois, the No. 2 Senate Democrat, said he intended to try to break the impasse again today but Mr. Bunning indicated he would again be on hand.
Durbin expressed his outrage, saying, "I just don't think one senator ought to be able to heap this kind of suffering and misfortune on people who are already struggling in this economy." And using a baseball metaphor, he continued, "This is a wild pitch you are throwing tonight because it is pitch that is hitting somebody in the stands."
Missouri Sen. Claire McCaskill focused on how out-of-touch life inside the Washington Beltway can make people. "It is easy to get out of touch around this place," Sen. McCaskill said. "People open doors for you and bow and scrape. It's really easy to forget what people are going through, what families are feeling right now. And really, 30 days of unemployment insurance – have we gotten to the point that that's going to be a political football?"
Football? Baseball? Despite his Hall of Fame baseball career, the senator seemed only interested in basketball. And not in the million-plus people who will be closer to homelessness come this Monday.
Photo: Sen. Jim Bunning Susan Walsh/AP
UPDATED Feb. 28, Date change.