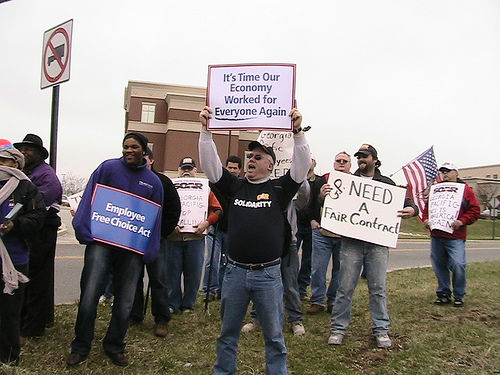 WASHINGTON — "Our people want to work!" Rep. Betty Sutton of Ohio declared at the 1,000-strong Steelworker Rapid Response Conference here on May 6. "There is no such thing as a jobless recovery," she added. "Jobs are the key, good jobs, green jobs."
The conference was the Steelworkers union follow-up of the Blue-Green Conference that they had attended the day before. See article here.
Sutton spoke as the steelworkers were getting ready to lobby members of Congress for jobs in manufacturing. Sutton's bill, HR5041, the Security in Energy and Manufacturing Act, corrects a big mistake in green energy laws. As the laws now read, tax dollars are paying for wind turbines and solar panels that create only a few jobs in the United States. Most of the jobs went out of the country to make steel and parts that were only assembled here. Meanwhile, hundreds of thousands of U.S. steelworkers are unemployed. The SEAM Act gives $5 billion in tax credits or grants to build and install wind turbines and solar panels. However, only plants that use steel and other materials, made in the U.S., can get the credits or grants.
Safe jobs, green jobs
Another big issue for the steelworkers' lobby was occupational safety. Steelworkers' asked members of Congress to support the "Protecting America's Workers Act" which would update and strengthen OSHA and give workers stronger safety rights and protections.
Workers' safety was on everybody's mind after the terrible mine disasters, refinery explosions and loss of life on BP's Deepwater Horizon oil rig in the Gulf of Mexico. United Steelworkers President Leo Gerard made the connection between safety on the job and saving the environment. The oil spill disaster off the Louisiana coast cost the lives of 11 USW members. "The choice is not good jobs or green jobs. We can have good jobs only if they are green jobs," Gerard said.
Gerard welcomed the passage of health care reform law as a great victory, saying, "President Obama has accomplished more in the 18 months that he has been in office than Bush did in eight years" Gerard affirmed steelworkers' support for single-payer health care system saying this reform is just the first step.
He reminded the delegates, "Our generation has a responsibility to the next … to leave the worse mess in history or to leave the most opportunity in history."
He spoke frankly about the need to pass EFCA, the Employee Free Choice Act. "We don't give up," he said, although EFCA has been temporarily derailed by the National Manufacturer's Association.
Famous personalities
Many famous personalities took part in the Steelworkers' conference. Ed Schultz, of MSNBC's "The Ed Show" made a strong appeal to rebuild American manufacturing and create jobs. Speaker of the House Nancy Pelosi brought the crowd to its feet when she said, "We've said all along that clean energy is about four things, jobs, jobs, jobs, jobs." She also got standing ovations for her role in passing health reform.
Richard Trumka, president of the AFL-CIO, told the conference, "Since the start of the recession in 2007, we're 11 million jobs in the hole, and that's on top of the unemployment that already existed. All in all, at least 17 million Americans are out of work. And those who are still working are up against wage freezes, hollowed out health care, and shredded retirement plans.
"We need to produce and use more clean and renewable energy. We need to build in more energy-efficient ways. We need to rebuild our electrical grid and make it smarter. We need to improve and expand our mass transit systems and build high-speed rail lines. And we need to prepare millions of workers to do these jobs."
Secretary of Labor Hilda Solis got a big steelworkers' welcome. Delegates greeted her as a breath of fresh air after the eight years of anti-labor action by Bush appointees in the Department of Labor. Solis urged, "Investing in the manufacturing sector so we are exporting products – not paychecks." She also emphasized workplace safety, the right to organize and fair wages, retirement security and affordable health care.
Last, on a personal note, this Rapid Response Conference was one of the best actions that I have ever attended.
Photo: USW Rapid Response team members rally last year for jobs and worker rights in Indiana at a Georgia Pacific plant. http://www.flickr.com/photos/labor2008/ / CC BY 2.0