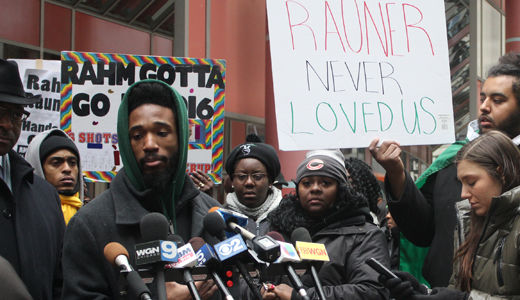 CHICAGO – Chicago State University students, faculty, alumns, and community members gathered around the James R. Thompson Center, where many state offices are located, Feb. 8 to protest the state's budget impasse. The Monday morning protest was organized by BudgetorElse, a group that that was created after information of the university's financial situation was announced to the African American student leaders on campus.
Chicago State University declared a state of financial emergency Feb. 4 after its board of trustees unanimously declared the school to be in "a university-wide state of financial exigency." This could potentially impact faculty employment and puts the validity of student credits at risk. The South Side school is known for serving a predominantly African American population and its student enrollment is over 70 percent female. The school also serves many part-time students who hold full-time employment; a substantial population of students from low-income backgrounds; and many who are older than the traditional college age. It is these underserved communities that now stand to suffer at the hands of the state's financial gridlock.
Charles Preston, a senior at CSU, spoke at the rally about GOP Gov. Bruce Rauner's refusal to pass the state budget. "It is the ineptitude of these lawmakers that put us at risk of poverty and violence," he said. "This is state violence and it needs to be framed as such!" The African-American Studies major had to reschedule his final examinations to be present at the demonstration. "This is taking away from my school hours and work. I shouldn't have to protest for state legislators to sign the damn budget!"
The march continued down LaSalle Street as the protestors made their way across the Chicago River. Organizers halted the demonstration in front of 300 N. LaSalle, a building that is home to GTCR (an acronym for Golder, Thoma, Cressey, Rauner), a private equity firm formerly headed by Rauner. As the protesters chanted together, Preston made note of the fact that the event was tactically organized on a Monday morning so that they could disrupt the corporate business day. "They're all getting paid, while people at Chicago State University could lose their job tomorrow. And that's not fair."
Undergraduate students are not the only ones being affected by the budget cuts. One graduate student in the Social Work program at CSU said it has been difficult for the entire student body to function. She has invested thousands of dollars in the Master's of Occupational Therapy program and is concerned that no other school is going to accept her course credits, "some of us have quit our jobs and spent many sleepless nights studying for these programs. We really just need him [Rauner] to do his part." She added that the state needs its public colleges to remain open so that graduates can continue to contribute to the tax base. "Or we are going to be forced to leave our state and take our funds with us," she said. "This doesn't just affect us, it affects the population as a whole – the people who leave this state are the same people who pay your taxes for roads and keep your water clean."
Chicago State University has acknowledged the ongoing struggle not only for themselves, but other public institutions of higher learning. "Western [Illinois University] is going through the same thing, Eastern [Illinois University] is going through the same thing, Northeastern, Governors State University. I want to give a shout out to those schools and really uplift them as well," Preston said at the rally.
The organizers urged the public to continue pressuring their state officials and representatives. They plan on taking a trip to the state capital in the next couple of weeks to confront Gov. Rauner at his office in Springfield. "We are not asking for reform, we are not asking for revolution. Just do your damn job."
Photo: CSU student Charles Preston speaking at the rally. Michelle Zacarias | People's World