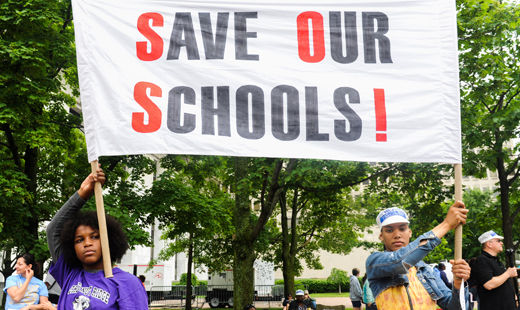 ALBANY, N.Y. – Thousands of New York unionized teachers and their supporters descended on the state capital in Albany on June 8 for a mass march against overrelying on standardized tests to measure schools' success – the so-called "teach to the test" pressure – and to demand more investment in public schools.
Joined by labor, civil rights, and community groups, the New York State United Teachers rallied on the cement mall in front of the capitol building to also advocate a state version of the DREAM Act and more money for the state college-university system.
The rally came as the New York legislature – split between a Democratic-controlled House and a Republican-plus-a-few-Democrats-controlled Senate – wrestled with, among other issues, the state budget and a state prevailing wage bill. The state senate was expected to consider that measure, a key cause of construction unions.
"Thousands of New Yorkers will speak with one voice, sending a clear message to our elected leaders, the Board of Regents and the state education commissioner that education is about learning, not testing, and that New York should be investing more in the future of its students," NYSUT President Richard Iannuzzi said before the march.
Demonstrators protested the state's over-emphasis on standardized testing as a way to measure schools. Both national teachers unions, the AFL-CIO-affiliated American Federation of Teachers and the independent National Education Association, share that stand, forced upon schools by then-GOP President George W. Bush's 2001 No Child Left Behind law. New York State United Teachers is a joint AFT-NEA affiliate.
The New York teachers and their allies demand the state "impose a moratorium on using standardized tests in high-stakes decisions for students and teachers until state officials properly implement the state's new Common Core learning standards." New York and all but a few other states adopted those standards voluntarily.
The demonstrators also "demand fair and equitable funding of schools, greater local control of schools" by letting local districts and voters fix a state-mandated property tax cap and "legislation to help ensure a safe, secure learning environment."
Besides NYSUT, AFT, NEA and the state AFL-CIO, other groups sending members to Albany included the state NAACP, several student groups from the State University of New York system, and the New York State Labor-Religion Coalition.
Meanwhile, the state senate Labor Committee approved the prevailing wage bill, sponsored by its chair, Sen. Diane Savino (D). It targets firms, and especially Con Ed, that accept huge state contracts and subsidies but don't pay regionally prevailing wages. Unions, led by the Utility Workers, lobbied for the bill. Con Ed led the foes.
"A huge corporation like Con Ed can certainly afford to pay a decent wage, especially since most recently they've been overcharging people in New York at four times the rate of the national average," Savino said after her panel passed the bill.
Photo: Students hold a sign during the teachers rally in Albany. Shannon DeCelle/AP