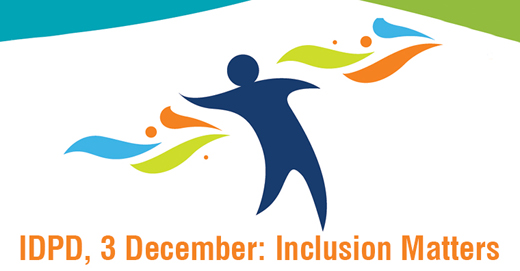 International Day of Persons with Disabilities (December 3) is a worldwide observance promoted by the United Nations since 1992, according to UN General Assembly resolution 47/3. It has been celebrated with varying degrees of success around the planet. The observance of the Day aims to promote an understanding of disability issues and mobilize support for the dignity, rights and wellbeing of persons with disabilities. It also seeks to increase awareness of gains to be derived from the integration of persons with disabilities in every aspect of political, social, economic and cultural life. It was originally called "International Day of Disabled Persons." Each year the day focuses on a different issue.
The theme for 2015 is: Inclusion matters: access and empowerment of people of all abilities.
In 1976, the UN General Assembly proclaimed 1981 as the International Year of Disabled Persons (IYDP). It called for a plan of action at the national, regional and international levels, with an emphasis on equalization of opportunities, rehabilitation and prevention of disabilities.
The theme of IYDP was "full participation and equality," defined as the right of persons with disabilities to take part fully in the life and development of their societies, enjoy living conditions equal to those of other citizens, and have an equal share in improved conditions resulting from socio-economic development.
Since 2009, the Department of Economic and Social Affairs has organized a film festival as a part of the events at UN Headquarters to commemorate the Day. The United Nations Enable Film Festival (UNEFF) includes short disability-related films selected on the basis of their content and message that can help raise awareness of disability issues.
This year the same Department has organized a photo exhibition as well. The UN Enable Photo Exhibition will work to help change misperceptions to counter stigma and stereotyping about persons with disabilities. It will also promote a better understanding about disability issues and present persons with disabilities as individuals that are a part of our human diversity.
On the 2012 International Day of People with Disability, the United Kingdom government introduced mandatory work for disabled people who received welfare benefits in order to "improve disabled people's chances of getting work by mandatory employment." In response, the founder of the Susan Archibald Centre stated that the mandatory employment of people with disabilities is a breach of article 27/2 of the UN Convention of the Rights of Persons with Disabilities. The Guardian noted that as a consequence of this policy people with disabilities and illnesses ranging from cancer to paralysis to mental health may be forced by the UK government to work for free or else risk being stripped of up to 70 percent of their welfare benefits. The UK's Morning Star reported in October, "Disabled People Against Cuts (DPAC) has followed in the tradition of the earlier disabled people's movement using direct action and civil disobedience for systemic change."
Remember, one watchword of the disabled community: "You can't always tell by looking."
Adapted from United Nations and other sources.