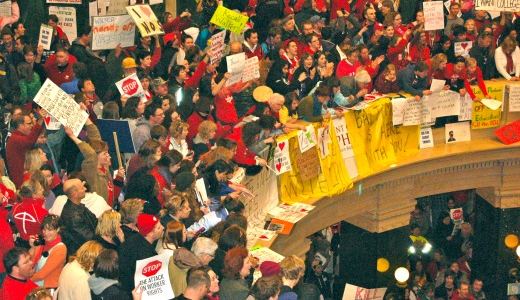 MADISON, Wis. – As darkness began to close in on this city Mar. 3, the 17th day of demonstrations that are already in the history books, more than 10,000 people marched slowly up State Street, poured into Capitol Square and surrounded the building itself.
The crowds, led by teachers, firefighters and nurses chanted "Whose House? The Peoples House?" as a New Orleans style funeral band played at the foot of the Capitol. Nurses in the crowd carried coffins symbolizing the death of patient services that would result from the Republican governor's budget. They also mourned for democracy itself, they said, because for four days Republican Governor Walker had locked thousands of demonstrators out of the Capitol.
Many in the crowd carried signs that read: "You couldn't wait us out, so you locked us out!"
Within earshot of the chanting thousands a judge was formulating his ruling: "The government acted impermissably" by restricting access, he ruled. Judge John Albert further ruled that the Capitol building be opened no later than 8 a.m., March 4 and that it be kept open to demonstrators whenever the building, itself, is open. Albert did, however, say that demonstrators should clear out when the building is closed.
"If the building is closed, there is no one to hear the demonstration," he said.
The judge scorned Walker's claim that the lock out was necessitated by disruption of business resulting from the demonstrations. "Demonstrator is not a word that should be used in vein or disgust. The people were exercising an important right," said the judge.
Minutes later Peg Lautenschlaeger, a lawyer who represented the unions in their battle to reopen the capitol was cheered by the thousands at the rally when she announced: "We won the battle."
The 100 protesters still in the building left peacefully for the night.
Unions and their supporters can be expected to keep a close eye on the situation, with many saying nothing would surprise them when it comes to the issue of whether Gov. Walker can be counted on to obey the order. They note that when he conversed with a journalist pretending to be David Koch last week he admitted to having considered COINTELPRO type tactics against demonstrators.
Cindy Loudin, an organizer for National Nurses United, explained that the "funeral" procession Mar. 3 did not mean people were giving up. "What Walker has done is sad," she said. "So we came dressed for a funeral but we are ready to dance. We expect that we will win this battle."
Photo: (Teresa Albano/PW)