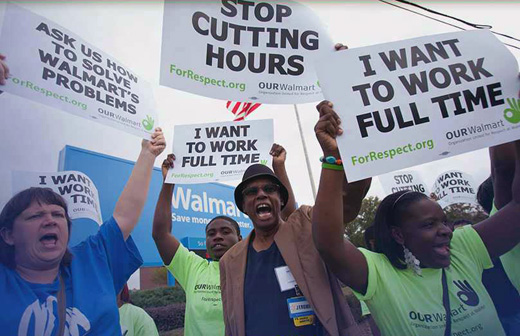 WASHINGTON — Walmart workers were on Capitol Hill today telling lawmakers how the giant retailer's scheduling practices make it impossible for most of them to lead anything approaching a normal life.
In response, Reps. George Miller, D-Calif., and Rosa DeLauro, D-Conn., introduced a bill called the Schedules that Work Act which would give workers a voice in determining their own schedules.
Our Walmart (Organization United for Respect at Walmart) member Tiffany Beroid told lawmakers how the company's unpredictable scheduling polity made it impossible for her to go to school, despite the company's public commitment to helping its workers improve their lives.
Walmart, many of its workers say, has created an unfair norm of erratic, part-time scheduling, preventing low-wage workers from holding down second jobs, arranging child care, going to school or managing health conditions. What's even worse, they add, is that the Walmart standard has been picked up all across the retail industry.
Beroid worked at Walmart in Laurel, MD for about three years as a customer service manager. When she started going back to school so she could build a better life for her kids, Walmart cut her hours so drastically, she said, that she had to drop out of school for lack of ability to pay for books and fees. Then, after she spoke out about the problems she faced, Walmart illegally fired her altogether.
"I started working at Walmart because I thought if I worked hard, I could give my family a stable home and lift us out of poverty," Beroid told the lawmakers. "Instead, Walmart did everything it could to keep us in poverty and keep me from getting an education. I was a part-time student-I didn't ask for anything crazy, just for tiny modifications so I could go to class. But Walmart punished me for not being available at all hours and cut my hours well beyond what was needed. It was so bad that I couldn't pay for school anymore and I needed to drop out halfway through a semester. I lost all the credits and the money I spent on that semester.
"I stood up and said we shouldn't face problems like this working at a company that brings in $16 billion in profits a year-when all we want is more hours and decent pay so we can support our families. And then Walmart fired me for speaking out."
Tiffany will also discuss how OUR Walmart, the organization of current and former Walmart associates calling for better jobs at the employer, recently won various store-level scheduling and hours victories that led Walmart to roll out a new system nationwide that allows associates to sign up for open shifts in their stores. The victory shows the influence OUR Walmart has at the country's largest employer, but Walmart has failed to inform many associates about the new program, and the system doesn't address predictability in scheduling or the need for full-time hours.
Tiffany is one of the majority of Walmart workers who are paid less than $25,000 a year, and many of them work part-time, relying on unpredictable schedules and must depend on food stamps and other taxpayer-supported programs to survive.
Even though Walmart is supposed to give workers their schedules three weeks in advance, they are often late and shifts are added at the last minute. Walmart gives the most hours to workers who are available at all times (called "open availability"), and workers often report being scheduled when they have class or medical appointments. When workers stand up and opt out of open availability by putting modest restrictions on their schedules for important commitments, Walmart retaliates by excessively cutting back hours.
OUR Walmart member and worker Courtney Moore's situation was detailed in the New York Times on Saturday. The Times reported: "Courtney Moore, a cashier at a Walmart in Cincinnati, said in an interview that she had been assigned about 40 hours a week until she told store management in June that she would begin taking college classes most mornings and some afternoons. She said she asked her manager to put her on the late shift, but to her dismay, the store reduced her to 15 hours a week. 'They said they need someone they could call whenever they need help – and they said I'm not that person,' Ms. Moore said." Walmart cut her hours to a point that her refrigerator was completely empty because she couldn't afford to fill it. She was recently picked up a second job but is unsure how to manage it with school and her schedule at Walmart.
"Even though I work at the country's largest employer and want to work full-time, I don't know when I will work from week to week," said Ronee Hinton who works at Walmart in Laurel, Maryland. "I'm supposed to receive my schedule three weeks in advance, but it's often late, and shifts are added at the last minute. That means I have to miss important doctors' appointments and I can't get a second job. The worst part about Walmart's unpredictable scheduling is my mom is in a nursing home and I can never visit her. It shouldn't be this way. We need Walmart to publicly commit paying us a minimum of $25,000 a year for full-time work and to stop retaliating against workers that speak out for better jobs."
Working women – increasingly the breadwinners and decision makers in households – make up the majority of Walmart's workforce and are often hit hardest by the company's poverty pay and erratic scheduling practices. A group of Walmart moms went on strike earlier this summer to protest the company's illegal retaliation against co-workers who have spoken out for better jobs.
Detailing the widespread problems Walmart women face with low-pay and erratic scheduling, national public policy organization Demos released a report earlier this summer showing how these conditions keep millions of hard-working women and families near poverty. The report finds that establishing a new wage floor equivalent to $25,000 per year for fulltime, year round work at retail companies employing at least 1,000 workers would improve the lives of more than 3.2 million female retail workers and lift 900,000 women and their families directly out of poverty or near poverty.
Photo: Organization United for Respect Facebook page.