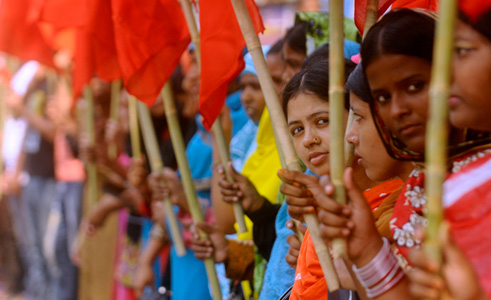 WASHINGTON – The AFL-CIO is demanding the U.S. government yank trade preferences from Bangladesh until that South Asian nation really shows a commitment to protecting its workers.
And U.S. retailers who benefit from Bangladesh's horrifying working conditions and extremely low labor costs must sign a fire and building safety code that features rigorous inspections and worker participation, Trumka added on May 8.
Trumka added the federation's voice to the outrage over the fatal fire and collapse of the multi-story Rana Plaza garment factory building just over two weeks ago. Despite warnings of unsafe conditions from onsite supervisors, owners of the garment-making firms within the building ordered workers to stay on the job there – and padlocked the doors to make sure they didn't get out.
The catastrophe has killed more than 1,100 workers and ranks among the worst industrial disasters, in fatalities, in world history. It didn't have to happen, Trumka adds.
"We call on the U.S. government to immediately withdraw, suspend, or limit Generalized System of Preferences (GSP) benefits for Bangladesh until it fulfills its most basic duties to workers," he said. The federation filed a GSP petition against Bangladeshi conditions in 2007, but the GOP Bush government ignored it.
"Suspending trade benefits is a crucial mechanism to pressure the Bangladeshi government to take clear and concrete actions to afford workers their internationally recognized worker rights. Clearly, the pace of progress has been inadequate to date," Trumka explained.
Retailers and consumers have a responsibility, too, "for finding a sustainable solution to the lax conditions and weak workplace protections," he added. U.S. and Western European retail chains sell 80% of all Bangladeshi-produced clothes.
"Major brands and retailers…made millions from high profit margins based on low wages and dangerous conditions. We call on the retailers not to leave Bangladesh, but to take an active role in improving conditions by pressuring the government to implement reforms and by negotiating with workers and local employers," said Trumka.
And consumers "must insist that retailers, brands, investors, and our governments use their power to promote sustainable development and shared prosperity for workers in Bangladesh who produce our clothes," Trumka added.
Photo: Bangladeshi garment workers protest the collapse of an eight-storey building that housed several garment factories with poor safety standards, in Dhaka, Bangladesh, April 26. (AP Photo)