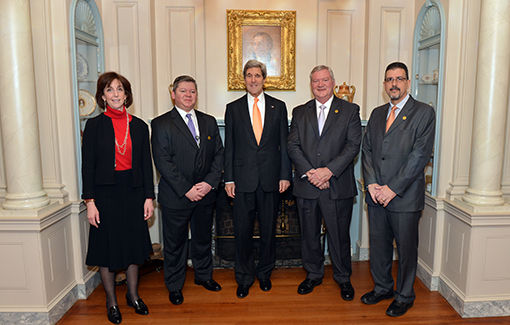 As a massive scandal involving corruption and abuse of power by the administration of Honduran President Juan Orlando Hernandez envelops this impoverished Central American country, a group of 21 Democratic members of the U.S. House of Representatives have sent a letter to Secretary of State John Kerry calling for the suspension of projected U.S. aid to Honduran police.
The money for aid to the Honduran police is part of an appropriation for fiscal year 2016 that the Obama administration has requested to fund the "Alliance for Prosperity." The appropriation, of $1 billion, would fund aid to social welfare systems but also to the security services of the three northernmost countries of Central America: Guatemala, El Salvador and Honduras. The Congressional letter, dated Wednesday August 19, addresses itself to the fact that President Hernandez has been pursuing a policy of militarizing the functions of the Honduran police, leading to multiple complaints of violations of human rights.
Hernandez and his administration are also accused of massive corruption, and have been the target of huge demonstrations, calling for his resignation since April.
Hernandez, of the National Party, was elected president in 2013 in an election that was marred by accusations of fraud and the murder of a number of members of the left-wing LIBRE party of former president Manuel Zelaya and his wife, Xiomara Castro, who was LIBRE's candidate in that election and had been expected to win. Since then, it has been found that the previous administration of President Porfirio Lobo, also from the National Party had diverted funds intended for health care of poor Hondurans and used them to illegally support Hernandez' election.
Hernandez, who had been head of the National Congress before his election, had also manipulated judicial appointments to smooth his way to power.
Lobo, in turn, had been elected with U.S. support in a deeply flawed election after President Manuel Zelaya had been overthrown in a military coup in June of 2009.
As early as 2010 Congress members have been writing to the State Department expressing concern about what is going on in Honduras.
In 2013, 108 members signed a similar letter. Again in 2014, another, similar letter was signed by 106 lawmakers.
Both of those letters asked Secretary of State Kerry to look into stories of human rights violations, including killings of oppositionists and electoral fraud, by the successive right wing Honduran governments of Presidents Porfirio Lobo and Juan Orlando Hernandez.
The new letter, however, goes further and calls for the suspension of aid under the $1 billion "Alliance for Prosperity" plan announced by the Obama administration after last years' so called "child migration crisis" was manipulated by the Republican Party for its own opportunistic and partisan purposes.
The Congressional letter points out that the "Military Police" established by Hernandez, in apparent violation of the Honduran constitution, now numbers 3,000 members who are under the command, not of civilian authorities, but of the army.
"According to the Comité de Familiares de Detenidos y Desaparecidos en Honduras (COFADEHH)[in English, Committee of Relatives of Detained and Disappeared People in Hondurass], a leading human rights organization in Honduras, military personnel have been involved in human rights abuses, including assassinations and intimidation of opposition leaders, land activists, and peaceful protesters."
The letter expresses concern that in May of this year, 300 U.S. military and FBI personnel were sent to Honduras to provide "rapid response" training to this abuse-riddled Honduran military-police amalgam.
The letter emphasizes: "We want to make sure those taxpayer dollars are not used for military-style policing activity that could, in fact, be one of the causes [of the child migration to the United States] as it exacerbates violence in the country." The 21 congresspersons also asked that Kerry assure them that the aid to Honduras does not violate the Leahy Law, which prohibits U.S. aid to repressive military forces.
Signatories of the letter, all Democrats, include Hank Johnson, Jan Schakowsky (Illinois), James McGovern (Massachusetts), Raul Grijalva (Arizona), John Conyers (Michigan), Sam Farr (California), Luis Gutierrez (Illinois), John Lewis (Georgia), Marcy Kaptur (Ohio), Mark Pocan (Wisconsin), Keith Ellison (Minnesota), Maxine Waters (California), Michael Honda (California), Rosa DeLauro (Connecticut), Gwen Moore (Wisconsin), Barbara Lee (California), Karen Bass (California), Zoe Lofgren (California), Danny K Davis (Illinois), Michelle Lujan Grisham (New Mexico), and José Serrano (New York).
Readers who would like to ask their own congressional representatives to support the position taken by this letter can find Congressional contact information at the official U.S. Congress website.
After being contacted by Fruit of the Loom, Inc., People's World offers the following clarification: The photo used to illustrate this story falls under Creative Commons licensing and that is why it is being used. It is not directly related to the story.
Photo: U.S. Secretary of State John Kerry poses for a photo with Rick Medlin, CEO of Fruit of the Loom, Inc. in Honduras, right of the Secretary; Honduran Ambassador to the U.S. Jorge Ramón Hernández Alcerro, left of the Secretary; and Assistant Secretary of State for Western Hemisphere Affairs Roberta Jacobson, far left; at the U.S. Department of State in Washington, D.C., on January 29, 2014. Fruit of the Loom, Inc. in Honduras received the Secretary of State's Award for Corporate Excellence in the large business category. (State Department photo/ Public Domain) | Wikimedia