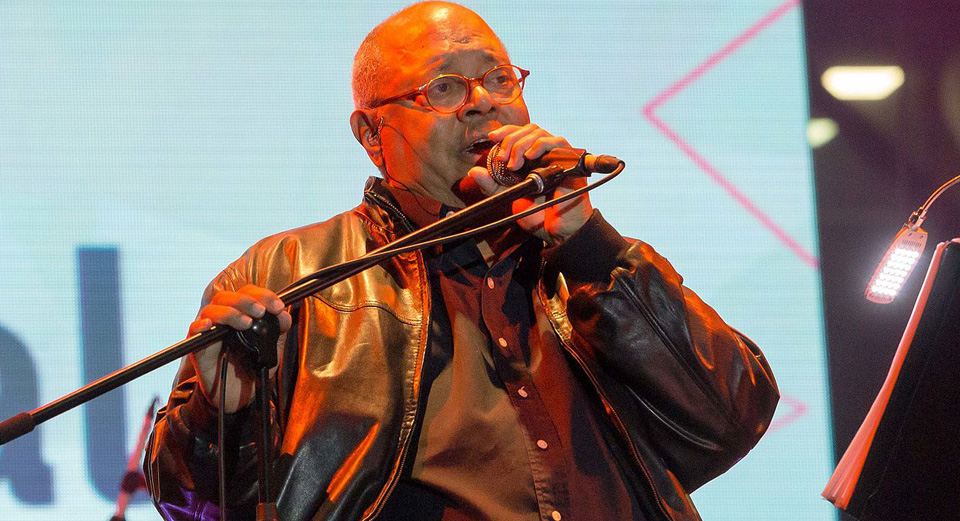 PUERTO PLATA, Dominican Republic—Pablo Milanés, the great Cuban nueva trova composer and singer, performed here on October 7th to a large audience that nearly filled the beautiful seaside Juan Lockwood Amphitheater. The veteran musician sang a mixture of songs from his 61-year, 54-album career on his first ever visit to Puerto Plata.
Milanés is best known as one the founding fathers of nueva trova, a musical movement that originated in late 1960s Cuba based on the traditional trova, a type of lyrical love ballad featuring acoustic guitar music. The nueva trova added politicized lyrics, to create a brand new movement with the full, if belated, support of the Cuban government and public. The word derives from the troubadours, medieval songwriters who traveled around singing out the news alongside their paeans to love.
In 2011 Milanés became involved in a nasty polemic with fellow nueva trova founding father Silvio Rodríguez. Milanés, who moved to Spain in 2004, is quite critical of the Cuban government, but still supports the Cuban Revolution. Rodríguez, while himself often critical of Cuba, is a stauncher supporter of the government and attacked Milanés for giving an interview with a right-wing Cuban newspaper in Miami just before performing there. If you read Spanish you might be interested in the back and forth between these two great artists because it ties in very neatly with some of the themes expressed by People's World writer Eric Gordon in his recent, brilliant article "Reflections on Revolution: The Russian and the one to come." Here's the link for their discussion.
Milanés is one of those rare singers, like Etta James and Frank Sinatra, whose voice actually gets better with age. Maybe it's just that I'm aging myself and am more susceptible to poignant memories of the past, but it seemed like I could directly feel the pain and remorse in some of Milanés' ballads of long lost loves. His profession of eternal love to Yolanda brought down the house as thousands of Dominicans sang along with him.
Milanés dedicated Amame como soy (Love Me As I Am) to the Cubans in the audience. I thought it was a particularly subtle invitation to them to return to their country. Yes, Milanés is quite critical of Cuba, but in the end—at least in his own mind—he loves his country and the Revolution that freed it from dependence on the U.S.
En saco roto (an idiomatic expression best translated as "on deaf ears") was dedicated to Oriente province, the homeland of son, the quintessential Cuban music. Oriente, with its vibrant city Santiago de Cuba, is also the homeland of the Cuban Revolution. He sings how he will walk among the people and be involved in their vices and virtues.
Milanés is also known for his interpretations of others' poetry. His first solo album consisted of songs he created from the poetry of José Martí, the father of Cuban independence. For us, he played Cuban poet Nicolás Guillén's De qué callada manera (In What a Quiet Way). For his encore, he played the fitting Amo esta isla (I Love This Island), which is not only a tribute to his native land, the largest island in the Caribbean, but a tribute to any Caribbean island, including Hispaniola, the second largest island and the one we were all on that night.