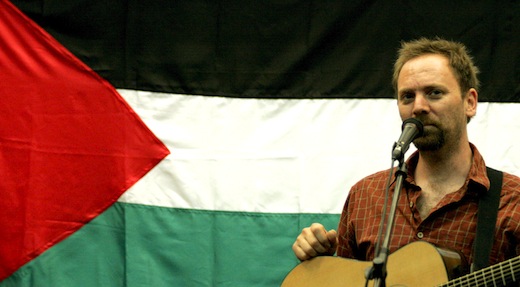 While waiting at Tokyo's Narita International Airport to board his flight to New Zealand on Aug. 13, U.S. progressive singer-songwriter David Rovics was informed that he was banned from entering New Zealand.
The Portland, Oregon-based Rovics is known for his extensive touring, doing concerts in support of progressive causes and workers' struggles in the U.S., Europe, and Australia. He has done benefit concerts for this website and the Communist Party in Oregon as well as the Communist Party of Denmark in Copenhagen. He is known for such songs as "The Commons," "The Last Lincoln Veteran," and "The Saint Patrick Battalion." His music celebrates the working class, trade unionism, and the national liberation struggles of the Palestinian and Irish peoples.
His current tour centers on his latest album, "Into a Prism," which he describes as "very topical songs about recent events such as the revelations about the NSA's global 'Prism' spying program."
He was due to perform in Wellington, New Zealand, next week, but as things stand now that is unlikely to happen.
He writes in his blog:
"When I got paged over the intercom to the All Nippon Airways desk, I was nervous, but figured it was something about a seat assignment on the flight from Narita to Auckland that I was about to board. The woman from ANA handed me a cell phone and said that someone from New Zealand Immigration in Auckland wanted to talk to me."
"Mr. Rovics, why are you coming to New Zealand?" the immigration officer asked.
"I'm playing six small gigs."
"Do you have a work permit?"
"No," I replied, "I was hoping I could get one when I arrived. I was under the impression it was a formality that could easily be taken care of when I got there."
"Which is true. Although I sure was wishing I had taken care of this formality a long time before. Which is what I had done before my three previous tours of Aotearoa, aka New Zealand. The problem is, unless you live near a city with a New Zealand consulate in it, which I don't, you have to mail your passport in to their embassy in Washington, D.C., and be without a passport for several weeks, which is a logistical challenge for someone who tours as much as me."
The immigration official then questioned Rovics about immigration problems he had encountered in Norway and Canada, asked how much money he would be bringing to New Zealand. She then informed him that he could not enter the country without a work permit.
Rovics writes, he then asked, "Can I cancel all my gigs and come in on a tourist visa?"
"The immigration official replied to that: 'You can't board that flight. You're not welcome in New Zealand.' With the ominous comment, 'I've read your blog,' she ended the conversation."
The tone of the immigration officer and the reference to Rovics' blog mark this refusal of entry as political.
On his last tour in 2012 Rovics performed at a trade union rally in Dunedin, New Zealand, protesting the right-wing National Party government of John Key and its adoption of the "90-day working bill," which permitted firms that have less than 20 workers to discharge them without cause in their first 90 days of employment.
Photo: David Rovics performs at a solidarity concert for the Palestinian people (via Tlaxcala).