For five days in October 1995 — that probably felt like five weeks or five months to Julio Pabón and his cohorts — the South Bronx was transformed into New York's own Sierra Maestra for Cuban leader Fidel Castro Ruz. That year was the fiftieth anniversary of the founding of the United Nations. Leaders of almost every nation of the world came to New York for the celebration. Mayor Rudy Giuliani planned a special celebratory dinner for all of the dignitaries except two: Cuban President Fidel Castro and Palestinian National Authority President and Prime Minister Yasser Arafat.
Some readers might mistake Giuliani as "America's Mayor," since he managed to pose in front of the television cameras at every opportunity in the days after 9-11. Many New Yorkers, especially African Americans, Puerto Ricans and other Latinos, held a contrasting view. Twenty years later, the nation saw his essence more clearly in his ranting, unwavering support of Donald Trump's campaign for president.
Giuliani didn't simply omit Castro and Arafat. He issued a press release specifically disinviting them. Arab New Yorkers held a banquet for Arafat; Boricuas (Puerto Ricans) in the South Bronx, led by Pabón, similarly responded toward Castro, for the public revoking of the invitation was an insult to the city's Latino population that could not go unchallenged. Pabón recounts his story in the newly published book Knockout: Fidel Castro Visits the South Bronx.
On Thursday, October 19, a phone call to Pabón from longtime friend and political associate David Galarza started the process. They decided to call a press conference that would invite President Castro for a private dinner. Pabón secured a venue, Jimmy's Bronx Cafe, which was relatively easy since he had known its owner, Jimmy Rodríguez, and Pabón's Latino Sports Ventures, Inc. had hosted events there. Pabón, vice president of the National Puerto Rican Business Council, convinced its president Carlos Nazario to push for the NPRBC to sponsor the event. U.S. Congressman José Serrano, whom Pabón knew for two decades and regarded as family, accepted the invitation to join the host committee, which turned out to be a critical addition.
Early morning, Friday, October 20, Pabón sent out the press release from his office. He and his daughter Kimberly, who worked for her father, thought all was done, that Castro would naturally decline the invitation, and the two-day flurry would be over. They were completely wrong, because Castro accepted the invitation! The madness of two days gave way to a hurricane of activity, planning, phone calls, meetings and mayhem from that Friday afternoon until the end of the Monday, October 23rd dinner, which grew from an initial list of 50 place settings to some three hundred.
Who is Julio Pabón?
Julio Pabón's roots are extremely humble. Born in Guayama, Puerto Rico, in 1956, he moved to the South Bronx at age four and was raised by his single parent father,  "who was always treated as an immigrant because of his dark complexion" and monolingual Spanish language. By his own admission, he survived "the worst of the South Bronx" due to his father's guidance. He became involved politically in the community as a young teen in organizations such as Justicia Latina, the Young Lords Party, and El Comité – MINP (Movimiento de Izquierda Nacional Puertorriqueño — Puerto Rican National Left Movement).
In his last year as an undergraduate student of American history at Lehman College, Pabón moved away from his "extreme left politics" and became more involved in the "mainstream," serving as president of the Frente Unido Latino (United Latin Front). After graduation, he taught social studies at his alma mater, Junior High School 38 on St. Ann's Avenue, and then worked in a Department of Labor program helping African Americans, Latinos and women of all nationalities enter into construction unions, as well as for the South Bronx Job Corps. Eventually, he was employed in the office of then-State Assemblyman (now member of Congress) José Serrano and later as the Director of Latino Affairs for City Council President Andrew Stein. He then became a small businessman, beginning his own Morivivi Language Services, a translation business, and Latino Sports Ventures, Inc., which promotes Latino professional athletes.
Knockout is his first book, though Pabón writes his own blog (www.nyclatinopolitics.com) as well as one for the Huffington Post, and has been published in the Daily News, New York Times, El Diario–La Prensa, Periódico Hoy, and elsewhere. A variety of readers will respond to his book: Residents of the Bronx will enjoy his specific references to streets, buildings, and personalities of the area. Leftists intrigued by the Cuban Revolution and Fidel Castro will certainly enjoy this story. Progressive activists of all ages will learn about the value of multi-class, popular front coalition politics. Furthermore, Pabón and the other characters will serve as incredibly powerful role models for activist Puerto Ricans and other Latinos.
A memoir of extraordinary detail
Knockout was written nearly 20 years after the fact. The author's interviews with the principal players, as well as his clean lifestyle of a drug-free apartment and rare alcoholic drinks, served his memory well, for the readers are told this wonderful bit of history in extraordinary detail. The chapters are short — in some cases, a page or two — and each one takes on specific subplots of the event. Such as "How Fidel Castro Got a Copy of Our Press Release" — Rep. Serrano had contacted Fernando Remírez of the Cuban Interest Section in Washington, D.C. Or "My Meeting with the U.S. Secret Service" — most bizarre for someone who had been harassed by law enforcement during his more radical youth days. Or "Meeting with the Cuban Secret Service" — also necessary when a head of state is involved, and much more relaxing than the prior meeting.
"Meeting President Fidel Castro": The guest of honor arrived and Pabón was more nervous than ever (this and surrounding chapters brightly show the author's humility). When Pabón looked a bit pensive while greeting Castro, El Gran Líder implied that Pabón was nervous. Pabón replied that he wasn't, for the South Bronx was the Sierra Maestra of New York. This line amused Castro, and he threw it back at his anxious security detail in the ballroom when the president broke protocol and shook hands with many in the overwhelmingly enthusiastic audience.
Dr. Ricardo R. Fernández, who served as president of the Bronx's Lehman College from 1990 through mid-2016, writes a foreword gushing with pride in his community. Pictures sprinkled throughout the book help document the tale. Knockout has some technical issues that may trouble some readers. Self-published books have scant resources behind them: This crops up with some editing difficulties as well as the omission of an index that would have really helped. However, these problems do not take away from the beauty and drama of the story and the many lessons to be learned.
Readers learn of the many people who made the event a success. Besides those already mentioned, there were Franklin Flores, secretary of organization of Casa de las Américas; Mickey Melendez, who knew Pabón in both the Young Lords Party and El Comité – MINP; and Jerry "Fast Feet" Fontanez, the number one kickboxing champion in the world, who knew the author because of his martial arts background and who reassured Pabón by organizing an internal security team for the dinner, in case some crazy managed to slip through the external security rings around Jimmy's Bronx Cafe that night. There are many more as well, and Pabón seems to neglect no one, no matter how small their contribution.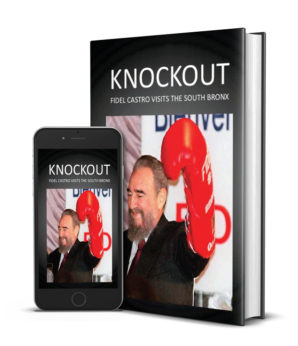 And in the opposite corner…
Clearly, some members of the community opposed the event. This list included then-Bronx Borough President Fernando Ferrer as well as the Rev. Rubén Díaz, Sr., now a socially conservative state senator who accompanied Sen. Ted Cruz in the latter's presidential primary campaign stop in the Bronx in April 2016. Díaz, Sr. served as the conduit for the right-wing Cuban American National Foundation to pay for anti-Castro protesters the night of the dinner. In a huge disappointment to Pabón, Herman Badillo also opposed to the event, the city's first Puerto Rican borough president (there are five boroughs in New York City) and the first Puerto Rican elected to Congress.
Castro and the Cuban Revolution greatly appealed to the Latin American left, but it was also respected by even anti-socialist people in the region because Cuba stood up successfully against U.S. imperialism and interference. Acknowledgment of this fact will help readers who might be initially shocked at the outpouring of support for the dinner for Castro. It is true that Pabón's leftist background made him sympathetic to many features of socialist Cuba. However, many of the attendees were not enamored by Castro or his country, to say the least. Some attendees, such as some members of the NPRBC, were thinking strategically about future business opportunities on the island. Rodríguez of Jimmy's Bronx Cafe (which closed in 2003) agreed to have his restaurant serve as the venue in part to stave off earlier negative publicity. He had serious misgivings, though, when the Secret Service shut down his restaurant as a security measure on the afternoon of Sunday, October 22, resulting in his losing out on business that night and the next day's lunch. (See the chapter "Jimmy Calls Me: He's Not a Happy Camper" to learn how Pabón relieved his anxiety.)
At the dinner, children of some of the organizers presented Castro with gifts, among them an oversized boxing glove. Predictably, the president put it on (pictured on the book's cover), which to Pabón and others symbolized the smashing success of the event: They had delivered a knockout! Indeed, that October of 1995, Pabón entered the ring with Giuliani. Despite the mayor having all of the material advantages and a healthy head start, Rudy failed to get up before the referee counted to ten.
Knockout: Fidel Castro Visits the South Bronx
By Julio Pabón
Self-published, 2016. Softcover, 246 pages
ISBN-10: 0692725512; ISBN-13: 9780692725511
Available at www.knockoutthebook.com