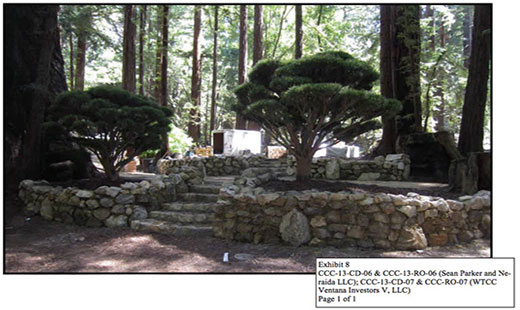 Napster and Facebook co-founder Sean Parker decided to have a $2.5 million Game of Thrones-inspired wedding right in the middle of a California redwood forest, putting the ecosystem there at risk, as well as several threatened species of fish. He must now pay $1 million in penalties to the state for violations. But of course, it was all in the name of celebrity hubris and – just maybe – an example of taking fantasy fandom a bit too far.
For his marriage to singer Alexandra Lenas, Parker (who was portrayed by Justin Timberlake in The Social Network) felt the need to plop a stone dance floor, lighting effects, staircases, a fake cottage, bridges, and artificial ponds and waterfalls into the middle of the woods. He did not obtain any necessary permits to do all this, nor would he likely have received them if he had tried. The redwood trees there have been potentially damaged by possible erosion from exposure to the concrete and wedding "set pieces."
"The unpermitted development has thus impcted the redwood forest habitat and has likely caused sedimentation of Post Creek," according to a report by the California Coastal Commission, Post Creek is a small body of water there that is home to endangered fish.
Anti-erosion mechanisms, which could have prevented some of the damage, were not used in the man-made structures.
Lenas reportedly took care to appear identical to Game of Thrones character Daenerys Targaryen, while the wedding decorations were largely modeled after medieval fantasy like The Lord of the Rings. But beneath all the Tolkienesque glamor, this was really just another overblown wedding celebration for the One Percent, and the environment paid the price.
As Grist.org put it, "It's hard to decide what's more depressing about this. Is it that you can f*ck up the Earth if you can afford it? Or that Parker made no significant effort to limit erosion and redwood damage? That the wedding industrial complex makes people think they're entitled to [blatant] displays of excess?"
As an interesting side note, the wedding is the latest example of the rising popularity of Game of Thrones, the television show based on George R. R. Martin's epic fantasy book series A Song of Ice and Fire. The series looks set to establish a fandom to rival that of Star Trek. Ironically, the series touches upon the extravagant lives of its wealthy royal main characters, to whom Parker himself could be compared.
Parker later tried to defend the exorbitant wedding in an email to The Atlantic, where he argued that the forest was not in pristine shape in the first place, and that it was a factor in his decision to have the wedding there. He also claimed to spend some of his money on conservation efforts and said he had enlisted the help of Save the Redwoods to point out an ideal site for him to use. While Save the Redwoods did suggest the area that Parker used, an uncomfortable fact remains: "Parker fell in love with the landscape," said writer Yoni Applebaum. "But instead of adapting his wedding to its demands and limitations, he adapted the environment to suit the wedding."
The bottom line of Parker's argument was that his intention was not to harm the environment, and that "it's impossible to get everything right at a production of this scale."
But as Gawker writer Sam Biddle noted, "It's clear that Parker didn't give a damn about the consequences. He and his wife wanted a dream wedding with elven cottages, and they were going to get it. When you help make Facebook a billion-strong global entity, you don't worry about permits. Permits are for the rest of us."
Photo: A stone platform with a wall, staircase, and potted plants, all built in the middle of an otherwise pristine and ancient redwood forest. California Coastal Commission