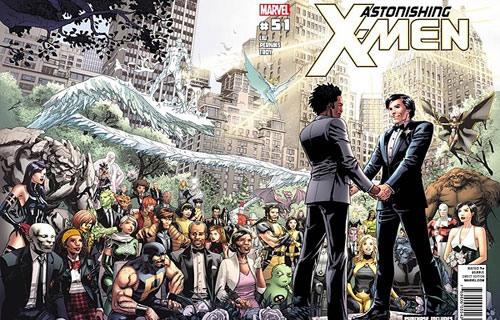 The pages of Marvel Comics' Astonishing X-Men will feature the first interracial gay superhero wedding, when issue #51 of the beloved comic series hits stores June 20. It will feature the comics' first openly gay hero, Northstar, marrying his longtime boyfriend.
The Canadian mutant hero (a.k.a. Jean-Paul Beaubier) has recently acquired a small fanbase within the LGBT community. He will marry African-American Kyle Jinadu. Northstar was revealed to be a gay character way back in 1992, becoming the first Marvel hero to be recognized as such. That was a big deal for comics everywhere at that time. This new development seems to be the next logical step forward in Marvel's increasingly diverse, pro-equality lineup of stories and characters.
Astonishing X-Men #50, which hit shelves May 23, was the issue in which Northstar proposed to his boyfriend.
Thor Parker, a worker at Midtown Comics in New York's Times Square, said that the issue and the one to come are sure to be hits. "You're seeing people come in and ask for a comic by name and number, which usually only happens when something big is going on." Parker, who is the store's events director and social marketer, added that, in celebration, their store is actively seeking out same-sex couples who want to have an in-store wedding on the day of the upcoming comic's release.
In recent years, comics have taken an immense step forward in terms of promoting racial and gender equality. In 2010, the classic Archie comics added a gay character to its roster. And DC Comics has, for a while, had a lesbian superhero – Batwoman. DC also recently announced that one of its iconic characters would soon come out of the closet as part of a series reboot and a representation of the new direction the comic company is headed with some of its characters.
Meanwhile, the new alter ego of Spider-Man in Marvel's Ultimate Spider-Man comics is half-Hispanic, half-African American. And DC's new Batwing series features an African Batman fighting police corruption in the Democratic Republic of Congo.
Clearly, comics are moving in a progressive direction, and at a rate which readers have never before seen.
Herndon Graddick, president of the Gay & Lesbian Alliance Against Defamation, commented, "When a major comic publisher like Marvel not only includes, but publicly celebrates the legal wedding of two of its gay characters, it reflects how supporting same-sex couples has become the new normal. Readers expect to see their realities portrayed in these fictional worlds, and today that includes married gay and lesbian couples."
Cartoonist Tom Batiuk, who is introducing a gay couple who attend their high school prom in a comic strip he writes, commented on how comics' acceptance of LGBT characters coincides with today's youth embracing equality in the real world. "As I sit in on the classes in my old high school," he said, "I see how the younger generation's attitude toward gays is more open and accepting than that of their predecessors."
X-Men titles in particular have always been known for being incredibly bold in depicting racial/gender equality. All races have been heavily represented amongst the main X-Men team (take African female superhero, Storm, or Asian-American member Jubilee, for instance). There have also been Jewish X-Men, bisexual X-Men (like character Mystique), and even communist X-Men.
What is especially fitting and poetic about that is that the "anti-mutant propaganda" that occurs in the world of the X-Men (in which some normal humans fear mutants, and conservative politicians try and introduce anti-mutant legislation) has always served as a metaphor for real world prejudice. Thus, there are few better vehicles to express the need for equality than X-Men.
"The Marvel Universe has always reflected the world outside your window," said Marvel editor in-chief Axel Alonso. "We strive to make sure that our characters, relationships, and stories are grounded in reality."
In a continuing effort to create well-crafted, realistic stories, the upcoming issue will reportedly not turn a blind eye to the controversy surrounding gay marriage, and will examine homophobia by including some characters who do not approve of Northstar's orientation or his choice to get married.
"At least one of Northstar's team members is going to turn down the invitation," said Alonso, "and that's going to make for an interesting dynamic."
Marjorie Liu, the current writer for Astonishing X-Men, commented, "Here are two people trying to live their lives – one mutant and gay, one Black and gay – empowered in their own ways, but also fringe-dwellers. And they're making it happen. They're living life on their own terms. It doesn't matter that it's a superhero comic, the message is: You can do the same thing."
Liu said the wedding would take place in New York's Central Park, where gay marriage is legal. However, she teased, this is still a superhero wedding, and the appearance of some kind of world-threatening trouble is always possible.
"As for the ceremony," she said, "Well, what wedding ever goes off without a hitch?"
Photo: Marvel Official Site